The Sandhills Community College beach volleyball team prepped for this week's ground-breaking Flyer Invitational by hosting the Wake Tech club team in a double match on Friday.
A nice crowd showed up to watch each side's five two-player teams compete against each other on the four new courts located in front of the Dempsey Student Center. Coach Alicia Riggan's squad defeated the Eagles 4-1 in both the late afternoon and early evening sessions.
"The girls are just genuinely excited and want to be a part of this," Riggan said. "It was a beautiful day and this is something new. The facility is beautiful. Hopefully people will put next week's tournament on their calendars and will want to be here."
Next Friday and Saturday (see schedule below) the Flyers will host St. Andrews University, St. Johns River State College (FL) and Spartanburg Methodist College (SC). The Flyers and the latter two schools represent three of the only 18 NJCAA colleges currently sanctioned to play beach volleyball.
Friday's afternoon session wound down with all of the attention from the spectators and players on both sides focused on a tightly contested match, involving the Flyer duo of Mariah Daffron and Carley Modlin.
"I'm a hitter and Mariah is a libero and I think we played really well together," said Modlin, who excited the crowd with a diving dig that produced a point. "The other team was insane with its hustle."
Playing on a bed of 18 inches of sand, the match ended on a service ace by Daffron.
"Everybody cheering us on definitely helped us push through," she said. "It gave us so much energy and I absolutely adored it. It's crazy that this is just a scrimmage and we have this crowd. We can only imagine how big the crowds can get."
Indoor and Outdoor Games are Different – Communication a Key
The beach volleyball rules put the game firmly under the control of the players who are not limited on where they can play on the court. The coaches are not permitted to address the officials or instruct their players during the games.
"They call their own timeouts and I'll go over and ask them what's going on," Riggan said. "A coach can't be at all four courts at once. It's on the players. My part is just to get the balls where they need to be and make sure the right people are on the court."
An NJCAA Honorable-Mention All-American as a freshman, and signed to play at UNC-Asheville in the fall, Modlin embraces the freedom to be able to play all over the court.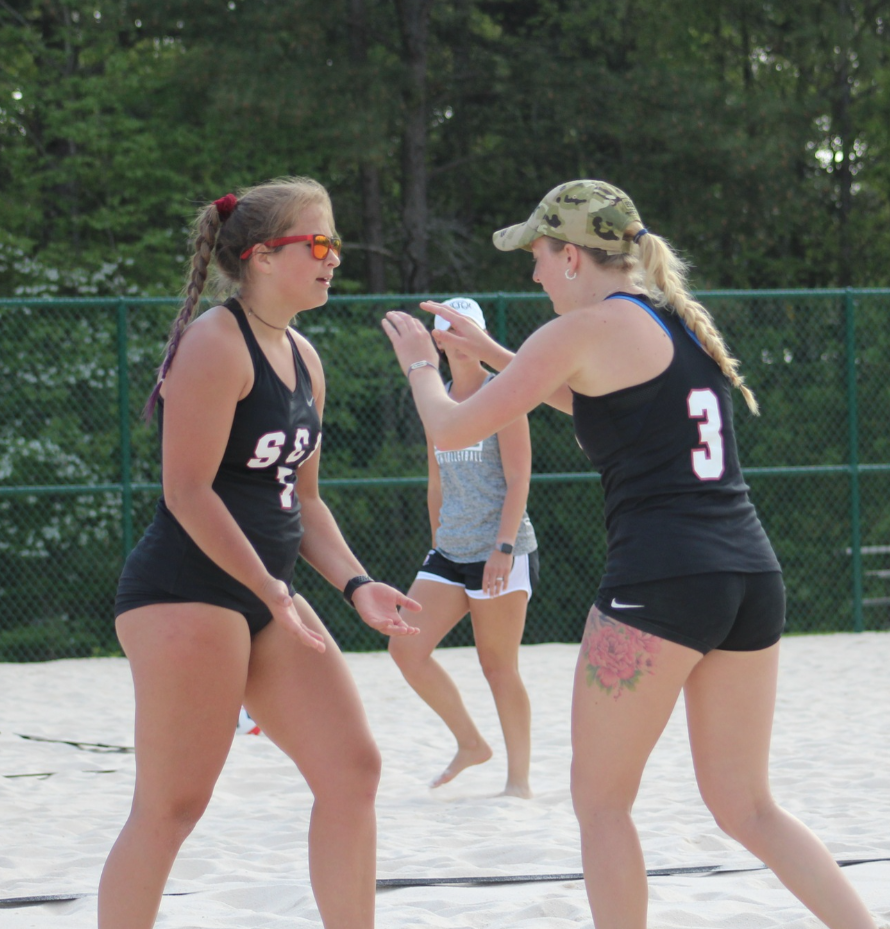 "Indoors I wanted to play in the back so badly, but we had an awesome libero," she said. "Now I get to play back. Playing with two people means you're not depending on five, so communication is a really big thing and I think we communicate well."
Camryn Lowe, a setter indoors, and Morrigan Denman, an outside hitter, were also engaged in two tough matches against their Wake Tech counterparts.
"I feel we started out a little slowly in the first set and it felt funny," Lowe said. "It was new and I guess the nerves hit. Then we came out in the second set and took care of business.
"The third set was close, but we lost it. When we played them again, we were determined to push out on top and get the advantage and that's what we did.
"Communication is a big factor. If you don't communicate, you don't succeed in this game. I felt that Mo and I really bonded together. We kind of pick each other up and I think we make a great team together."
The other three Flyer teams were made up of Christen Clontz and Mya Mallard, Khaile Jones and Mya Sencenbaugh, and Alexus McCrimmon and Brooke Anne Fryar. Each contributed at least one victory to the cause.
"They figured it out," Riggan said. "The wind was blowing a little bit and at times the sun was in their eyes. A lot of them seemed to relax as it went along. Just like anything new they got the jitters out, relaxed and got into a groove."
Back-to-Back Seasons a Challenge for the Athletes in the Year of Covid
The Flyer coaches and players began preparing for the delayed 2020 indoor season last August. Competing in Division II for the first time this year they finished 16-5 in a campaign that wound up on March 26 before rolling right into practices for the beach games.
The newness and uniqueness of beach volleyball seems to have re-energized a Flyer squad that also participates in weight training.
"It's pretty intense, but it's more laid back," Denman said of the beach game. "A lot of people showed up. It's a very positive and fun environment."
The beach court complex was designed by assistant coach Lindsay McManamon, who is a coordinator/instructor in the architectural and engineering departments at the college. It was built by the SCC Maintenance Department staff.
"I think it's great for these ladies to be able to do something in the springtime they enjoy and something that is brand new for us," Associate Athletic Director Ryan Riggan said. "To have all of the people come out today to support the team is kind of a picture of what this can be like. Our facilities people built this themselves and did a great job."
This season, a total of 84 NCAA teams in all divisions are sanctioned to compete in beach volleyball.
Flyer Invitational Schedule:
Friday, April 24 – 9 a.m. SCC vs St. Andrews
11 a.m. St. Andrews vs Spartanburg
3 p.m. St. Johns vs Spartanburg
Saturday, April 25 – 9 a.m. SCC vs Spartanburg
11 a.m. St. Johns vs St. Andrews
1 p.m. St. Andrews vs Spartanburg