A quartet of Pinecrest seniors inked their names on their National Letter of Intent to play sports at in-state colleges next year on the first day of the early signing period Wednesday inside the Pinecrest media center.
Haley Adamo, Jackson Bode, Jayden Ford and Caden Tolentino were recognized in front of a large crowd of their families and friends.
Adamo signed to play lacrosse at Belmont Abbey after a standout career as both a defender and offensive player for the Patriots.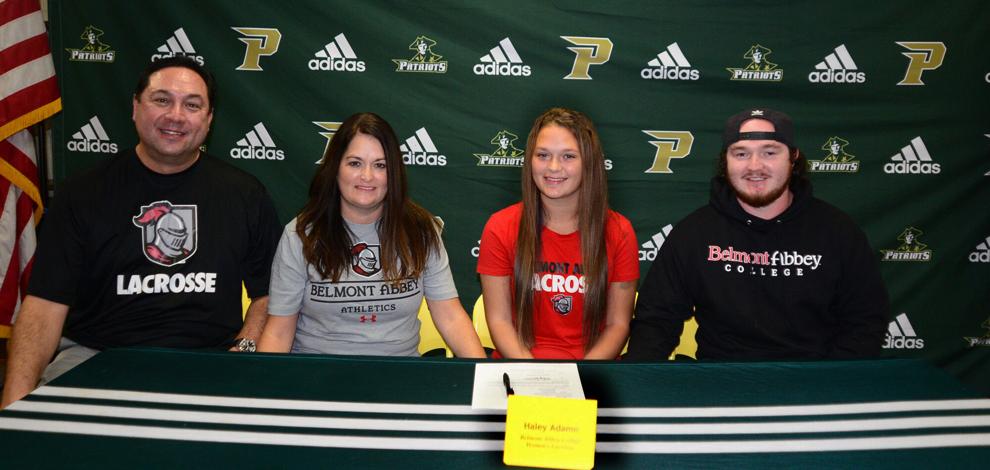 Pinecrest coach Cameron Vestermark said that Adamo was one of his top defenders as an underclassman for the Patriots, and then flourished last season for the team's attack.
"She was actually one of the best defenders we've had in a long time. I could put her on some of the best players and she could shut them down. But for whatever reason two years ago, she decided she wanted to try offense," Vestermark said." She has changed the way we play offense and just found a way to succeed in just two years and sign as an offensive player."
Adamo was named all-conference last season and led the team with 20 goals scored this past spring.
"I'd like to thank my coaches for giving me the same guidance they received from their coaches and for being more than just a coach," Adamo said. "I would also like to thank my teammates. I would not be out here without you guys."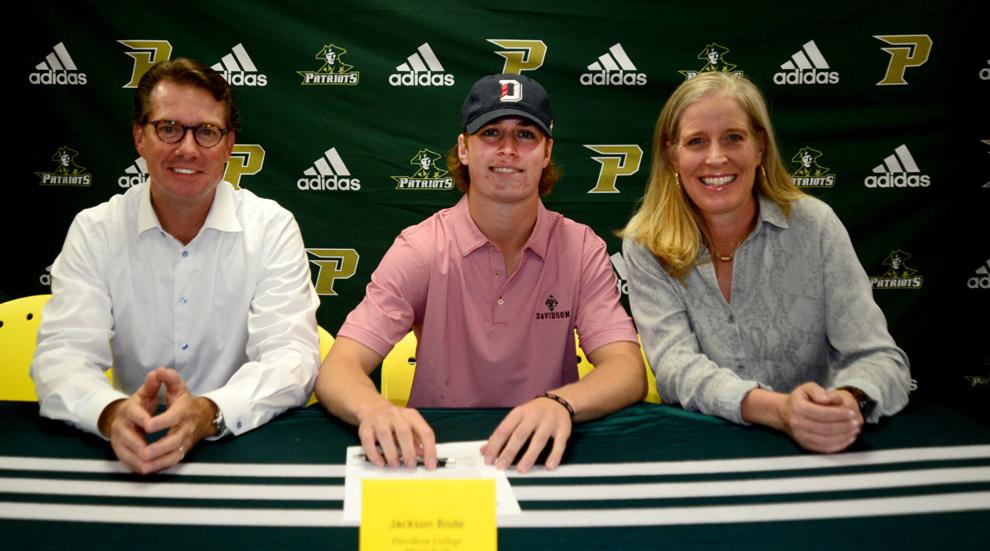 Bode was one of two golfers to sign Wednesday. Part of the 2021 boys state title team in the spring, Bode heads to Davidson.
The senior finished tied for 10th at the 4A state championships played on Pinehurst No. 2. He followed it up with a win this summer at the North & South Junior.
Recently, Bode was a captain for the American Junior Golf Association Carolina Cup that was held at the Country Club of North Carolina and Pinehurst Resort and Country Club. The event raised more than $170,000 for charity. Many of those at the club who contributed to the money raised were on hand Wednesday evening when Bode had another ceremony at CCNC.
"When I was a freshman, I looked forward to tournaments every week. It's just something not like other tournaments," Bode said. "Hopefully this year, everything will be back to normal. It's something I look forward to every year."
In just a short time at Pinecrest, Ford has felt at home. Transferring to the area from New York to help improve her golf game, Ford signed with UNC Greensboro.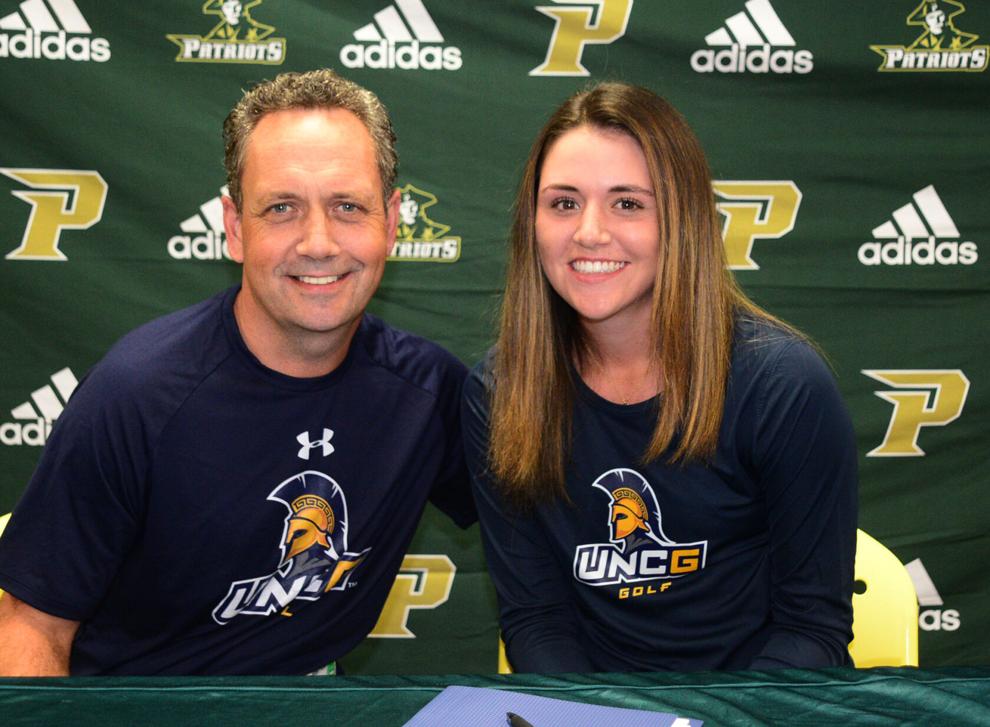 "There's good energy around here that's good to be around. I think that UNCG poses a great opportunity for me to develop not only as a student but as an athlete," Ford said. "I'm thankful for my coaches here at Pinecrest, my swing coach and Coach (Jeff) Hewitt for everything you guys have done for me and the rest of the athletes here at Pinecrest."
Ford finished in a tie for 15th at last month's 4A state championship on Pinehurst No. 5. Her leadership helped guide a young Pinecrest team to the Sandhills Athletic Conference title before the high finish at the state championship.
"We got a nice surprise with Jayden coming in and she made an impact right from the start," coach Rich Handchen said. "She's a leader. She always helped the younger girls that needed help and she was like a third coach. She was the hardest worker on the team and that's why I know she will be successful at UNCG."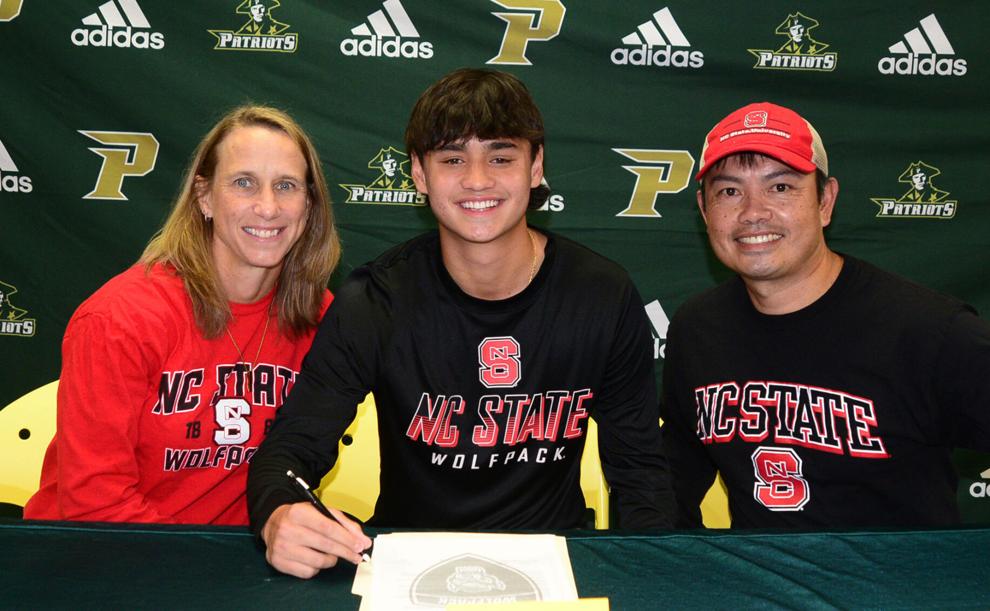 Tolentino signed to play soccer at N.C. State. He follows in the shoes of his sister, Paige, who graduated from Pinecrest and went on to play soccer in the Atlantic Coast Conference at UNC.
"My sister has always been a role model to me and somebody I can look up to," Tolentino said. "(The coaches) have all helped me tremendously and allowed me to train and come play pickup whenever I wanted."
Despite never playing a game for Pinecrest as he competed at the club level that never allowed him to dress out for the Patriots, coaches from the school said Tolentino was a welcomed member of the program. Girls coach Corey Rice mentioned how Tolentino practiced with the women's team to help those players and himself.
"It's that inclusivity that makes Pinecrest special and what it means to be a Patriot. Even though Caden didn't directly play for a Pinecrest team, he was still part of our family," Rice said. "It was just that kind of drive and passion for the game that gets people to this level."