Delayed by about six months from normal years, high school football players across the state buckled up their helmets this week for the first time as the official start of football practice came in on Monday.
The abbreviated high school football season for all N.C. High School Athletic Association schools opens on Feb. 26 and includes a seven-game regular season.
"There were several times in 2020 in which we all thought we wouldn't have a season," Union Pines second-year coach Lonnie Cox said. "It's an incredible opportunity to get started and start working on our goals and toward a season that we thought we wouldn't have."
Pinecrest's football schedule will include an all-Sandhills Athletic Conference slate, playing all seven conference opponents. Union Pines will play two nonconference opponents before starting its five-game Tri-County Conference schedule and North Moore will play one nonconference game in the middle of its season.
Surgical masks are under facemasks and contact in practice being more limited this season than in a normal season are some of the glaring differences, but local football coaches are adapting to the changes.
"That's one of the things we have preached to them is that things are very different than they would be in any other normal season, but you've got the opportunity to play, and for you get that opportunity, here's what you have to do," North Moore coach Andrew Carrouth said.
With all the changes, Pinecrest is trying to keep everything as normal as possible heading into the season.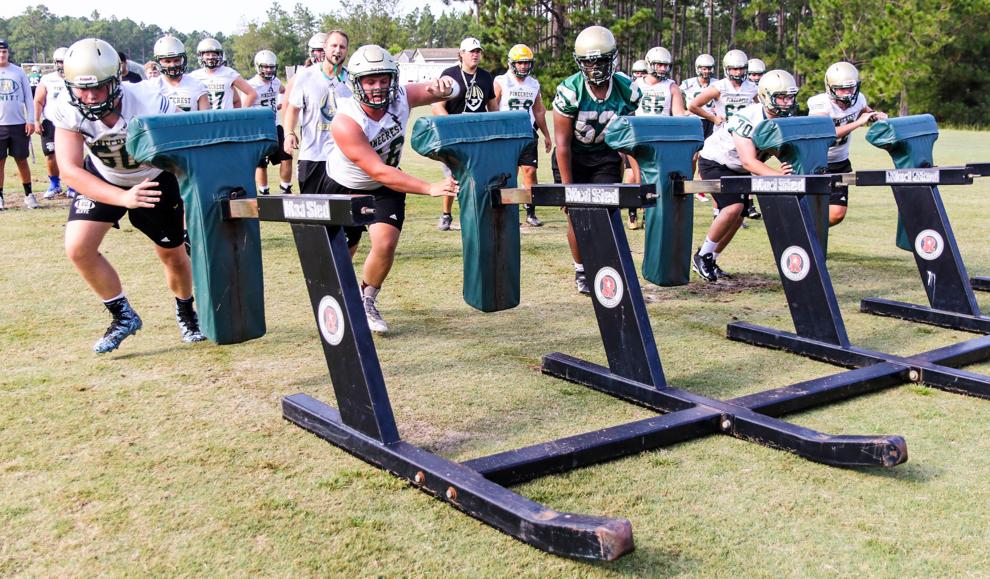 "We're just staying with the business as usual, the normal routine," Patriots coach Chris Metzger said. "The kids are doing a great job, the coaches have done a great job. We're just one step closer to our goal."
The teams also have the element of cohesion going into this preseason, with skill developments separating players being on campus two days at a time, opposite some of their teammates.
"I think the first thing is getting some familiarity with what we are trying to do offensively, defensively and special teams wise and then getting some familiarity with some players," Carrouth said. "Some of our guys have been all virtual so we haven't seen them very much at all. You'll see some on A day and some on B day."
With a week less of lead-in time to the first game of the regular season, the implementation of schemes and plays also comes with learning the week 1 opponents as well.
"Ultimately with the short amount of time we've got, we're going to begin to prepare for Montgomery Central immediately, especially since there's 18 days to prepare," Cox said. "We're going to start working on how we are going to attack them and defend them immediately and simultaneously work on our fundamentals and getting everything up to speed."
The little things are being put into focus for the Pinecrest football team with basically two weeks to go until it opens the season at Seventy-First.
"Fundamentals, fundamentals, fundamentals," Metzger said. "It's been 15 months since they've really been able to play football. We're just getting back to the fundamentals and getting the kids to focus on the little things."