While last week's loss to North Stanly put a big hit on the North Moore football team's playoff chances, a win on Thursday at home against Chatham Central could play a big part in keeping the Mustangs in the postseason focus when the brackets are seeded on Saturday.
North Moore can close out the regular season with a 3-2 conference record with a win, a spot that would have the Mustangs teetering on the line as far as playoffs. That's also depending on how other teams across the state finish that are in a similar position.
"I love our attitudes. We got beat by a good football team on Thursday night, and with this week being spring break I was worried about what things would look like coming to practice from 8 to 10 in the morning," North Moore coach Andrews Carrouth said. "We had everybody there on Monday morning. They busted their butts on Monday and busted their butts again today. It just shows me that this is a special group. They are locked in to what they want to achieve and what they want to do.
"We want that one more week. We want that one week together to add to what we've done and the only way to do that is to beat Chatham this week."
A season filled with adversity has the Mustangs (3-3) in position to possibly make the playoffs for the first time since the 2016 season.
The final week opponent for North Moore is rival Chatham Central (1-2), a team that hasn't played since March 26. The Bears opened the season at Albemarle and grinded out a 6-0 win in the rain.
The Bears' offense has scored three touchdowns this season, with senior quarterback Michael Moore tossing two scores with five interceptions. Moore is also the team's leading rusher with 116 yards and the other touchdown coming on the ground.
"They've got a really good quarterback and some skill kids that can really play. We will have to have that same effort this week," Carrouth said. "You watch them on film and you are just waiting for them to explode and have that 50-point night."
Seniors Parker Crowley and Tyler Oldham lead the Bears' receiving group. Carrouth said he wants to see a carryover from the defense that held North Stanly in check for most of the second half outside of two late scores.
"We've got to make sure that we are tackling early. That's one of the big keys for us," Carrouth said. "We need that kind of play again this week."
North Moore's three-game win streak was snapped last week at North Stanly, as two of the three losses for North Moore have come at the hands of the Yadkin Valley Conference champs this season. North Moore's offense, after being shut out in the first game of the season, has taken strides in the last five weeks, including surpassing the 40-point plateau three times in the winning streak.
The Mustangs lost 38-20 last season to the Bears, and are looking for their first win in the series since 2017.
Pinecrest Takes on Falcons Looking to Stay in Playoff Picture
As the only Sandhills Athletic Conference team to play all seven of its scheduled conference games with Thursday's kickoff, Pinecrest looks to make up for its shortcomings a week prior.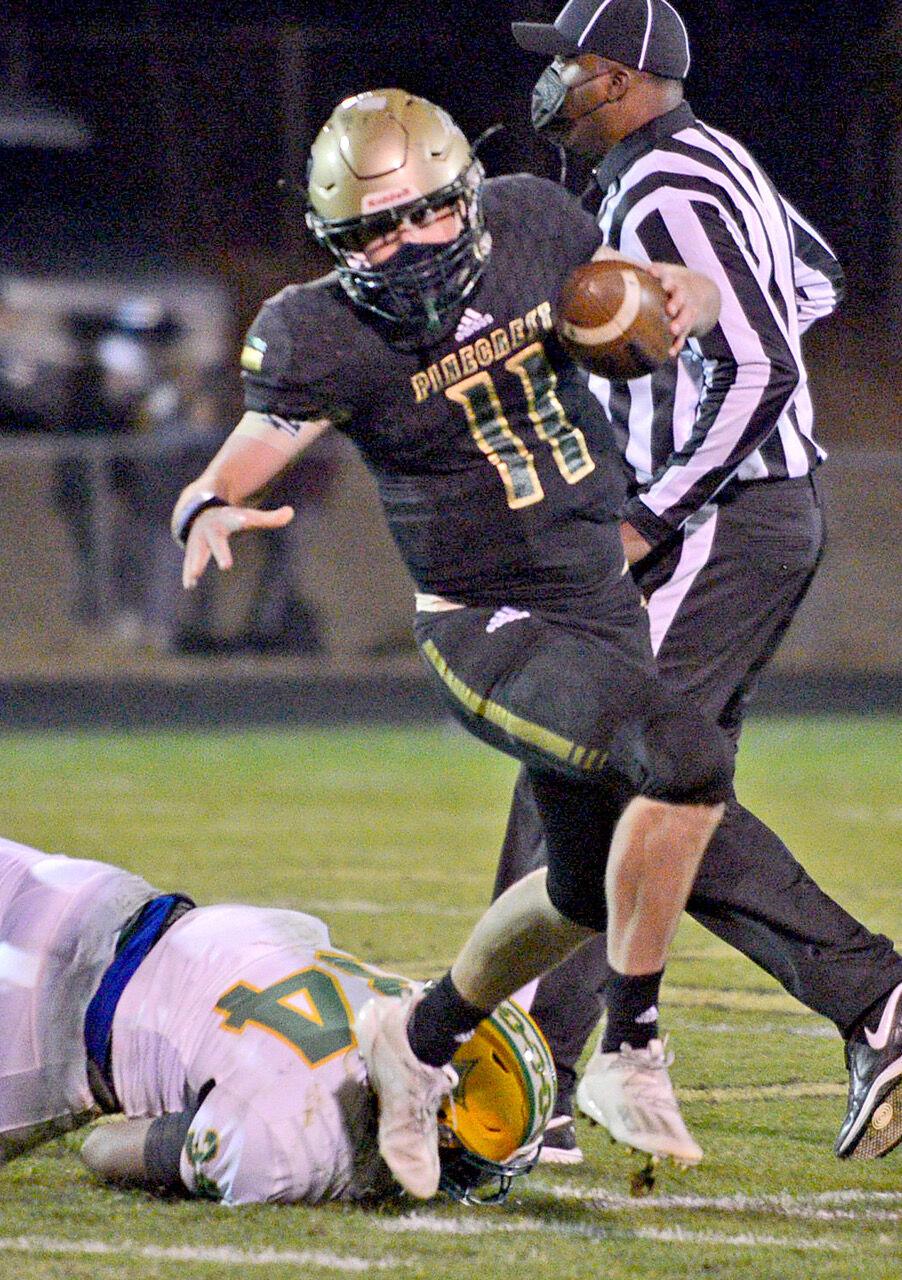 Through it all, however, Pinecrest coach Chris Metzger takes pride in the program fielding three teams, two JV and one varsity, and handling adversity without a hiccup.
"The kids are hungry and it's been a joy," Metzger said. "During a tough year, these guys have absolutely represented our four pillars — love, effort, focus and trust — and our overall theme is champions in the game of life. Do we want to be successful? Yes. Do we want to win the game? Yes. But we want to win the game of life."
The Patriots enter Thursday's matchup with Seventy-First needing a win to stay in the playoff hunt. A win and a loss for Scotland to Jack Britt would help out Pinecrest even more.
"Our conference is top to bottom the best in the state," Metzger said. "You can't have a week off. Last year was the first time in school history that Pinecrest beat Seventy-First. They are peaking, they've got a young team that's playing well and they have a bad taste in their mouth. Our kids understand that this is basically playoff week 1. This is the first round of the playoffs, no doubt about it."
Against Jack Britt last week, the Patriots (4-2) had a pair of costly turnovers to the Bucs' vigorous defense that Metzger has made a point of emphasis this week.
Seventy-First (2-3) leans heavily on the pair of underclassmen running backs, freshman Anthony Quinn Jr. and sophomore Jayden Shotwell, who each have rushed for more than 600 yards this season. Shotwell has found the end zone for six touchdowns and Quinn Jr. has scored five times.
"Seventy-First is physical, with a phenomenal run game with a 1-2 punch, and now they've got a young quarterback that is starting to pass well and runs well. It's going to be incredibly important for us to minimize the mistakes," Metzger said. "It's just important for us to rally to the football and read our keys. We're really confident in our two inside linebackers, Gibson Macrae and Mac McFadden, so from that standpoint we've got to rally."
Linebacker Jamieson Alston leads a Seventy-First Defense with 50 tackles, six tackles for loss, an interception and a forced fumble. Against teams with a winning record, the Falcons have been outscored 63-20.
The last time these teams met, Pinecrest claimed a 20-6 win over the Falcons.
Union Pines Aims for Winning Record
With a conference title and more than likely a playoff spot out of reach for Union Pines, there's still something the Vikings can attain that would be a program high-mark.
A win over Western Harnett on Thursday would secure back-to-back winning seasons for the first time since 1998.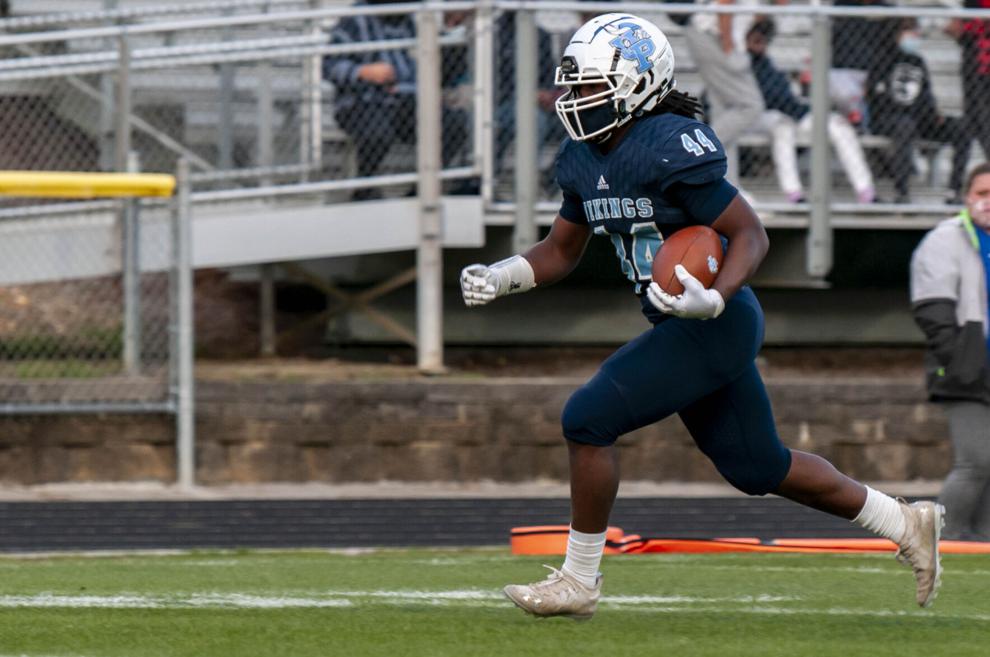 "It would mean everything to this group of seniors. The message has been: I want you seniors to go out winners," Union Pines coach Lonnie Cox said. "In the last two seasons, it has been both humbling and honorable to watch this core group of young men get down in games and fight back over and over again and win. They have learned how to fight through adversity and come out on top and that is something that will propel them forward all throughout life."
Union Pines enters this week after falling victim to Triton last Thursday in a 60-27 loss. The Hawks rushed for more than 400 yards in the win and injuries and turnovers hampered the Vikings in the final home game of the season.
"While I have seen stranger things happen in terms of playoff seeding, we know that our chances of making them are slim to none," Cox said. "Despite that, our young men have had great attitudes and have continued to work hard in hopes of finishing with a winning season."
A hungry Eagles (0-6) team is set to welcome the Vikings having gone 15 games, dating back to August 2019 without a win.
Senior Tristin Ung has passed for five touchdowns and junior running back Elijah Bass has rushed for four touchdowns and 308 yards.
"Western Harnett has a wealth of athletes, and their skills guys are as good as anyone's," Cox said. "They are a big play team; I have watched several films in which their receivers just flat out run an opposing team's secondary and score. It will be important to keep them in front of us and make them sustain drives."