All three Moore County high school football teams entered Week 6 of the season knowing that if they were to close out with two wins each that the state playoffs would be very strong possible.
As the clock melted quickly off the scoreboard at Union Pines, Jack Britt and North Stanly, the playoff chances for the Vikings, Pinecrest and North Moore took a hit on Thursday. All three will need wins in the final week of the season, and some help as well to secure playoff spots.
In the only home matchup, Union Pines watched as the for the second home contest in a row, the visitors ran with ease over the Vikings defense. Triton rushed for 431 yards and eight of the nine scores came on the ground as the Hawks stayed perfect in the Tri-County Conference with a 60-27 win.
"Lee County didn't use as much misdirection. Triton really hurt us tonight with misdirection," Union Pine coach Lonnie Cox said. "They had a great game plan offensively and executed and we didn't."
Much like Lee County did two weeks ago at Woodrow Wilhoit Stadium, Triton's run game put on a show as the Viking (3-3, 2-2 Tri-County) defense was unable to get initial stops with the tacklers first to the ball carriers. Freshman running back J.J. Cowan had 222 yards rushing and scored four touchdowns in the win.
Triton (3-2, 3-0 TCC) plays at Lee County on Monday to determine who will be the conference champion and the automatic qualifier for the state playoffs. Union Pines finds itself in a major disadvantage as far as the playoffs with a .500 conference record.
Momentum shifted in a hurry for the Hawks in the final three minutes of the first half.
Union Pines took a 13-6 lead on a Micah Monaghan touchdown pass to Ahmad Jones with 4:03 left in the second quarter.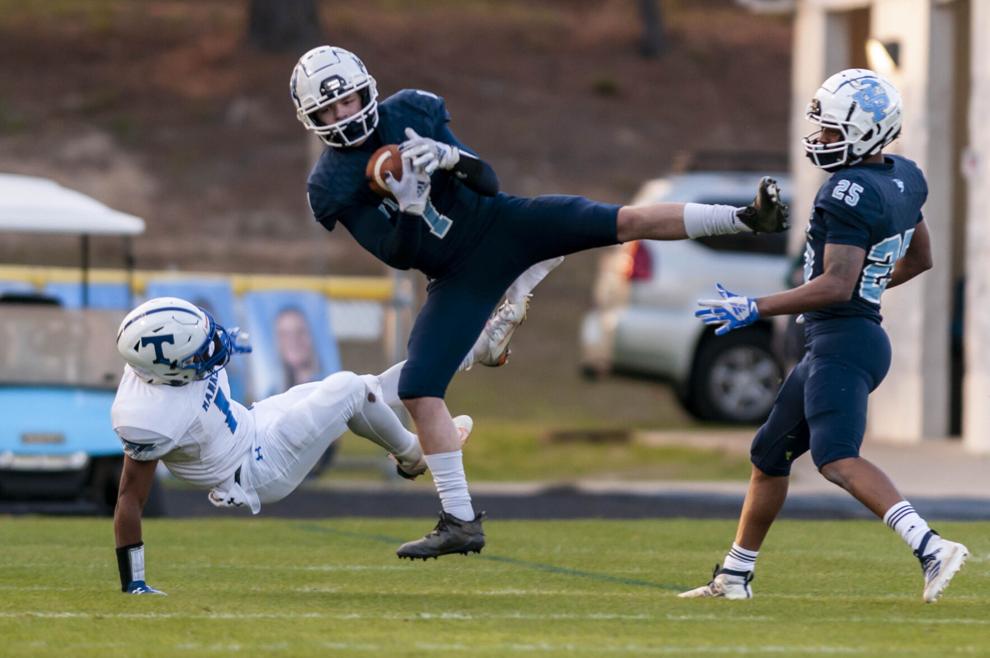 Cowan scored his first touchdown moments later on a 49-yard score to make it 13-12 Union Pines. A fumbled handoff recovered by Triton's Braxton Herring set up Cowan's next rushing attempt, a 32-yard touchdown run to make it an 18-13 Triton lead.
The Hawks' defense forced a three-and-out on the next possession and scored late in the first half on a 40-yard double reverse to senior Malachi Batts that made it a 26-13 advantage for the visitors at the break.
Batts rushed for 112 yards on nine carries as his rushing attempts on sweeps and toss plays proved to be hard to stop for the Union Pines defense.
"They really killed us with buck sweep. They ran buck sweep over and over again and we didn't have an answer for that," Cox said. "When Wing-T teams are effective at running buck and jet sweeps it sets up other things for them."
Both teams traded out empty possessions on their first offensive serieses of the second half before J.P. Petoletti scored on a 3-yard dive with four minutes to go in the third to push the lead out to 32-13.
With the run game moving the ball effectively for Triton, it made comeback efforts even harder for the Vikings.
"They are a run first team and they rarely throw the ball. When you get down to them, you have to throw and try to get yourself back in the game," Cox said. "We thought the only way to stay in was to take our shots and that led to some interceptions."
Monaghan did not return to the field in the second half due to injury, but the Vikings offense scored twice with backup quarterback Ben Finklestein connecting with Kelby Wright for two touchdowns, from 13 and 47 yards out. Cowan, Batts and the Hawks had their answers the rest of the way, and the win was capped off with a pick-six by linebacker Noah Jackson, who returned Finklestein's last pass attempt 25 yards for a score with a minute to go.
Union Pines turned the ball over five times in the loss, including four through the air.
Mayson Dear had an interception in the first half for the Vikings.
The Vikings will look to close the regular season on a positive note at winless Western Harnett next Friday.
"We've still have a chance to have a winning season, and I stressed over and over again talking to our team that our seniors have a chance to leave here winners," Cox said.
Bucs Defense Stifles Patriots
Pinecrest became the first team to score points on offense against Jack Britt's defense, but was unable to put together drives in the final three quarters of a 21-7 Sandhills Athletic Conference loss on the road Thursday.
"They did a phenomenal job and really executed well on defense," Pinecrest coach Chris Metzger said of the Jack Britt defense. "We had a couple of missed opportunities that they were able to capitalize on."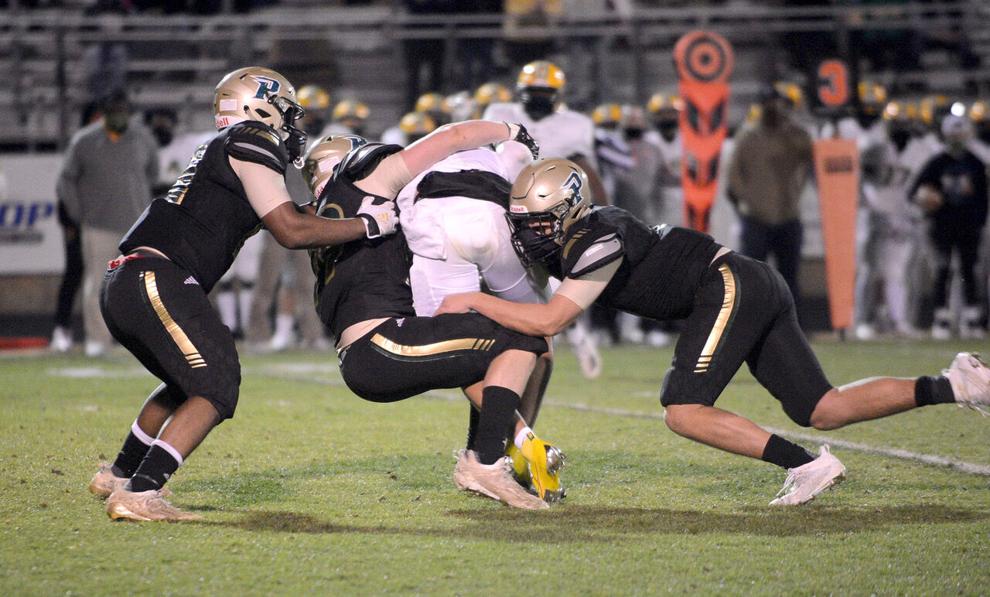 The Patriots (4-2) will need a win at Seventy-First and a Jack Britt (4-0) win over Scotland next week to be the top wild card team out of the Sandhills Athletic Conference for playoff purposes. Richmond will close the regular season with a 3-0 record after its game for next week against Purnell Swett was canceled due to positive cases on the Raiders' team.
"Now is a time that we as a coaching staff need to look in the mirror and pull ourselves up by the bootstraps," Metzger said. "We had our defense on the field way too much today and we've got to do more on offense to help out with that."
Junior running back O.J. Pemberton scored the touchdown for Pinecrest.
Mustangs Win Streak Ends at North Stanly
North Moore fell in an early hole and wasn't able to generate offense in the rematch for the Mustangs at North Stanly in a 36-7 loss.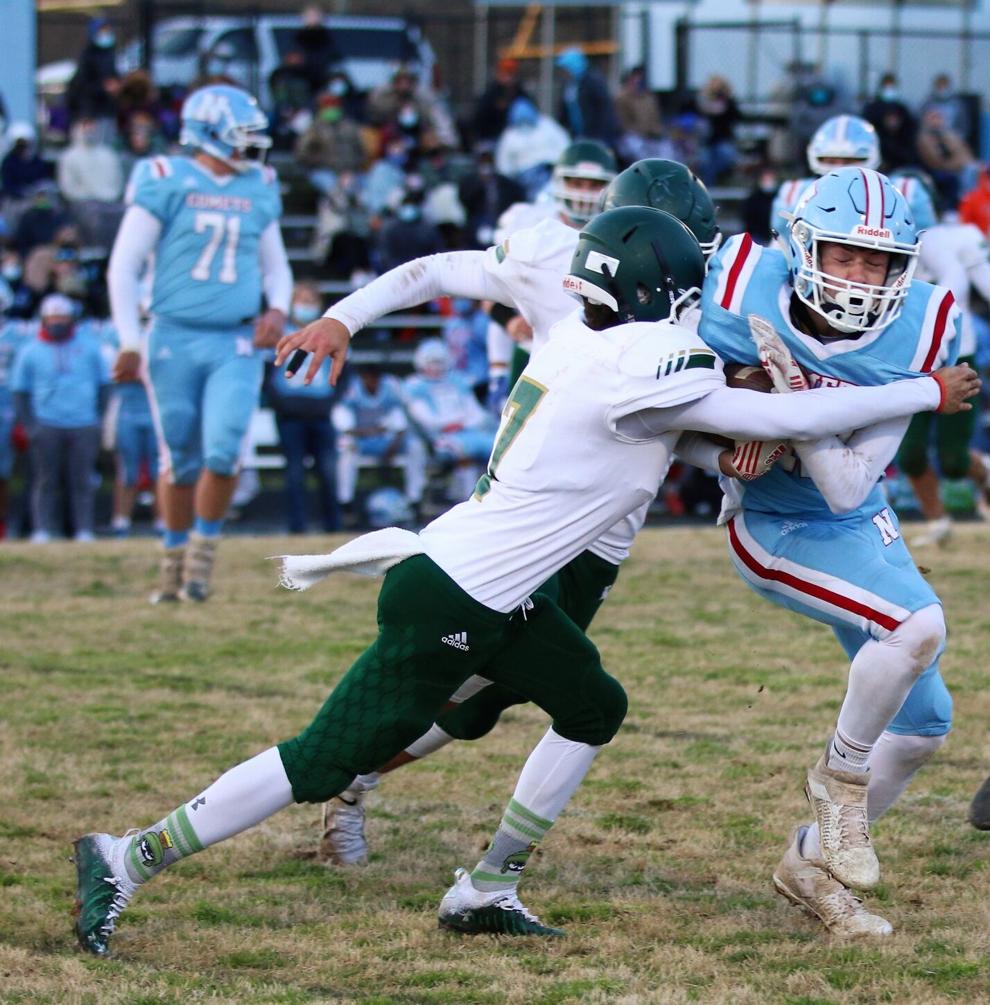 "I thought we would play a little better than we came out and played, but give credit to North Stanly because they are a really good football team," North Moore coach Andrew Carrouth said. "This year their defense has allowed 29 points (in conference play) and we've scored 22 on them."
The Comets (5-1, 4-0 Yadkin Valley) jumped ahead 15-0 in the second quarter before the Mustangs (3-3, 2-2 YVC) were able to find the end zone on a Justis Dorsett touchdown.
"We had a 10-minute drive to be able to score so we had some good things going for us, but we also had too many mistakes against a really good football team," Carrouth said. "They came out and scored right before half and that was deflating, but our kids came out and played really well in the third quarter."
Both teams were held scoreless in the third quarter before some late touchdowns from North Stanly.
North Moore plays Chatham Central Thursday at home looking to be the top team outside of the two automatic playoff berths.