Monday's 27-hole Flyers Fall Classic at Longleaf Golf and Family Club produced a team title for the Sandhills Community College men's golf team before culminating in a two-hole playoff for medalist honors between Flyer teammates.
The Flyer "A" team finished in first place followed by the Flyer "B" team, USC Sumpter, Surry CC and Davidson County CC. The Flyers' Nick Agapion caught up with 18-hole leader Andreas Huber on the ninth hole (27th of day). They then played the ninth two more times before a par gave Agapion medalist honors, wrapping up a nine-and-a-half-hour day for the pair.
"A little intrasquad competition is never a bad thing," coach Gus Ulrich said afterward. "Nick and Andreas are great friends, but they're also great competitors and what a great arena for them to have some fun and really work on their games. I was really proud of them and the whole team for that matter."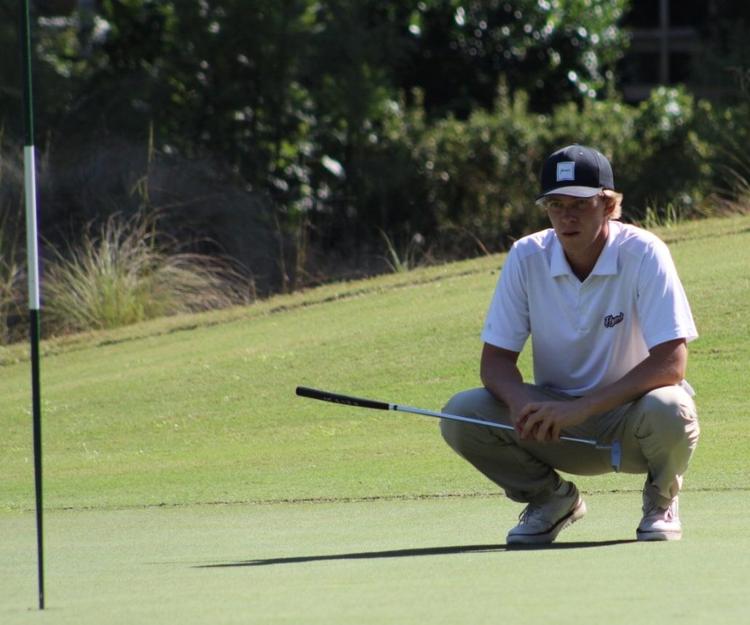 Other Flyers earning medals for top five finishes were Teddy Sluser in third place, Adam Hathaway in fourth and Andrew Crawford in fifth.
Sandhills had eight of the top nine finishers in the event.
At this time a year ago, then sophomores Agapion, Sluser and Grant Gilbert returned to Sandhills with the expectation of making another run at the national championship that slipped away the spring before in Chautauqua, NY.
In a bid for the program's second national title (the first was in 2014), the Flyers led second place Georgia Military by 11 strokes going into the final round only to finish second by a single stroke. Trey Capps of the Flyers was the medalist and Gilbert earned honorable mention All-American honors.
When spring sports were cancelled last March because of the pandemic, the NJCAA stepped in and ruled that no student athlete would be charged a year of eligibility for the spring of 2020.
Agapion, who is from Gaffney, SC, was asked what he thought he would be doing now had his eligibility to play golf at Sandhills not been extended.
"I would probably be playing at a four-year school," he said. "But with not getting to compete for a national championship last spring after that sour loss the year before, getting an extra year granted because of Covid is nice.
"The Pinehurst area is great. I get to go to an amazing golf course every day. I couldn't ask for a better place to try to improve my game. I think we have a really solid team and have a real good chance to compete for a national championship next spring."
Huber is from Bruneck, Italy, and prepped at Montverde Academy in Florida before coming to Sandhills. He was third on the team in stroke average last fall. Under the NJCAA ruling, he and last year's other first-year players, including Crawford, Carson Witherspoon and Dakota Oman retain their freshman standing.
Huber spent the summer in Italy before returning to North Carolina last week. His 1-under-par 71 in the morning tied his best round as a Flyer.
On the first playoff hole against Agapion, he pulled off one of the shots of the day, following an errant drive to the right. Partially obstructed by a large tree, and in the rough about 80 yards from the green, he executed a bump and run with a seven iron that enabled him to get on the green and up and down with two putts to save par.
"Andreas is an exceptional ball-striker," Ulrich says. "Today as a team we figured out some areas we need to work on. I'm just excited we got to play, period, based upon the way things have been going with the pandemic.
"I'm tickled we got the green light for the fall season even though it is limited. Hopefully if things go well we will have a full schedule in the spring. I feel really good about this team moving forward."
The fall schedule continues with the Surry College Fall Classic next Monday and concludes with the Barton College Fall Invitational on Oct. 19.
"The extension of eligibility for Nick, Grant and Teddy gives them a chance to get back where they want to be and a chance to redeem ourselves at the national tournament," Ulrich said. "The newcomers are playing steady golf and I'm excited about them. I feel really good about this team moving forward."
In addition to Hathaway (J.H. Rose), the first-year Flyers also include Logan Davidson (Pinecrest), David Langley (South Central) and Noah Maness (Gray Stone Day).