The regular season is winding down for the Sandhills Community College men's basketball and volleyball teams as both teams continue to jockey for position in the Region 10 standings with the postseason looming.
Both teams are sitting in third place in the region standings with the volleyball team closing out the rest of the regular season this week and the basketball team's season runs through the end of the month.
Playing in a different time of year this season, the Flyers' volleyball team is toward the end of a long process, and the effects are starting to show.
"It's been that thing that we have been doing this for so long this season because it started in August," coach Alicia Riggan said. "That was kind of my speech on Monday was, 'you're going to be banged up. Things are going to hurt you now because we are at the end, and this is really going to set who's tougher and who's not right now.'''
Riggan said that the sophomores have played a vital part in helping keep the team's focus as of late.
Sophomore right side hitter Khaile Jones said that the seven-player sophomore class has had to grow from last season to this season, most importantly as leaders. Jones' confidence this season at her position has helped in her leadership role.
"From my confidence, I feel like I have set the example where I can tell them, 'if I can do this, I know you can.' I have confidence leading other people," she said.
The team won 11 games in a row that stretched from late January and ended earlier this month when the Flyers lost back-to-back matches to Catawba Valley and Cape Fear.
Entering this week, Riggan wanted to see energy from her squad to take care of business and help lock in the No. 3 seed for next week's Region 10 tournament.
"For us, part of us dropping a couple games was us maybe not being focused," Riggan said. "Sometimes when you win for a long streak, it kind of becomes — not untouchable — but kind of like, 'we went through the motions and still won this game so if we go through the motions it will end up working out for us.' I hope that we saw that early and we're hitting our peak."
Jones said the loss provided a valuable lesson for the team on carrying energy throughout the whole match.
"From losing to Catawba and then Cape Fear, it sucks. Losing sucks," Jones said. "But when you know that you put your all in it, especially with Catawba Valley, we fought but we didn't fight as hard as we know we can."
Sandhills closes out the regular season on Thursday and Friday at home.
The Flyers' basketball team had an extended eight-day layoff before returning to action against Hosanna College on Monday. The break was a chance for the team to take a deep breath before closing out the season, coach Mike Apple said, but did take some time for the team to settle in.
"We have stretches where all of a sudden we are playing fast and we're sharing the ball and it looks great. Then something happens and we stop," he said. "Part of that is we haven't played since last Sunday. We have to keep the consistency going."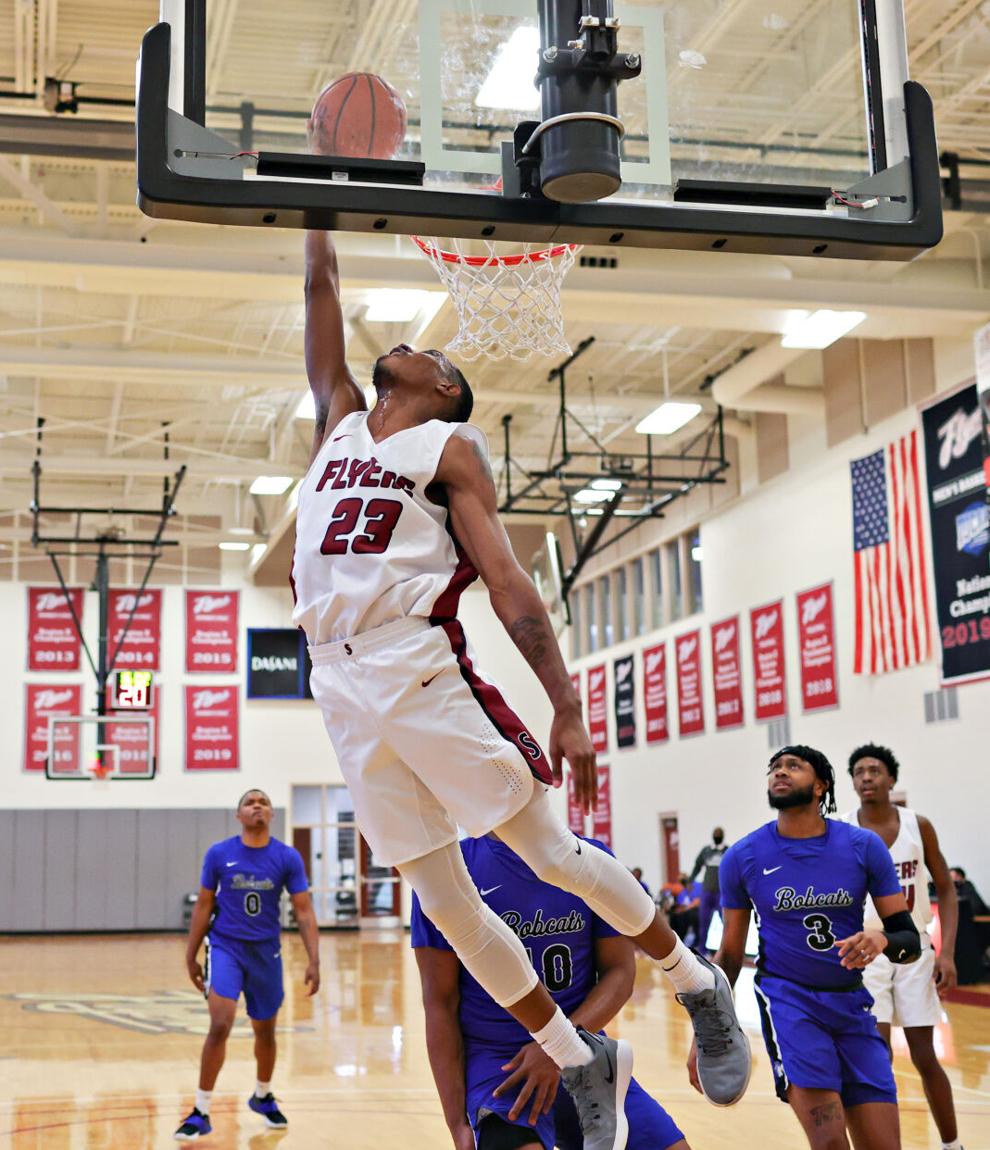 With six games remaining on the schedule for the Flyers, four are at home. Four of the final six games are against the other top-five teams in the conference. Sophomore Derreco Miller said he wants to see improvements on the defensive end for the Flyers if they want to have a postseason run like last year that ended with a national championship.
"We need to prepare more defensively. Our offense will come, but we just need to get better defensively," Miller said. "If we make that run, I know it's going to be tough because them teams are going to have that 'kill or be killed' mentality. We need that too."
While perfection is an unattainable goal, Apple hopes that most errors will continue to be cleaned up.
Miller said that when the team does have its moments of sloppy play where they play out of character, he feels he has to take over as a sophomore leader to help lead the way through the turbulent times.
"I have to just get the team's head right, communicate on the court and as well if I'm on the bench and keep the bench in it," Miller said.
The Flyers lost two out of three games late in February and now are riding a four-game win streak. Sandhills plays at home on Saturday.