In what was probably the first time in the history of football that a football team groaned when their head coach said to get in the victory formation, the North Moore football team wanted junior running back Justis Dorsett to get one more hand off on Thursday night at home.
With less than 20 seconds left in the game against Chatham Central, and a comfortable lead, the North Moore coaching staff elected to pack it in and to give Dorsett a rest to close out a 77-50 Yadkin Valley win in the regular season finale.
What the players on the sidelines were wanting was to see Dorsett cross the goal line one more time to break the N.C. High School Athletic Association's record for touchdowns in a game, which Dorsett matched with 38 seconds to go in the game.
"It was getting late in the fourth quarter and I was feeling the pressure," Dorsett said. "Coach (Justin) Marley came up to me (early in the second half) and told me I needed two more to tie the record and three more to break it.
"Our line was a main part of this. I want to thank God for allowing me to accomplish this."
Word started spreading on the sidelines after halftime that Dorsett was nearing the eight-touchdown mark, which is shared in the state record books with five other players for most scores in a single game. Dorsett scored five touchdowns before halftime, and quickly added two more scores early in the second half using his field vision and slippery running style that the Bears (1-3) became all too familiar with in the shootout loss.
"Find the hole and hit it. Then break tackles," Dorsett said. "Then I run as fast as I can."
The Mustangs (4-3) took over on their final scoring drive with less than six minutes to go, and once inside the red zone, Dorsett was the focus.
The junior running back was stopped for short gains, one of the few times on the night, on his first two tries before finding a running lane for a 9-yard touchdown on third down as the clock was ticking down under a minute.
"If you see him, he probably doesn't weigh 150 pounds soaking wet, but the kid has the heart of a freaking warrior," Carrouth said. "He runs as well as any running back I've ever seen and he's lightning quick. You put all those things together and it's a recipe for a kind of night like he had tonight."
Dorsett rushed for 381 yards on 18 carries and highlighted a North Moore rushing attack that saw little resistance all night. The Mustangs rushed for 611 yards as a team on 38 carries, for an average of 16 yards per carry.
"A lot of the credit goes to the offensive line. They did a great job of getting on blocks and staying on blocks," Carrouth said. "Our running backs did a really good job of not bouncing stuff out wide and following their blockers to trust where the holes would be."
Outside of the two drives that ended due to the end of the halves, North Moore scored on every drive and didn't attempt a pass all night.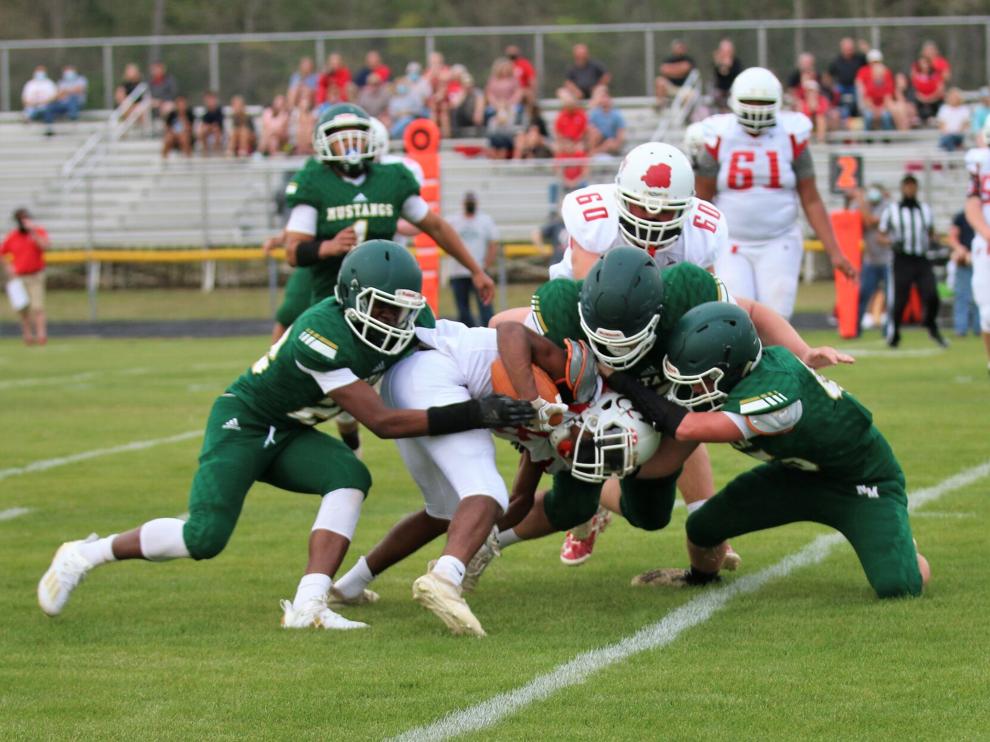 North Moore started the game nearly untouchable in the first quarter, running five plays for three touchdowns. Senior Jaleak Horne scored two while Dorsett added his first during the flurry where the Mustangs took a 28-8 lead with less than two minutes to go in the first quarter.
Add in there a special teams touchdown when senior linebacker Trace Wilson fell on a fumbled snap to the punter in the end zone with 5:55 left in the first quarter to go up 21-0.
Both offenses put up fireworks in the second quarter.
After North Moore scored on its first drive of the second quarter on a 3-yard Dorsett score where he flashed his elusive and hard-nosed running style to double back in traffic and escape a host of Chatham Central tacklers, the Mustangs got the ball back on an onside kick to set up a 4-yard score from Horne to put North Moore up 42-14.
The Bears struck for a 90-yard touchdown pass from Michael Moore to Tyler Oldham on the next play from scrimmage, and North Moore responded with a one-play drive of its own when Dorsett found the open field for a 47-yard scoring scamper.
Moore passed for 430 yards on 25 completions and six touchdowns in the loss, but after halftime, the Mustangs wanted to make the Bears work for scores.
"We wanted to make them drive the football," Carrouth said. "We were able to build up a lead and we were able to sit and try and take away things they wanted to do deep wise, and what we wanted to do then was to come up and rally to the football and tackle."
In the second half, Chatham Central scored two touchdowns, with one coming on a 57-yard pass following Dorsett's record-tying score.
On top of being the main rusher for the Mustangs, Dorsett also played in the defensive secondary.
"I'm a little tired because in the second half I had to come in on defense too," he said. "I feel like I wasn't as tired because I had five touchdowns and I wanted to keep scoring."
Horne finished with 147 yards and two touchdowns.
North Moore will sit and wait to see its playoff destiny with a 4-3 record and on the bubble for one of the few 1A wildcard slots.
"We're kind of playing the waiting game," Carrouth said. "I feel like we are a playoff team that deserves an opportunity to go have that reward for the season that we have had."
Pinecrest Finishes Strong Against Falcons
Already in playoff mode, Pinecrest was able to shutout Seventy-First on the road on Thursday to close out the regular season with a 28-0 win.
"It was much needed after last week," Pinecrest coach Chris Metzger said after the Patriots' chances at claiming the second automatic bid out of the Sandhills Athletic Conference with a loss at Jack Britt.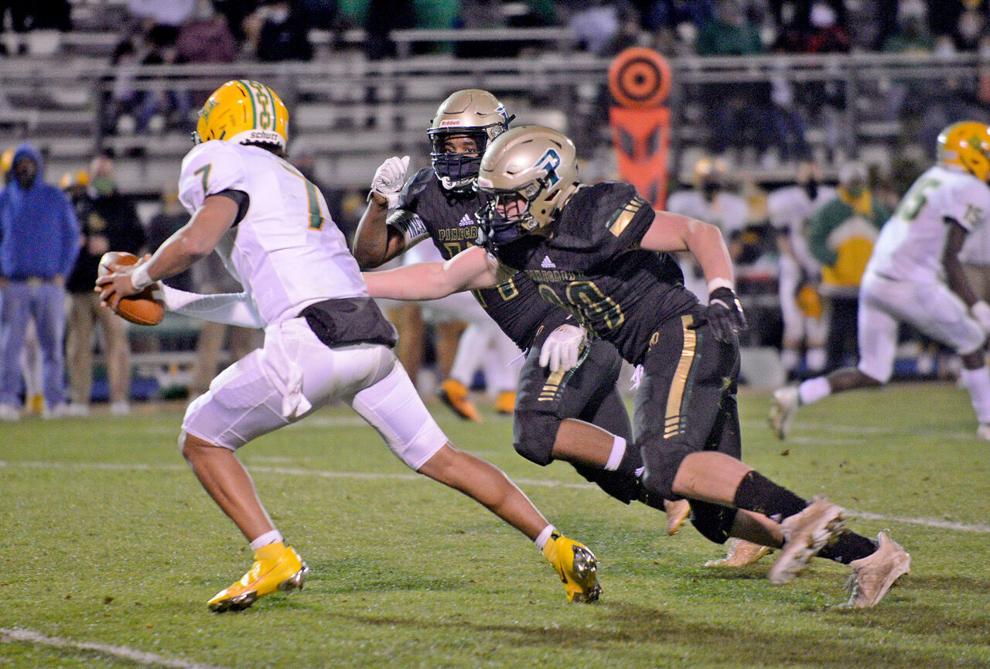 Pinecrest (5-2) scored 14 points in the first and fourth quarters of the victory.
Semet Cobb found the end zone on a jet sweep and Braxton Barber connected with Aaron Scott for a touchdown pass as the Patriots went up 14-0 at halftime. In the second half, the Pinecrest defense continued to bend but not break.
"They got inside the 10 a couple of times and the guys did a good job of making the plays they needed to," Metzger said. "In the second half, they started on a 15-play drive. We stopped them and the offense responded with a 98-yard drive. Those are some of the pivotal moments in a game and in a season that can take you to the next level."
Nico Marella scored on a 2-yard run and Bryant Spearman capped off the night with a touchdown run.
"It speaks volumes to their resiliency and their commitment. Those guys came out tonight and played a complete game. Our whole mantra this week was this was playoffs week one," Metzger said. "In order for us to have an opportunity to continue, we had to get it done this week."
Now the Patriots will sit and wait to see their playoff fate, and a loss for Scotland to Jack Britt on Friday could better that situation immensely.
"It's a four-game season and the goal is to win one game at a time. I kinda like the situation," Metzger said. "There's eight teams in the east and we're going to play one of the top four seeds," Metzger said. "We're going to play an undefeated football team and that's what it's all about."
Vikings Cap Year With Win
With a 49-12 win over Western Harnett on the road, Union Pines posted its second straight winning season, the first in program history since the 1997 and 1998 seasons.
If the game was the final high school game for senior Ahmad Jones, he went out on a high note with four touchdowns in the win. Jones rushed for two scores on 122 yards, caught a touchdown pass from Micah Monaghan and returned a punt 53 yards for a score against the Eagles.
"Ahmad was electric last night. Whether it has been returning kicks, punts, catching passes, or running the ball, he's always made things happen when he touches the football," Union Pines coach Lonnie Cox said.
The Vikings (4-3) jumped ahead 22-6 at halftime and added four touchdowns in the second half of the Tri-County Conference win.
Monaghan tossed a touchdown pass to freshman Ethan Biggs in the first half. The junior quarterback threw for 255 yards, with Kelby Wright collecting 103 receiving yards and Biggs finishing with 99 yards.
As a team, Union Pines had 461 yards of total offense.
Other scores came from sophomore Ben Finklestein and freshman Austin Mooring on his first varsity carry.
Evan Gattis kicked a field goal.
As far as the playoffs, a Harnett Central win over Triton on Friday would create a three-way tie for second place in the conference with Harnett Central, Triton and Union Pines and a draw would decide which team would be the second-place finisher. Their records would more than likely not be enough to secure a playoff spot.