With the close of all fall sports last Friday, winter sports now takes centerstage with a few games scheduled the short week before Thanksgiving, only to pick up in full force next week.
Four Moore County hoops teams return to the hardwood after state playoff berths a season ago. Two teams claimed conference championships during a shortened season earlier this calendar year. Pinecrest and Union Pines now find themselves in the same conference, while North Moore will compete in a new conference altogether.
The young roster for the North Moore girls basketball team last season now brings maturity and a hunger to do better, competing in a new conference this season.
"They have a want to do good and I can really tell that in practice this year, especially with the maturity coming into the play. They are ready to go out there and ready to start winning," North Moore coach Katelyn Sheffield said. "My seniors are really wanting to go out with a bang. They are wanting to do good for their senior year."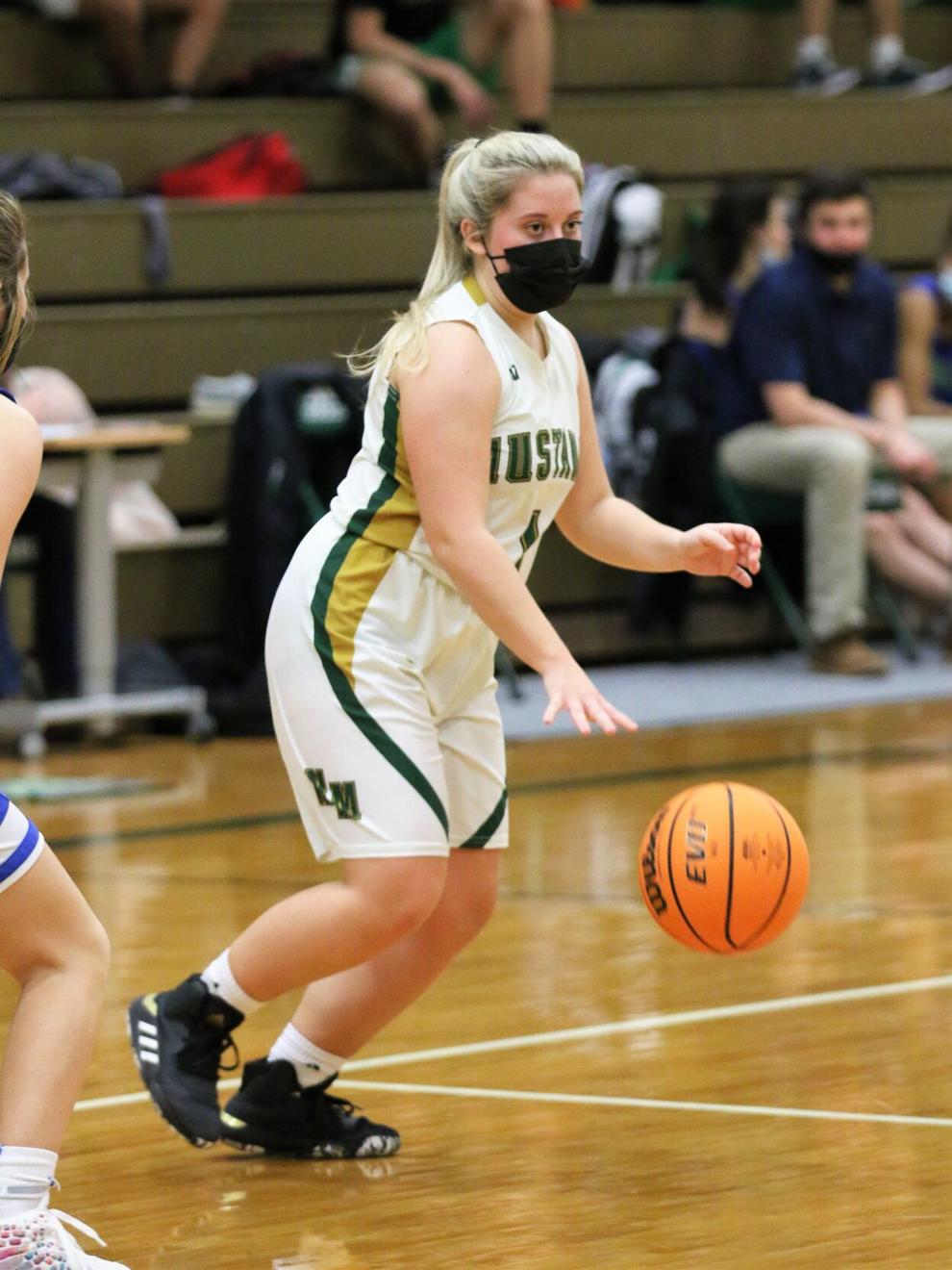 The Mustangs are coming off a 1-8 campaign last season, and return a majority of their key contributors to the hardwood this season.
Seniors Kennedie Mercer, Abbie McNeill, Taleah Cochran-Chisholm and Savannah Kennedy are expected to carry the load for the team this season, Sheffield said. McNeill was an all-conference performer last season.
"All four of those are shooters and they are going to do a lot of ballhandling," Sheffield said. "Those are the ones I'm really looking to really step it up this year."
Among the newcomers to the roster for the Mustangs this season is freshman Calissa Clendenin.
"She's got a lot of potential to do well and she only has room to grow from here," Sheffield said. "She's got really good fundamentals."
Being in the new conference this season, North Moore's veteran team wants to use this season with an element of surprise.
"Every game, we go in it as hard as we can because we don't really know any of these teams, except for Chatham," Sheffield said.
Entering the second season with coach Crystal Leenheer as head coach of the boys basketball program, North Moore enters a new conference with rising upperclassmen taking leadership roles this season.
"We hope to be a very competitive team and we have some good numbers out this year," Leenheer said. "We have some good size and we have some good guards so we have a mixture I like this season. I'm really interested in seeing how the chemistry comes together for the team."
The Mustangs lose senior all-conference honorees Jaleak Horne and Cody Patterson from last season to graduation, but welcome back several players who saw significant time during the 3-6 record last season.
Among the returners include senior guards Javory Wall, Clayton Allred and Ashton Monroe. In the post, senior Logan Ritter returns.
"I really want to see how Logan can come along and work down low," Leenheer said. "We are still trying to figure out what is going to happen for us at point guard. We have several guards in the mix, but we are focusing on seeing what we can do there before the season starts."
Leenheer added that incoming freshman Colby Pennington will be a part of the rotation this year with his versatile skill set and size.
After having a smaller than normal roster last year, Leenheer has welcomed a full roster to practice now that allows full team scrimmages in practice.
"To come into practice and see some of the rotations has been a lot of fun as we are able to rotate people helps out a lot," Leenheer said. "I really want to see us push the ball up the floor now."
North Moore opens the season at home against South Davidson next Wednesday as the incoming football players acclimate to basketball conditioning.
The new conference North Moore enters includes several 2A teams, as well as Chatham Central, who defeated North Moore, 75-40, in the season finale last year.
The preseason for the Pinecrest girls team has provided a familiar look for the Patriots with 11 returners from last year's team. But with that, coach Ronshau Cole wants to see his team continue to get better.
"Building a program and having 11 returners that pretty much know what's going on makes it a whole lot easier," Cole said. "They know the system, but you just try to make sure to stay consistent and do the things that we need to do."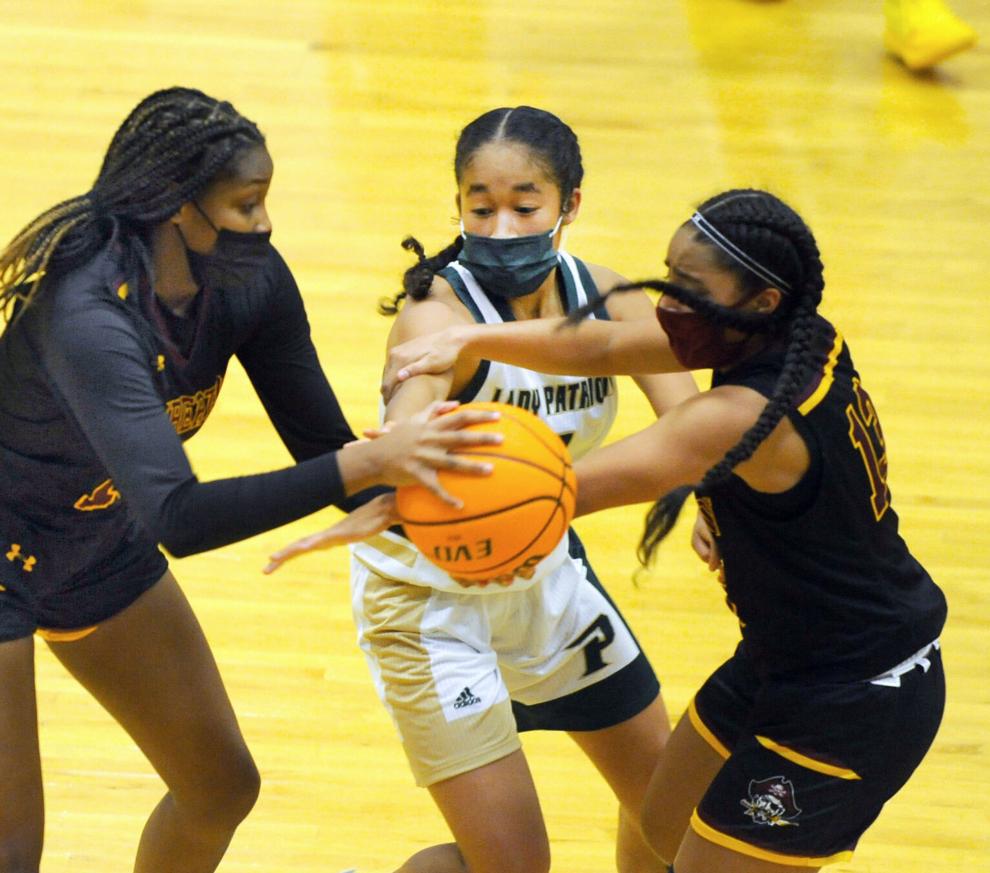 The Patriots finished 10-6 last year and advanced to the second round of the state playoffs, falling to Ashley on the road.
Of those returners, senior Emmie Modlin came in a few games into the season and made an immediate impact with her scoring and rebounding, averaging 13.2 points and 14.2 rebounds per game. She is expected to carry a majority of the load in the post alongside Savannah McIntosh, Sarah Gilder and Emma Garner.
The backcourt is anchored down by senior guards Aniyah Jackson and Britteny Sparrow, who scored 9.3 and 8.0 points per game, respectively, as juniors last year. Jakaya Scott, Anna Apke, Haley Kallgreen and Sarah Holder return to the backcourt to play alongside the duo.
"I expect a lot out of all of them. We have to compete and play as a team in order to get some wins and be successful," Cole said of his returners.
One attribute that Cole likes of his team is their speed, and he hopes that can translate to making the most out of other teams' mistakes.
"I believe we are going to be quick this year, and they show they have effort and they want to get better. I just like this team all around."
The Sandhills Athletic Conference loses Jack Britt and Seventy-First, who finished in the top three with Pinecrest last year, but it also adds Union Pines into the mix.
"I think it's still a good conference," Cole said. "I think it's still going to be competitive. We're looking to have to compete and come to play each game."
With a new coach on the bench for the Pinecest boys basketball team, there are some changes that will come about this season, but some of the pillars of the program's foundation will still be mainstays this year for the Patriots.
Kellen Parrish was hired to lead the Pinecrest boys basketball team over the summer after former coach Ben Snyder resigned to take a position at West Ashley in Charleston, South Carolina.
"Offensively, we are going to push the basketball. I want to play fast and get lots of shots up," Parrish said. "Defensively, we're going to play good, tough-nosed defense. That's what Pinecrest has done and we will continue to do that."
Because of that, Parrish has liked the transition the players have made through workouts and practices.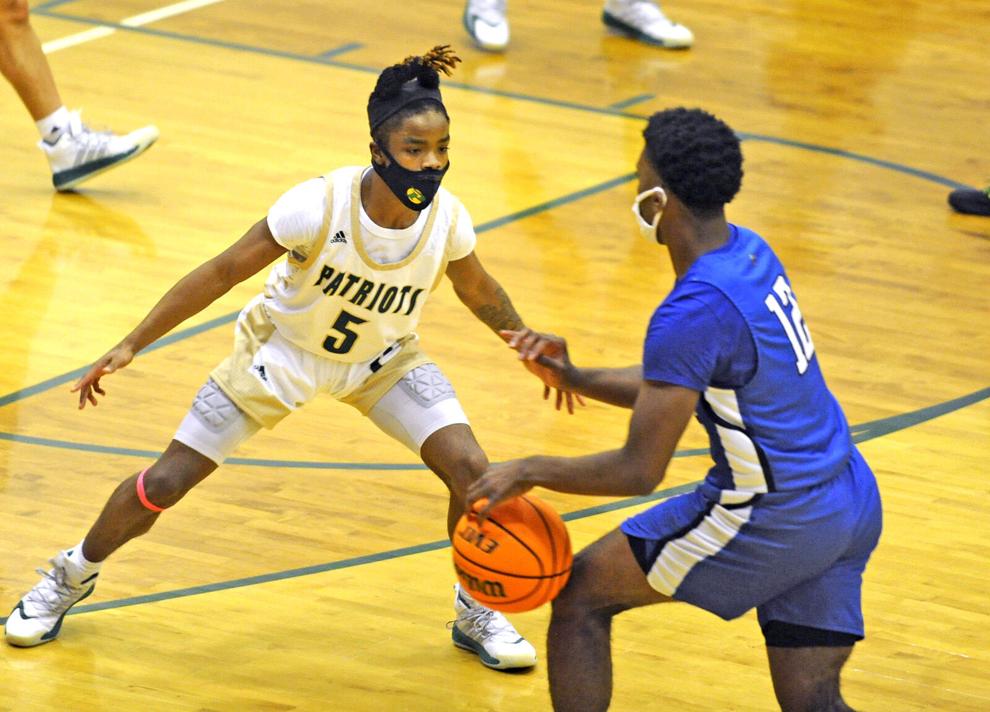 "There has been a good buy-in. These students work very hard. I've noticed that from day one. They want to get better. The program has had success in the past, and it's up to us together to continue that success," Parrish said. "We are just changing up some of the calls and how they did things, but it's still the same. It's still man-to-man defense. It's about getting stops, boxing out and playing hard together."
A group of seven seniors are expected to be a beacon of guidance for Pinecrest this season, and some of that group return to the program after taking time away last season. The seniors include guards Kelyn Harrington, J.J. Goins, Chris Freeman and Thomas Mandell. Athletic wings and post players in their fourth season include Nehemiah Thomas, Aidan Lyons and Jackson Bode.
"The team is very senior heavy, and I expect a lot out of those guys," Parrish said. "They've been through the battles before so we're going to lean on those guys to help the team."
These seniors will look to take leadership control of the team after the exodus of three seniors that were a vital part of the team's recent success in the past. Pinecrest had its second straight run to the regional round of the state playoffs last season, falling to Lumberton at home in the 4A East regional semifinals to finish the year with a 14-2 record.
Among the group of underclassmen that will see time on the court this season is athletic wing Julian Cole, a sophomore.
Roster turnover hits the Union Pines girls basketball team that has won five straight conference titles following an 11-2 season earlier this year. The Vikings lost once at Western Harnett in conference play, and then had an early exit in the state playoffs.
The Vikings enter this year without the team's leader in points, steals and assists from a season ago, but coach Anissa Little is excited for the direction of the team with a new crop of senior leaders.
"I'm excited about our speed and the seniors coming back. We have Sara Adams, Aaliyah Balser, Laya Faulk and Gianna Silverstri," Little said. "I'm excited for the leadership of our seniors and what they bring to the table as far as their skill level and maturity."
Adams and Balser saw the most time on the floor of any returner entering this season. In her first season with Union Pines last year, Balser averaged a double-double with 12 points and 10 rebounds a game last year as a junior. Adams, a knockdown 3-point shooter, averaged 9.9 points per game.
Joining the backcourt as newcomers are freshmen Taryn Pekala and Alley Hise, along with returners sophomores Corryn McCutchen and Mikayla Dunn. Newcomer Clara Tanner also will add depth on the wing. Down on the block, junior Meghan McCaskill returns while sophomore Gracelynn Hammes moves up to varsity.
"We are having some people step into different roles and every day we are casting visions and letting them know what our expectations are," Little said. "We are going to be in a tougher conference, and we've been saying that every day."
The Vikings still will look to generate offense with their defense, as has been the norm in the past for the program, Little said.
"We lost a lot losing the seniors from last year, but I'm excited about what we can do," Little said. "I believe we are going to be fast and we are going to pressure on defense, which is what we like to do."
A large part of the Union Pines boys basketball team returns this season after the team finished 7-4 earlier this year to make the state playoffs. That familiarity has bred to chemistry off the floor as well.
"This is probably the most liked across the board team I've had," coach Nick Boney said. "They love each other, they work hard for each other and I kind of like the teammate part of it more than anything."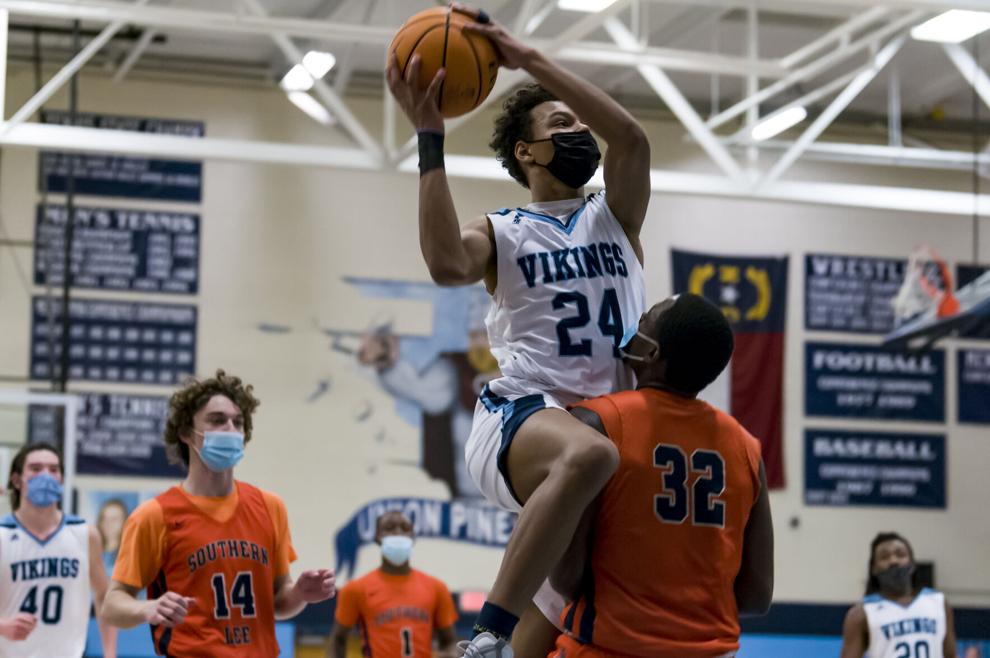 All-conference returners Kelby Wright and Stevenson Haskell return this season for the Vikings for their senior year alongside four other seniors. Post players Isaiah Robbins and Jameson Rembert return after growing at the varsity level last season, and the backcourt has veteran leader Griffin Booker in his senior season.
"Everybody, as a unit, I'm comfortable with," Boney said.
To fill in the void at point guard that Ahmad Jones had before he graduated, Boney has seen junior Jack Adair step into that spot, and he said he likes what he has seen from other newcomers Trent Hillburn, Melan Mulla and Ja'uan Core.
Core and junior Demari Patterson will be in the rotation in the post for the Vikings, who have good length in the frontcourt.
Boney said that his team's toughness will have to translate to a greedy defense this season.
"I think we are going to be very competitive, and we are going to be a tough, hard-nosed team. That's something I really like," Boney said. "Our defense is our catalyst to who we are. I like how we play defense right now."
Boney served as an assistant coach at Pinecrest before taking over at Union Pines, and some of the battles against Scotland, Richmond and Hoke County while there will now carry over into this season in the new conference.
"I always liked the competitiveness and how well those teams are coached and the players. I kind of want to get back to that. I think it's going to be a competitive conference."