The Hannah Center was center stage to a feat that not many coaches, at any level, are able to accomplish – 100 victories at a single school. Friday night, the Falcons added the illustrious 100th victory for varsity girls basketball coach Lulu Brase on their home floor over NCISAA 4A powerhouse Ravenscroft.
"To think back where this journey began," Brase said, "it's hard to fathom. This night is a true testament to our girls basketball families and student-athletes. They've bought into something greater than self and have taken us on some incredible rides over the past few seasons."
When Brase arrived at the O'Neal School in Fall 2013, girls basketball was at a program low. That first season, the Falcons fielded only a JV team due to lack of interest and numbers. But as with any journey, it must begin somewhere.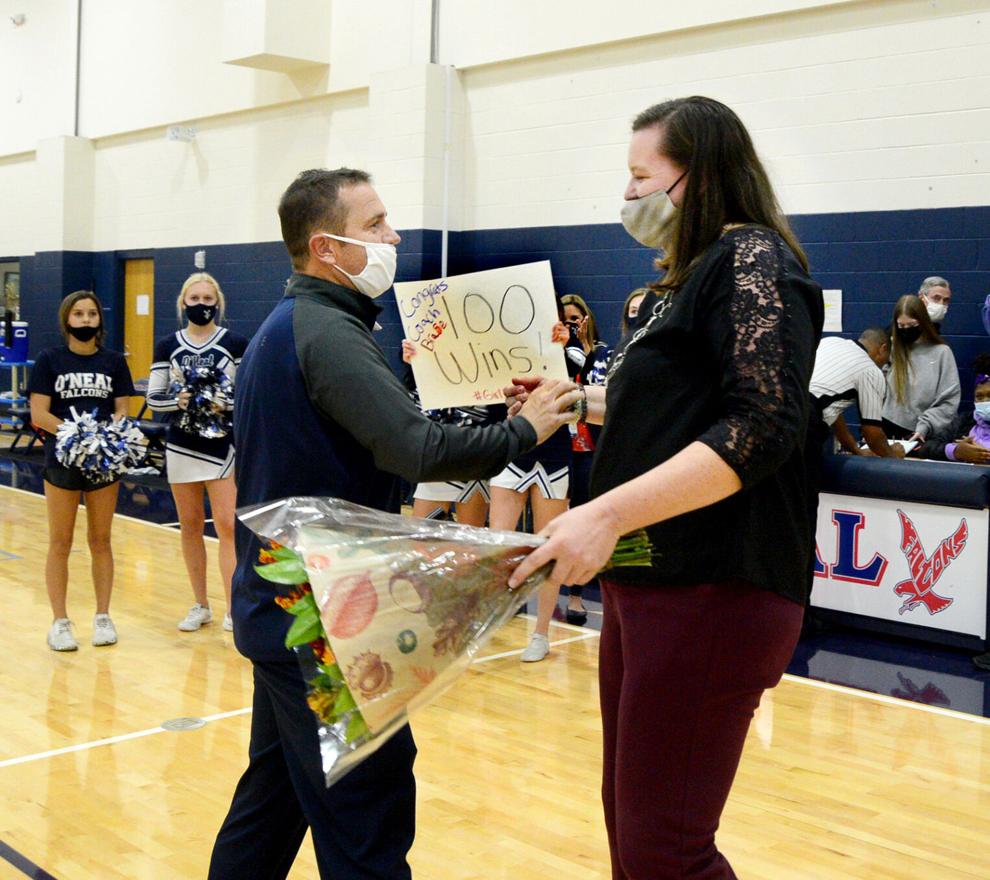 "Those first two years, although they were tough result wise, they truly set the tone for our program," Brase said reflecting on the humble beginning. "There were multiple players who began on the JV team in 2013-14 who played through their senior year and were on a 2016-17 team who made it to the semifinals of the conference tournament. They were all in and started to set the standard of hard work and grit our program is known for."
For the Falcons, the turning point came in the 2017-18 season which saw the Falcons finish with 20 wins, a first in program history, win the EPIC Conference regular season and tournament championships, and host a second round NCISAA State Tournament game. Since this run, the Falcons have won three consecutive regular season and tournament conference championships (no conference champion was crowned during 2020-21 due to COVID) and are currently 44-0 in conference play dating back to the start of the 2017-2018 season. The Falcons finished as NCISAA 2A runners-up in consecutive seasons (18-19 and 19-20), including a heartbreaking one-point loss at the buzzer in the 2019-2020 championship.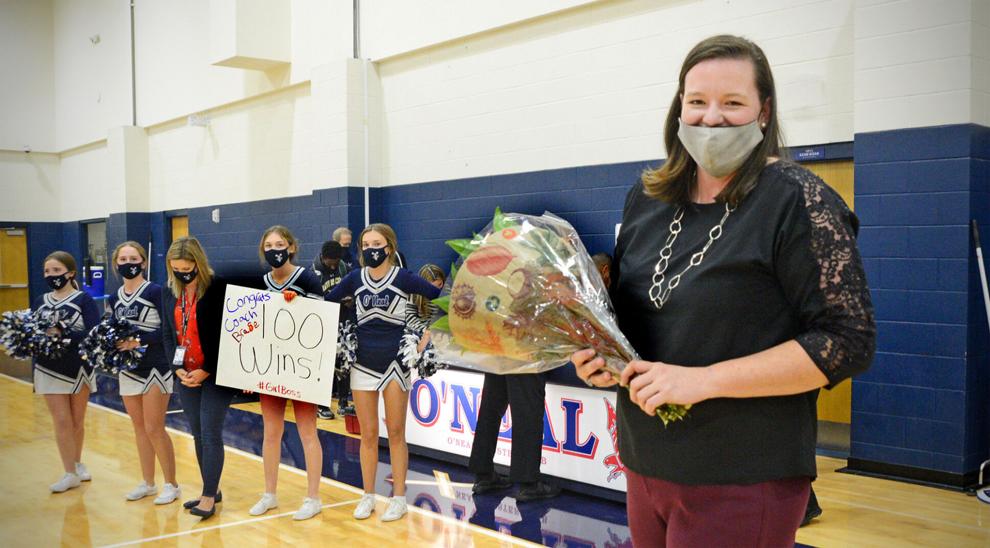 "It has been an amazing run these past few years. Yet, for me, it is not about the wins or championships, but watching these young women come together to strive for a common goal and grow into strong, independent, and resilient young women," Brase said. "That is what it is all about. We want to create an environment where our female student-athletes are challenged and supported to be their best selves, so when they leave us, they are ready to be positive change agents in the world."
"This is a well-deserved honor for Coach Brase, who has dedicated her career empowering young female athletes to be the best they can be, in all capacities of life," said O'Neal Athletic Director James Franklin. "We are proud of her accomplishment – proud not only for the 100 wins, we are proud of the standards she sets in her program. Her success is highlighted by the wins, and her never-ending quest to prepare her student-athletes for a strong future. Congratulations Coach Brase."
The Falcons are currently 2-0 this season with victories over Cary Christian and Ravenscroft. This Wednesday the Falcons hit the road for a non-conference contest at St. David's before returning home to host Rocky Mount Academy on Friday.