Before the world's top golfers congregated on the hallowed grounds of Augusta National Golf Club for this week's Masters, Pinehurst resident Steven Berzack lived out a surreal moment competing with 79 other youth golfers in the Drive, Chip and Putt National Finals on Sunday.
Upon getting out on the course, the overwhelming landscape of Augusta National had an artificial look to the eyes of Berzack, but the course was far from contrived.
"When I saw the golf course, it was nothing like TV," Berzack said. "It was way hillier and the fairway was like mats. It didn't look like real grass. It was so nice. It was like perfect conditions."
The Berzack family made the trek down to one of the most revered golf courses in the world for their 12-year-old son to compete in the national finals. Steven qualified for the tournament from the Midwest division for the 10- and 11-year old division. The family recently moved to Pinehurst from the Springfield, Missouri area last year.
Berzack placed eighth in his division, and learned a lot about the course conditions there.
"It was fast. The greens were fast," he said. "You couldn't get no spin. The fairways rolled for miles. The putts broke a lot. The first putt broke a lot. The chip was tough, but overall it was perfect."
Steven hit the third-longest drive in his age group at 237.5 yards, and his two chips combined were 16-feet, 8-inches away from the hole and his two putts were a combined 10-feet, 8-inches away from the hole.
"I learned that I should hit the first drive in because of nerves," Steven said. "I need to get better at chipping and putting."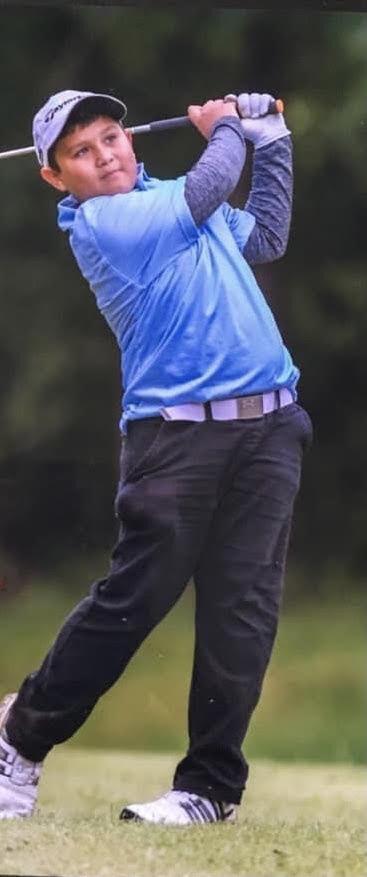 For father Doug Berzack, who has worked in golf his entire life, the trip to see his son play Augusta National was his first time on the course.
"That was just awesome. That's all I can say. It was emotional, but it was just awesome just to walk down Magnolia Lane. It's just overwhelming," Doug said. "I couldn't imagine where I was walking. It was pretty surreal."
Joining Doug to take the trip south was mother, Janet, and little brother, Amos, an accomplished youth golfer himself.
The family moved to the area early last year after finding a house for sale while Steven and Amos were competing in the U.S. Kids Golf World Championships in Pinehurst. Doug now works for the U.S. Kids Golf at Longleaf Golf and Family Club.
"I've never actually worked anywhere else. I played golf in college and studied agronomy at Michigan State and have been a superintendent for over 30 year and a director of golf operations for over 20 years," Doug said. "The boys were born in Missouri and our house was on a golf course. They just grew up on a golf course."
To get here, Steven credits "hard work and talent," and used a combination of that to make it through the local, sub-regional and regional qualifying events in the Midwest.
Steven takes away two things from the trip to one of sports' most highly-regarded courses. After a first trip there which he said was for the experience that included fist bumps with major champion winners Bubba Watson and Bryson DeChambeau, he hopes to return in the future to win his age group.
"It was that feeling that you are good enough where you got to go on a special golf course where no normal person can go on," Steven said. "It was just an amazing experience. Just getting to walk on those grounds is amazing. I had a lot of fun."
And when he watches The Masters tournament on TV like the rest of the world this weekend, Steven can say something that a small percentage of people in the world can say.
"I get to say I walked where they walk," he said.