After more than a decade of clearing the way for trails in Robbins along Bear Creek, Dr. William McDuffie still has moments where he is amazed at what has been forged into the hilly landscape that runs along some of his family's land.
Starting with just a half-mile loop around 2008, the Bear Creek Trail System has grown to 12 miles of multi-use trails that span from N.C. 705 to Spies Road on the western side of Robbins, with a spur that connects into downtown. Fishing and boating accesses have been built along Bear Creek in the area, and an 18-hole disc golf course rounds out this nature lover's paradise in the northern part of Moore County.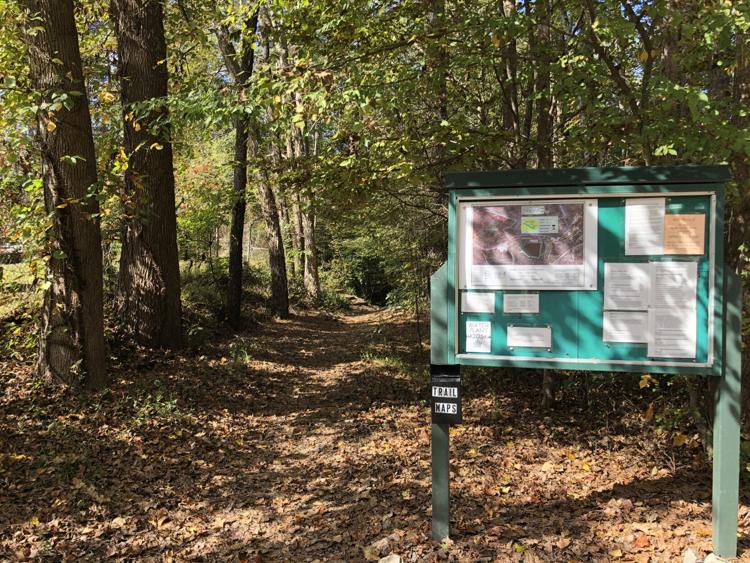 "I'll stand somewhere and look and go, 'Oh my gosh. I would've had no idea that we would have this,'" McDuffie said. "Just this one little area that I'm seeing here seems like more work than we would've ever wanted to do."
McDuffie and his wife, Lynne, who both are veterinarians at Carthage Animal Hospital, created the Foothills Outdoors nonprofit in 2007 with partners Cynthia Reeves and Mark Garner, and the organization has raised funds over the years to create an outdoor experience in Robbins that caters to nearly any type of outdoorsperson. The trails are open to hikers and mountain bikers, paddling is allowed along the river by canoe or kayak, and more plans are in the works to provide different amenities for visitors. A lot of the work to get everything built came from the hard work of the founders of the nonprofit, as well as nine Eagle Scout projects that are commemorated on benches at each of the sites where work was done.
"I want to see them have a huge impact on the community, and all of them have made a big difference in access to the trail, and they will be there (a long time)," McDuffie said of the Eagle Scout projects.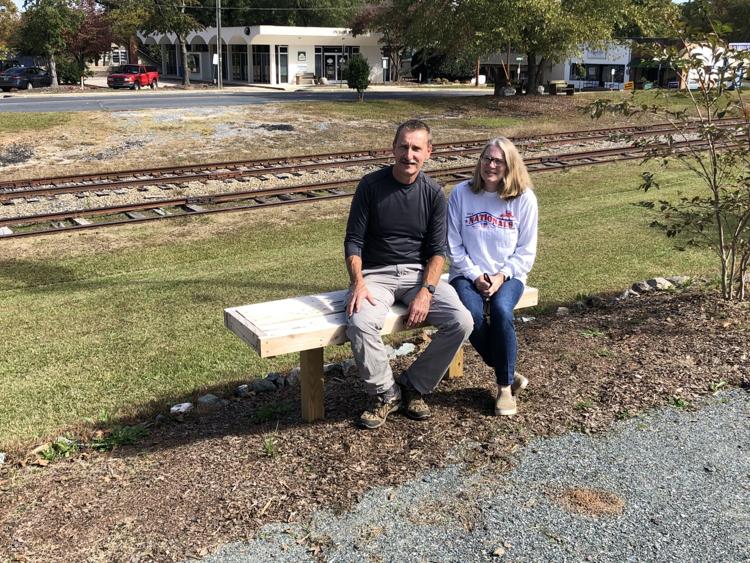 The McDuffies also credit a lot of help and support from the town of Robbins and friends of the nonprofit to help create the outdoorscape that started out with humble beginnings.
"We wanted to have a little trail run, but we didn't have a trail. So we cut a little half-mile loop and we were like, 'Man, we've got a half a mile of trail in Robbins,'" McDuffie said. "We didn't see all these years later that we would have 12 miles. It's all been hand cut by me and a couple friends of mine."
The full 12-mile system recently was opened fully to all types of traffic after delays and some additions that came from two disasters, McDuffie said. The first came two years ago when Hurricane Florence caused Bear Creek to crest its banks and flood the area where some of the trails and the disc golf course are located. Between the flood waters and waters overflowing the adjacent water treatment reservoir for the town, nearly a third of the nine miles of hiking trails at the time were under water. Nearly all of the disc golf holes were submerged as well.
"Some of the baskets were 30 feet under water," he said. "When we went out there, I thought we would have lost everything. We had one sign to wash out and we lost one of the baskets."
While that happened two years ago, work through the Federal Emergency Management Agency was needed to fix a damaged spillway that allowed safe access to most of the upper portion of the trails.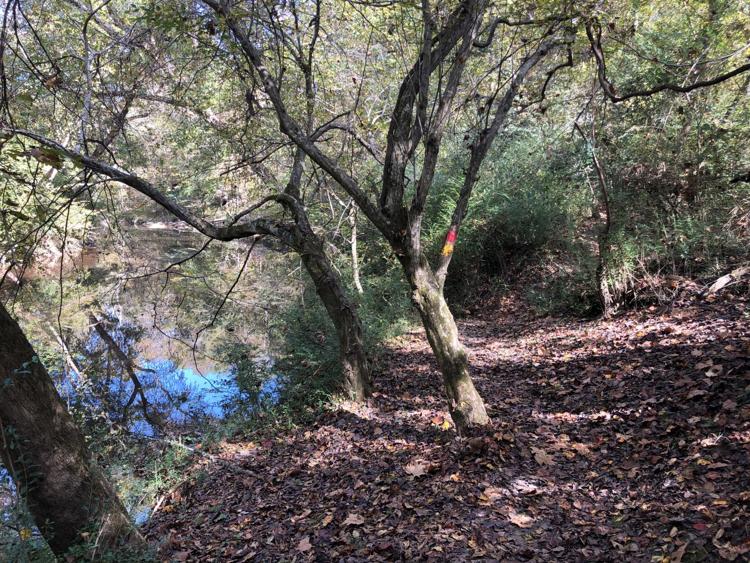 The coronavirus pandemic was the second disaster to hit, but given its regulations, it allowed for more work to be done on the trails.
"Certainly COVID has been a terrible, terrible thing, but the positive that we've taken out of it is even though it seems a big negative losing all of our events," McDuffie said, "it gave us time to do a lot of infrastructure work. Projects we had planned and we've added about 3 miles of trails."
What it did cost was cutting out all of the normal running and paddling events that Foothills Outdoors typically hosts on the trails and on Bear Creek. Most of the 15 regularly scheduled events were canceled after shutdowns that came mid-March.
As a way to socially distance during the pandemic, many have made their way to the Bear Creek Trail System. On beautiful days this past spring and summer, McDuffie said hundreds of hikers have traveled the trails in Robbins.
"It was unreal starting in March and April the number of people we would see out on the trail," he said. "And they'd say, 'We didn't know this was here. This is so cool to have a place like that.'"
On top of traversing the trails, the disc golf course allows hikers to settle their competitive side with 18 holes that surround the town's reservoir. McDuffie had never heard of disc golf until he started veterinary school in Raleigh when he watched players throwing a disc at a basket on what was possibly one of the first disc golf courses in the state in the 1980s. Since then he never had much inclination to play, until the idea came to possibly put it along the trail system.
"We had a rigged up basket in the backyard, and we didn't think much about it. We understood that other people liked to play it," Lynne McDuffie said.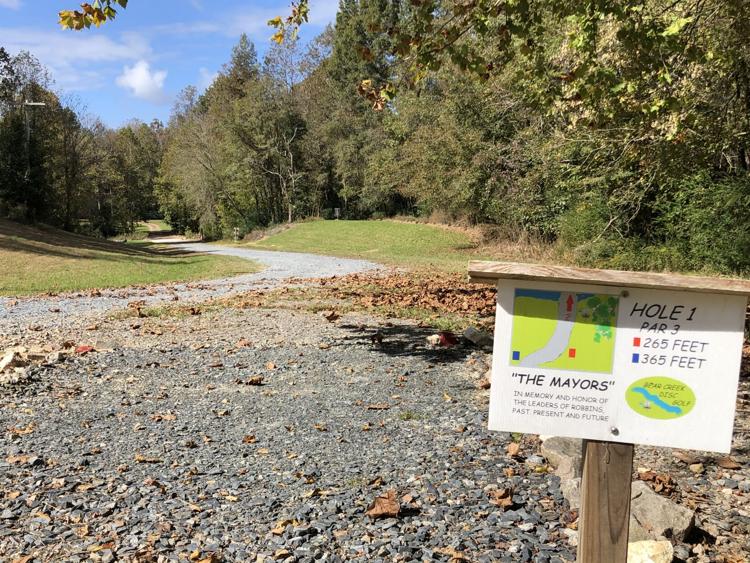 After initial plans to make a modest course, William McDuffie decided that a full course was the only way to go about it.
"We thought that disc golf would be a good fit out there. I thought we would make nine holes and make my own baskets," he said. "Then I got to thinking, that would look cheap. So I was thinking how much those things cost, and I went online and saw they were like $400 apiece."
Funding for each of the holes was easy to find. He said 12 baskets were sponsored within two weeks through local businesses and residents at $500 a hole.
Lynne McDuffie said that the trails have led her to restart mountain biking again, and with all the trails fitted for bike traffic, there's enough challenge for any level rider.
"It had been years since I mountain biked, but there are so many degrees of trails. There are hard trails and good features, but also trails that would be good for beginners," she said.
"It's a good place to learn and start. There's even a mountain biking club now. It's got something for everybody."
McDuffie has several stories to tell of people he knows that have jumped head-first into an outdoor hobby without any prior training or knowledge.
Before rookie mountain bikers or hikers decide they want to scale strenuous mountain trails or long-distance trips, they recommend giving the Bear Creek Trails a try first with their various difficult levels that can ease those people into finding what it will take.
"That's one thing about the creek and trails and everything. Say you want to take up hiking and want to go hike the Appalachian Trail and do a 300-mile hike, but you've never hiked before. Come try it out where you're not that far from your car," McDuffie said. "You can do about as much as you want to, but it's a good place to go and work on your skill set before you commit to going off somewhere.
"I've seen people out there with big backpacks on because they were getting ready for some big hike somewhere. I think people are surprised when they get up the trail of how hard it is. It's very hilly in the upper parts of the trail."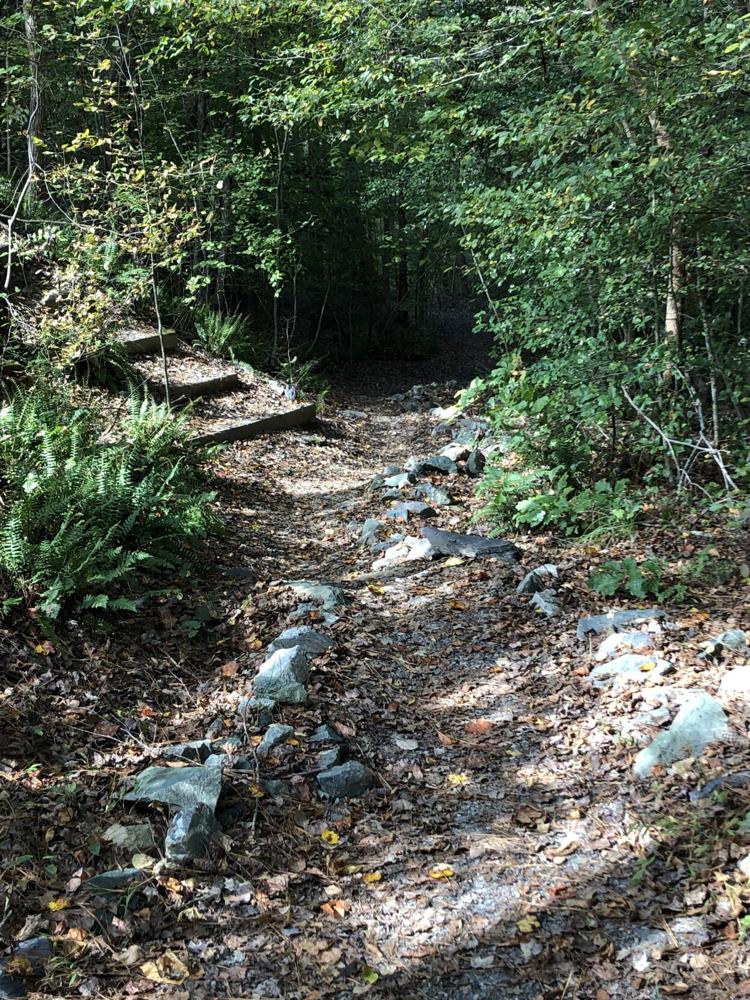 The surprise has also hit eager distance runners on several occasions during some of the 5K and 10K events Foothills Outdoors holds. In one of the first 10K events held, McDuffie recalled offering the proposition to any runner that anyone who could break a 50-minute time would have their entry fee refunded. One local runner told him that he would easily win that bet as he regularly runs sub-40-minute 10Ks, McDuffie recalls. But after passing the 3-mile mark much slower than he expected, the runner told McDuffie that was one of the hardest tracks he's ever run.
"We call it the toughest 10K in the county," McDuffie said.
Other events Foothills Outdoors hosts includes 5Ks, paddling events, a polar plunge called the Brrr Creek Plunge, and the Bearathon that has competitors run, then paddle and run again. This year was the first time in 12 years there was no Bearathon. The plan is for the first event of next year, the Brrr Creek Plunge, to go on as planned on the third Saturday in January.
With something created that was far beyond the imagination of the Foothills Outdoors originators, there are some ideas on what's next, but they also are looking to preserve what is already here.
One project that McDuffie is already working on is making a greenspace around the millpond located behind the demolished Milliken plant in the heart of Robbins. This would allow for paddling, fishing and possibly even a trail that connects that area into the heart of town and network it in with the other trails that are all connected.
"It would be a good recreation for that community and for everybody," he said.
The idea of having every inch of trail in town connected is one that McDuffie likes, as it provides multiple possibilities for hikers to take in any direction.
"You can start here on 705 all along single track up to Spies Road through the woods," he said. 
"You can hike as much as you want to hike and spend a whole day out there walking that trail and not cover them all."
And Lynne McDuffie has one direction for Foothills Outdoors to take once the millpond project is complete.
"Maintenance," she said with a laugh. "I told him, 'Once you finish the millpond, you better stick with maintenance.' I think we've got a trail everywhere it's possible to put a trail. Really we should be in the maintenance phase for a while. We've got a lot to keep up with now."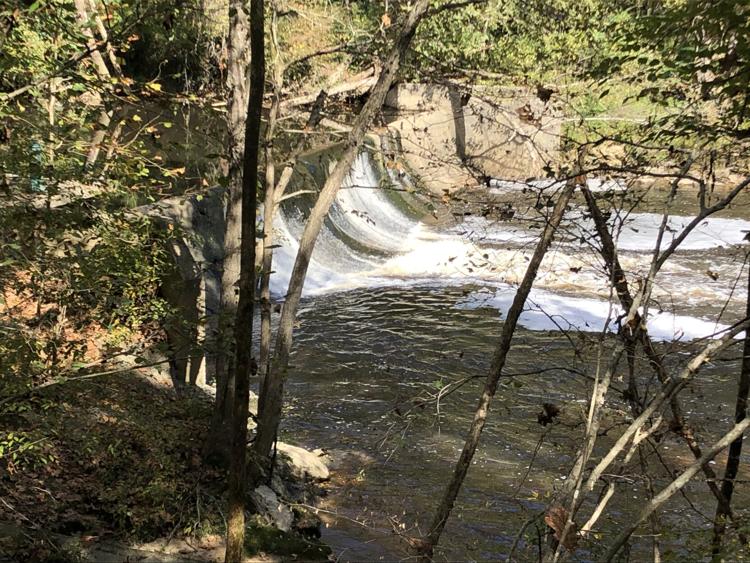 McDuffie acknowledges that time doesn't allow them to enjoy the trails or paddle Bear Creek like they'd like to, even though the avid paddling couple still goes to paddling events across the country when they haven't been canceled due to the coronavirus. Their time on the trails now is maintenance-oriented already.
"I don't have time to play (disc golf), and I don't have time to hike the trails anymore," he said. "When I'm hiking, I've got loppers with me."
With that, their goal to continue to keep the Bear Creek area what the original plan was when Foothills Outdoors first started more than 10 years ago.
"We thought it would be nice to have something like that here where someone wouldn't have to spend $600 and didn't have to drive for two days to get there to give them that same kind of experience here in Robbins," McDuffie said. "The trails and the creek have all been a huge positive for Robbins.
"It's all kind of came together nicely for Robbins."