Layton Barber had always dreamed of playing football for the University of North Carolina at Chapel Hills as a child.
The former Pinecrest Patriot turned down scholarship offers from other colleges — where he almost certainly would have seen more playing time — to be a walk-on for his beloved Tar Heels.
Barber, a 6'5, 325-pound offensive lineman, was among 23 seniors who were recognized Saturday afternoon before the final home game against Mercer, which the Tar Heels won 56-7.
As he stood in the tunnel looking out onto to the football field at Kenan Stadium before his final home game as a Tar Heel, Barber felt a rush of emotion.
"It's crazy how it just went by so fast," he in an interview after the game. "It just flew by too fast. This is something I have always wanted to do since I was a kid playing pee-wee football. So it is really a dream come true."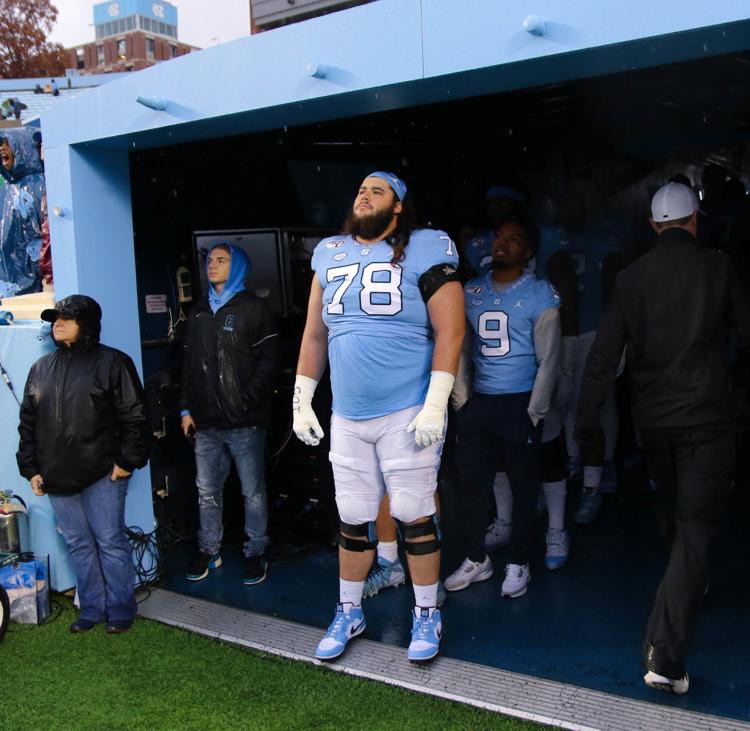 Barber was the first player to come out and greet Mack Brown, who returned this season as the Tar Heel's head coach. He then ran out on the field to stand with his parents, Robert and Stephanie Barber.
Many of his family members, including his maternal grandfather who had not seen Barber play since high school, and friends were in the stands, braving the cold, rainy conditions.
"That was really cool," he said of his grandfather. "It was great to have so many family members there. That was a big deal for me."
Barber has played mostly on special teams, including extra points and field goals. And with Carolina scoring eight touchdowns, he was on the field a few times in this game.
He did get to play on the offensive line late in the fourth quarter the Tar Heel's final possession as Brown got every eligible player on the field in the game.
While this was the last home appearance, one big game remains Saturday at arch rival N.C. State, with a bowl bid on the line. And there is also a friendly brotherly rivalry over this one.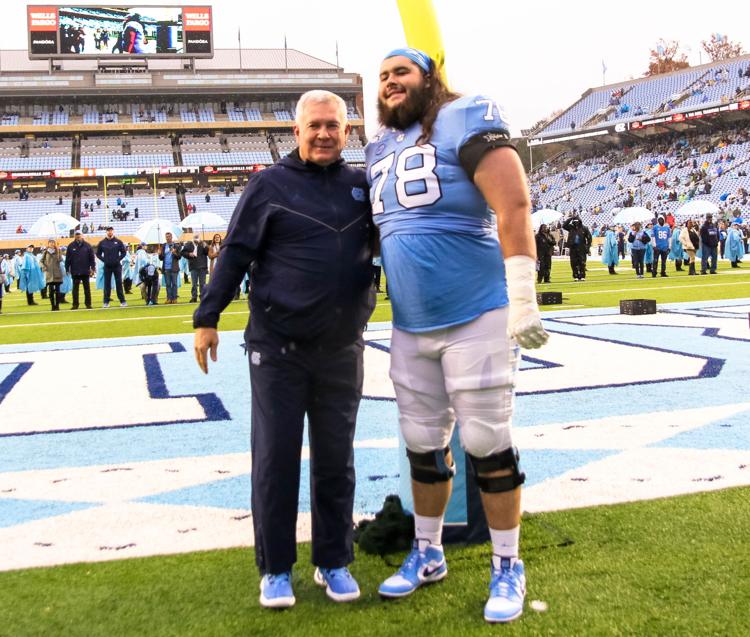 Barber's brother, Aemon, who is two years younger, is a sophomore at N.C. State and was walk-on offensive lineman for the Wolfpack last year. He is not playing this year.
Last year for the game in Chapel Hill, family members were clad in both red and white, and blue and white.
Layton Barber jokes that he wishes his brother was still playing for the Wolfpack "so I could rough him."
"We just have a little fun with it," Barber said. "It is about bragging rights."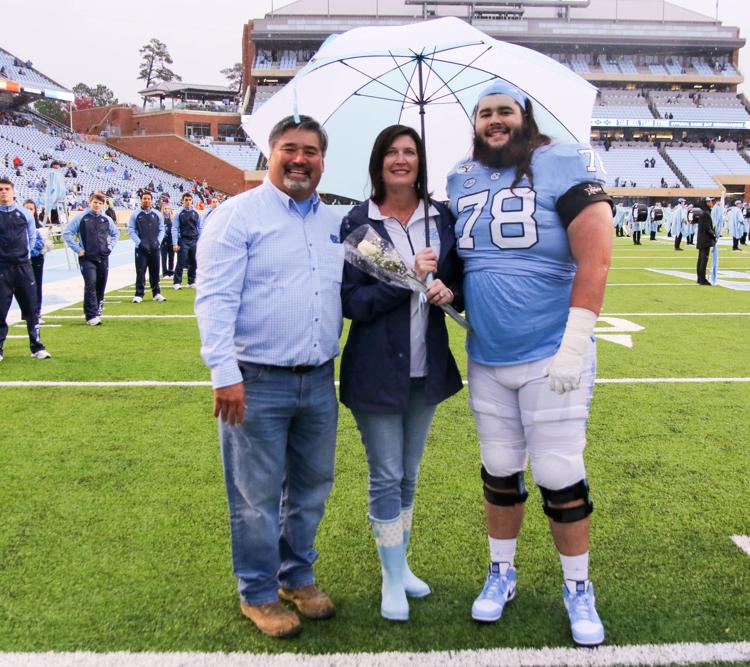 Becoming more serious, Barber said this will be a big game for this Tar Heels because it would make them eligible for a bowl game. And he would like to win at least one game against Wolfpack, which has won the last three.
"It should be a lot of fun," Barber said. "I am excited about it. I Hopefully we can get a big win and then go to bowl game. I can't wait to see what the future holds for us."
North Carolina's last bowl appearance was the Sun Bowl in 2016 — Barber's freshman year — a 25-23 loss to Stanford. Their last win was back in 2013 in the Belk Bowl in Charlotte against Cincinnati.
Barber said even though the last two seasons have been tough — the Tar Heels had a combined five wins, equaling the number they have this season, he has no regrets about his decision to come to Chapel Hill. He said the team has responded well to Brown and the coaching change.
"The way he came in here and changed the culture, it has been great," Barber said. "It has been unreal. He has has us ready to win every game. It was a not a rebuilding year. It was kind of like reload and win now."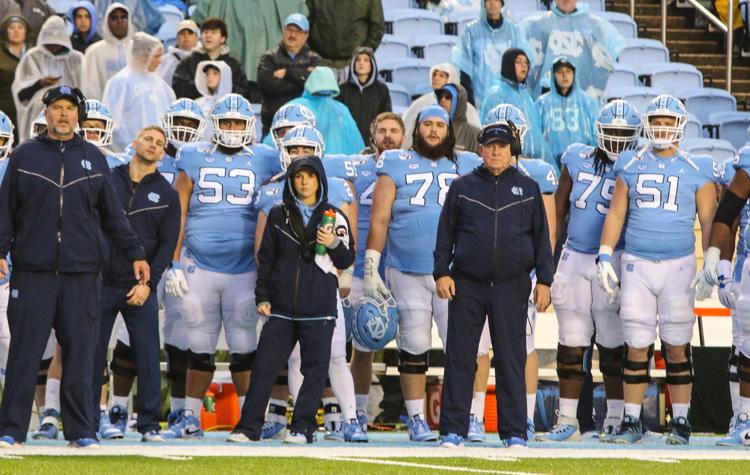 The Tar Heels are 5-6 overall and 3-4 in the ACC Coastal, but Barber said some of the losses could have gone either way— including a nail-biter against defending national champions Clemson that came down to failed two-point conversion instead of playing for overtime, a history making six overtime game Virginia Tech and overtime in Pittsburgh.
The Clemson game pitted Barber against former Pinecrest teammate Sean Pollard, who plays center for the Tigers.
Entering the game Saturday, nine of the Tar Heels' 10 games had been decided by a touchdown or less.
"We've been right there in those games," Barber said.
Brown said in the post-game press conference that it was great to get the win on senior day regardless of the opponent — in this case a bowl championship subdivision team.
"It was a way to send the seniors out on a high note, and it was important for them to do that," Brown said. "I was proud for the team that they rallied around the seniors. This team hasn't had a lot of fun over the last three years. This game was a lot of fun tonight, to watch them enjoying themselves on the sideline."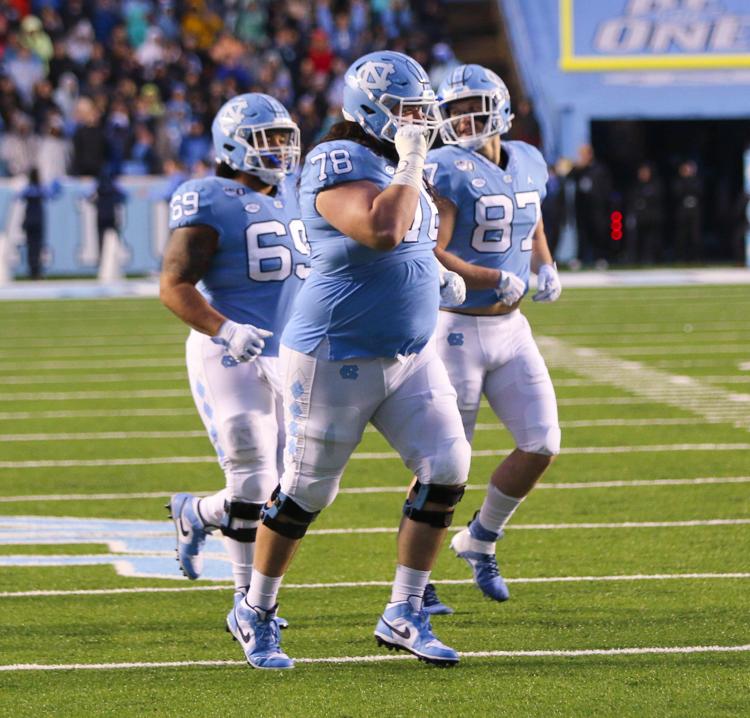 Brown said it was "really, really important" to him to see the seniors "walk out of here proud."
"I told them them tonight, you'll remember this game because it is your last one," he said of their final appearance at Kenan. "You want it in dominating fashion. They won't care who you played. It won't make any difference. They'll remember the moment. So this is a great moment for them."
Brown said he always gets emotional for the final game for his seniors.
"This was a special night for me and our staff," Brown said. "To see them not only win but also dominate the game and have so much fun on the sideline and in the dressing room."
Like Barber, Brown said he is excited about the big rivalry game against N.C. State in Raleigh on Saturday. He said that was part of his message to the team after the Mercer game.
"It's cool to be playing in November when it matters, and this matters," Brown said. "It matters that it is a rivalry game. We haven't played well in this game in a while."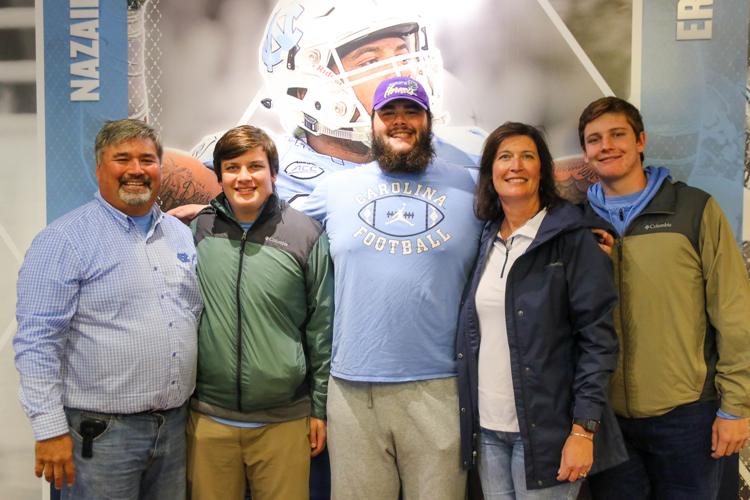 Brown noted that even though N.C. State (4-7, 1-6 ACC) was likely eliminated from bowl contention with a Thursday night loss at Georgia Tech, the Wolfpack will be playing for pride and the chance to knock its rival out of post-season play.
"To play your rival on the road with a chance to go to bowl game is fun," Brown said. "It will be an exciting week and great challenge for us. So I think it is really cool for those kids."
Barber said it would be nice to close out his career with a win in a bowl game. Beyond that, Barber says his playing days are likely over.
He will graduate in May with a degree in degree in sports management, majoring in exercise and sports science. He had another year of college football eligibility but decided to move on to the next chapter of his life.
"This has been great," he said of his career at North Carolina. "It has been a lifelong dream come true."