Sean Pollard had a feeling Clemson was on the verge of something great when he committed to play football there in December 2014 after his junior season at Pinecrest.
The season before he arrived, the Tigers lost to Alabama in the second-ever national championship game in 2016 under the new college playoff system. He joined the Tigers that spring after graduating early from Pinecrest.
"I knew we had a chance to contend for a national championship," said Pollard, who played offensive tackle. "I knew this was where I wanted to be."
That gridiron success and the "incredible atmosphere" at Death Valley, along with the Clemson football program's emphasis on family and faith won Pollard over as he turned down offers to play for the Big Four in-state ACC teams — Duke, North Carolina, N.C. State and Wake Forest.
During the 2016 season, Pollard won the starting job at tackle. And as a true freshman, he got the start when Clemson knocked off Alabama to win its first national title since 1981.
"To be able to start in that game as a freshman was just unreal," Pollard said. "I was 17 years old. I was going up against grown men, fourth- and fifth-year players."
Wining a national championship is something many players only dream about.
Pollard has now been an integral part of two national championship teams in his three years at Clemson, which crushed Alabama 44-16 in January to win another title.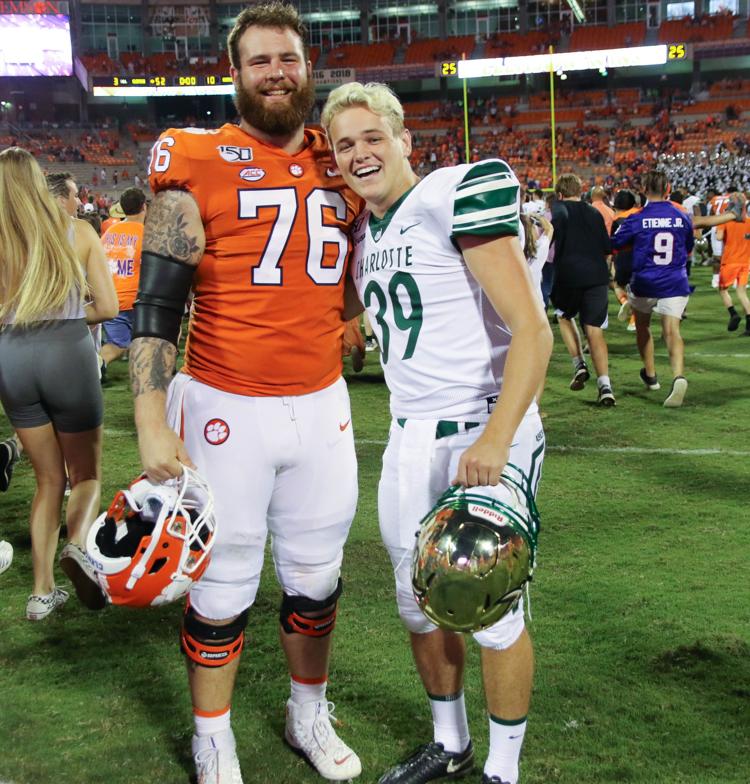 He is now among a class of Clemson players who could rewrite the history book for one of college football's most storied programs as the Tigers gun for a third championship in four years.
The 6-foot-5, 315-pound Pollard is in the midst of an undefeated senior season as the starting center, after playing tackle for two seasons and guard last year.
"It has been pretty special to be a part of this," Pollard said of his career so far at Clemson. "We want to get back there and defend our title."
Clemson and Alabama are 2-2 in their four meetings since the inception of the college football playoffs in 2015, with both winning two titles.
Alabama beat the Tigers 24-6 in the Sugar Bowl in 2018 — one of the two semifinal games — depriving Clemson of the chance to repeat during Pollard's sophomore year. The Tide rolled on to defeat Southeastern Conference rival Georgia in overtime for its second title.
Once again, both are predicted to make it back to the playoffs and the national championship game.
As was the case last season, Pollard had to learn a new position when he was moved from guard to center. He said he has enjoyed the challenge.
"It has been great," Pollard said. "The closer you get to the ball the faster it gets. It has been my favorite position. You don't have a lot of room to work in."
Pollard was also able to make a successful switch to guard his junior year after his first two seasons at tackle. He earned second team All-ACC honors last year at guard. The year before, he earned honorable mention All-ACC at tackle.
"I am just glad I have been able to contribute and help the team, no matter what position," Pollard said.
Clemson had been No. 1 in the polls though the first month of the season until its close call in Chapel Hill on Sept. 28 — a 21-20 win over the unranked University of North Carolina after the Tar Heels failed to convert a two-point conversion.
Photos: Sean Pollard Enjoying Senior Season at Clemson
Sean Pollard is in the midst of an undefeated senior season with the Clemson Tigers, the defending national champions. The former Pinecrest Patriot standout is the starting center for the Tigers, which has won two national championships in his three years and is gunning for a third this season. The Pilot followed Pollard for Clemson's home game against Charlotte on Sept. 21.
-- Photos by David Sinclair/The Pilot 
Voters elevated Alabama to the top spot ahead of Clemson.
Despite that, Pollard said there were some positives that came out of the game at North Carolina.
"It proved that we could win a close one at the end when we had to," Pollard said.
That game pitted Pollard against one of his former teammates at Pinecrest, Layton Barber, a junior offensive lineman for the Tar Heels. The week before, Clemson hosted Charlotte, whose backup punter and kicker is former Patriot Kyle Corbett.
All three graduated from Pinecrest in 2015 and were part of a team that was denied the opportunity to make the playoffs because of a record-keeping violation.
"It has been fun getting to see some of my former teammates at Pinecrest," Pollard said.
After a week off, the Tigers are preparing for a big ACC home game against Florida State in Death Valley this Saturday.
Pollard knows there is little room for error as Clemson continues its quest for another national championship. To get back, they have to win the Atlantic Coast Conference title, which Clemson has done four straight years.
"Obviously winning the ACC championship is important," Pollard said of continuing its dominance in the league. "But we still have some big games left before we get there."
Clemson has gone 22-2 in the ACC and 41-3 overall in Pollard's first three seasons.
For all of his success on the field, Pollard has also made a big impact off it during his three seasons at Clemson.
Last fall he was one of just 22 players nationwide named to the Allstate AFCA Good Works Team. The team recognized the players for their dedication to volunteerism and the positive impact they have made off the field.
Pollard was cited by the organization for his "strong commitment to volunteering with pediatric cancer patients" at Greenville (S.C.) Children's Hospital.
He has been the guiding force behind "All Off for Cancer," an event where players from various Clemson athletic teams have their heads shaved to show solidarity with children who are fighting cancer. The first two events, which Pollard said he will continue, have raised more than $20,000 to benefit Clement's Kindness, an organization that supports families in upstate South Carolina impacted by pediatric cancer.
Pollard's involvement in the community doesn't end with that event. He makes numerous visits to children's hospitals, establishing close relationships with young patients.
Sandra Miller, who is an administrator for Clement's Kindness, told The Clemson Insider last year that she "can't even begin to explain how grateful we are for Sean." She said he has "the biggest heart out of anyone we've ever met."
She added that Pollard could be doing anything but he "just wants to help these kids."
Pollard is always quick to deflect attention away from himself when it comes to success on the field and being recognized for what he does away from the game.
"I have been truly blessed to be able to do what I have done," Pollard said. "I give God the glory."
During a ceremony last March in the Pinecrest field house to honor his No. 76 Patriots jersey, Clemson head coach Dabo Swinney said in a video message that Pollard has been an "amazing ambassador" for both the Tigers and Pinecrest.
"Just everything right about being a student athlete," Swinney said. "We're so proud of Sean and appreciate all of his hard work he has put in. He has had a very special career to this point. He's taken pride in his part. And more importantly, he's done it in a way that has served his teammates and his community."
This year, Pollard was named one of the 185 finalists for the National Football Foundation & College Hall of Fame's 2019 William V. Campbell Trophy — also known as the "Academic Heisman."
Now in its 30th year, the award recognizes "an individual as the absolute best football scholar-athlete in the nation for his combined academic success, football performance and exemplary leadership.
Clemson's Christian Wilkins took home the honor last year.
The 12 to 14 finalists will be announced Oct. 30, and each of them will receive an $18,000 postgraduate scholarship. The finalists will travel to New York City for the awards dinner Dec. 10.
Nominated by their schools, which are limited to one nominee each, candidates for the awards must be a senior or graduate student in their final year of playing eligibility, have a GPA of at least 3.2 on a 4.0 scale, have outstanding football ability as a first team player or significant contributor and have demonstrated strong leadership and citizenship.
Pollard plans to graduate early in December. He said there was no question he would return for his senior year and keep a promise to his family and himself to graduate. He is majoring in history with a minor in athletic management.
"This is not all about football," Pollard said. "It is important to finish my education. It is about maturing as a person and preparing for life after football."
Pollard said that should he be fortunate enough to play in the NFL, he plans to come back home to Moore County and open a training facility for middle and high school athletes.
"I want to be able to give back to the community," Pollard said.
Should a professional career not be in the cards, Pollard said he would like to follow in his brother's footsteps and enlist in the military to serve his country. He said his brother, Steven, was in the Army in Special Operations.
He said what happens next year is somewhat out of his hands.
Pollard cited Galatians 6:9 – "Let us not become weary in doing good, for at the proper time we will reap a harvest if we do not give up."
"I will leave it in God's hands," Pollard said. "I feel like God put me in this position and he has a plan for me."