Perhaps lost in the offensive buzz surrounding the season-opening win for the Union Pines football team was the defensive showing for the Vikings.
While the offense put up 47 points, the defensive starters held the opponents to six points, and that defensive muscle flexed again for the third straight week on Friday against Harnett Central.
Forcing three turnovers on defense and coming up with timely stops against an athletic Harnett Central offense, Union Pines was able to pull out a 10-6 win to open Tri-County Conference play.
"Initially we had a rough start. The game at Cummings, although it was a win, the defense has a lot of things to work on. We worked on it for Forest Hills, and that was a loss, but we still pushed through," senior linebacker Joshua Birky said. "That was a defensive game, and this was a defensive game and we were extremely motivated. We're about to keep on putting the work in."
The three turnovers came courtesy of Birky and fellow senior linebacker Dakota Spangler. In the loss last week against Forest Hills, Spangler ripped the ball from a ball carrier and returned it for a touchdown, and that carried over on the first drive for the defense when Spangler scooped up a ball that got away from Harnett Central quarterback De'Andre McAllister.
"It was a hard fought battle on defense," Spangler said. "It puts pressure on the defense because if the offense isn't scoring, we're on the field constantly. The defense has to put up. We have to stop them."
The duo provided stability and leadership for the Vikings (2-1) that have allowed teams to average less than two touchdowns per game through the first three games, including back to back showing where the opposing offense only scored one touchdown.
"They're great football players and execute everything we ask them to on defense," Union Pines coach Lonnie Cox said. "They are truly great quarterbacks on defense and they are truly the faces of what we are trying to do here at Union Pines."
The pair have also played a big part this season in getting the defensive unit ready for the first three outings of this campaign.
"We continue to have a historic year on defense. Coach (Jason) Trousdale and our defensive staff just keep finding ways to get us the ball back on offense," Cox said.
Spangler's two turnovers came in the first half, with an interception coming with less than two minutes to go in the half.
The turnover gave the Union Pines offense a chance to score late in the half and then receive the second-half kickoff, but the offense ran five plays before being forced to punt. Like the defense showing, the offensive performance was a carryover from the Forest Hills game with 10 points coming on 205 yards of total offense.
Between Spangler's two turnovers, the Vikings scored their only touchdown.
A short punt from Harnett Central (0-3) gave the Vikings the ball at the Trojans' 47-yard-line to start the drive. After a false start and two incompletions, junior quarterback Micah Monaghan connected with freshman Ethan Biggs for a 52-yard touchdown with 2:23 left in the first quarter.
Monaghan passed for 116 yards, but Union Pines' inability to run the ball against the Trojans was worrisome to Cox after the win.
"When defenses leave five men in the box, we've got to be able to run the football," Cox said.
"Ultimately as many turnovers we've have caused this year, we've got to find a way to capitalize on offense. We just can't keep depending on our defense to win us games every week."
A Kishon Davis 44-yard run in the fourth quarter was the only run of more than six yards for the Vikings on Friday.
A quarter after the Vikings scored, the Trojans posted their only points in the contest when McAllister scored on a two-yard run, but the point after was missed, making it 7-6. Harnett Central recovered a fumble on the ensuing kickoff, but McAllister was picked off by Spangler.
In the third quarter, a special team turnover came when Ben Finkelstein fell on a muffed punt by Jaden Bryant inside the Trojan's 20-yard-line. That play helped set up a 31-yard field goal by junior kicker Sean Blatz with 7:22 left in the quarter.
With the Vikings holding on to a four-point lead the rest of the way, the defense trotted out five times after the offense failed to extend the lead, but their focus stayed the same.
"'We're in the lead. Keep on pushing forward. And defense, this is your opportunity to shine again.' That's what was going through our heads and what the coaches said,'' Birky said. "We were just aggressive enough and we had more endurance. We have a lot to work on, truth be told."
To seal the win in the final seconds, Birky jumped on the second fumble from McAllister and donned a turnover chain in the post game huddle.
Union Pines will host defending conference champion Lee County next Friday.
"Ultimately one of our main goals was to play for a conference championship and we look forward to competing against a tremendous team in Lee County next week," Cox said.
And to compete in that game, the defense knows what it has to bring to the table.
"I'm hoping to see the turnovers come back and I'm hoping to see gap-sound defense," Spangler said.
Mustangs Run Past South Stanly
North Moore running back, linebacker and kicker Brian Loza accounted for 13 points in the win for the Mustangs at home that was the biggest margin of victory for the program in three seasons.
Like Loza's play, complete effort through all three phases helped the Mustangs earn a 50-0 win over South Stanly at home.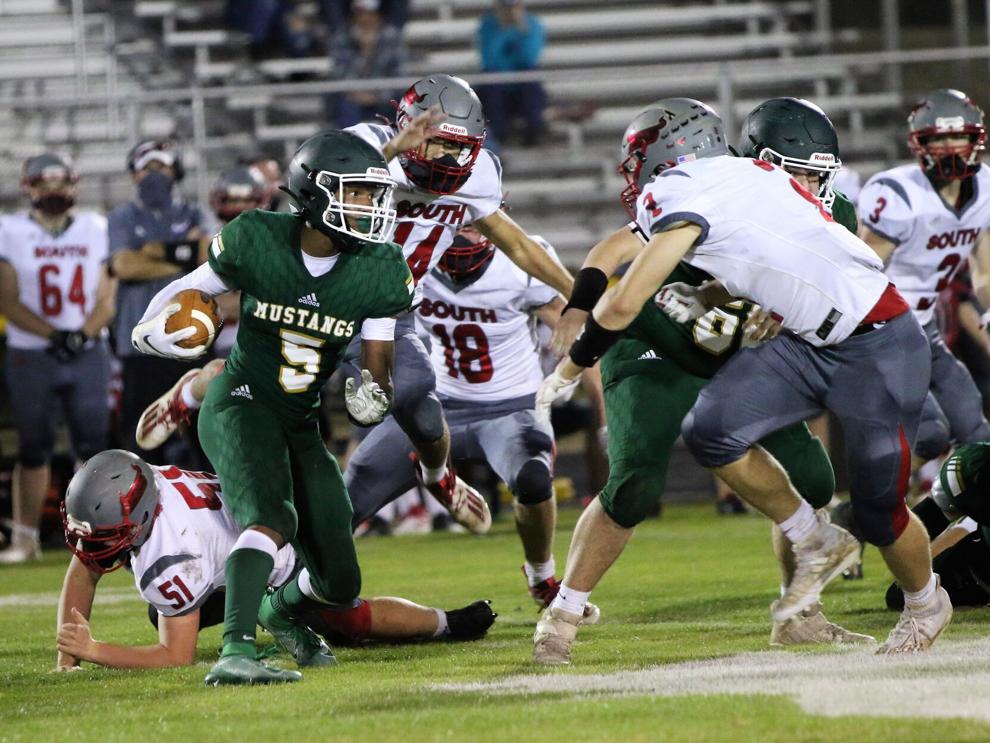 "This was a great win for us and we played really, really well on offense, defense and special teams," North Moore coach Andrew Carrouth said. "This was the first game we had film on our opponents and I'm really proud of our defensive coaches and what they came up with. We had a plan and we didn't have to get out of it."
The Mustangs (1-2) scored 16 points in the first quarter and pushed the lead out to 23-0 at halftime.
Loza shares time with the football and soccer teams and his role was uncertain entering Friday's matchup with an ankle injury suffered in the first game of the season.
"I told him that we needed him to do a little bit of everything tonight," Carrouth said. "He played linebacker for us, played fullback and scored a couple times and did a great job in the kicking game that helped us out."
Loza scored two rushing touchdowns, kicked four extra points and had a field goal late in the first quarter.
Isaiah Cassidy scored two touchdowns and Elliott Furr scored one rushing score. Both North Moore cornerbacks, Justis Dorsett and Tyjae Grier had interceptions returned for touchdowns.
"I know these guys were glad to see fruits to their efforts," Carrouth said.
North Moore goes to South Davidson next week.
Patriots Rebound Over Rams
After expending a lot of emotion and energy last week in an overtime loss, Pinecrest coach Chris Metzger was pleased with what he saw from his team on the road at Purnell Swett on Friday.
"The kids did an unbelievable job given the circumstances from last week of a very emotional and physical game against Richmond," Metzger said after a 30-6 win on the road.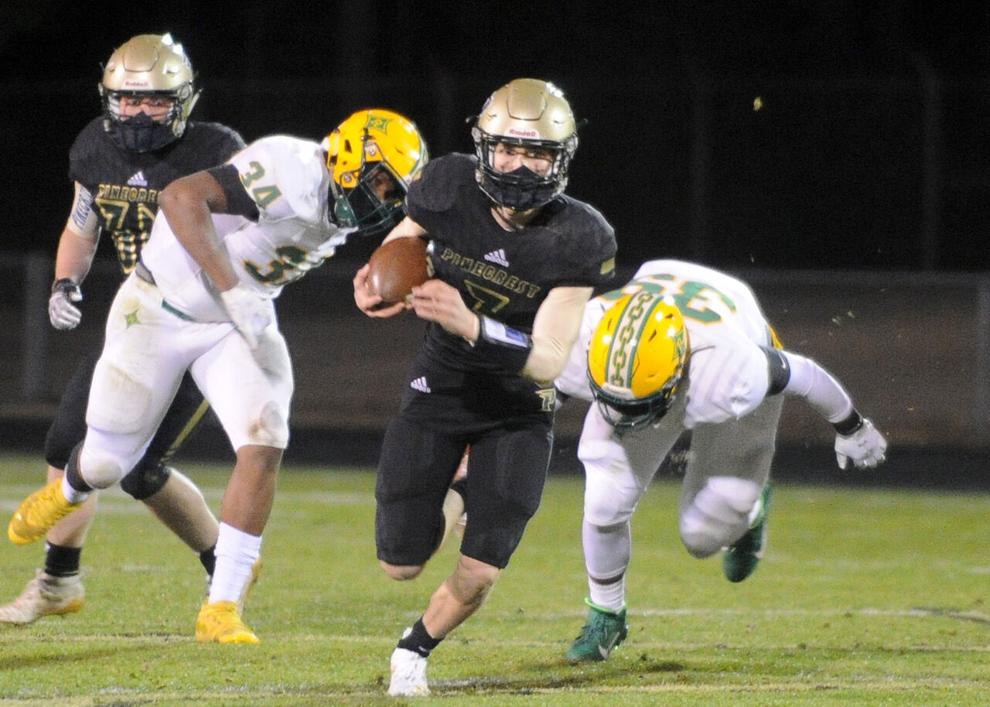 "They responded well and with the exception of one play on defense, the guys stayed true to the 'bend don't break' philosophy."
Pinecrest had touchdowns scored by Niquwan Hill, Brodie Karres, Omar Pemberton and Xavier Dowd. Jeff Yurk kicked a field goal as well.
Pinecrest plays at Lumberton next week.