For months after injuring her shoulder, Mary Ellen Buckley lived with discomfort that limited her range of motion, kept her awake at night, and stopped her from playing golf. Desperate for relief, she made an appointment for surgery. But first, she paid a visit to Dr. Mac McLaurin.
The rotator cuff tear was the type of injury that Mac prides himself on helping clients overcome via his new Pinehurst practice, Restore Physiotherapy. Through in-house, hands-on treatment and at-home exercises, Mary Ellen's range of motion came back — and after just two weeks, she canceled the surgery.
"It's made such a change in my life that I could almost weep," she says. "I was desperate to do something to try and feel better, and figured since I had nothing to lose, I would see what Mac could do. I'm so glad I did."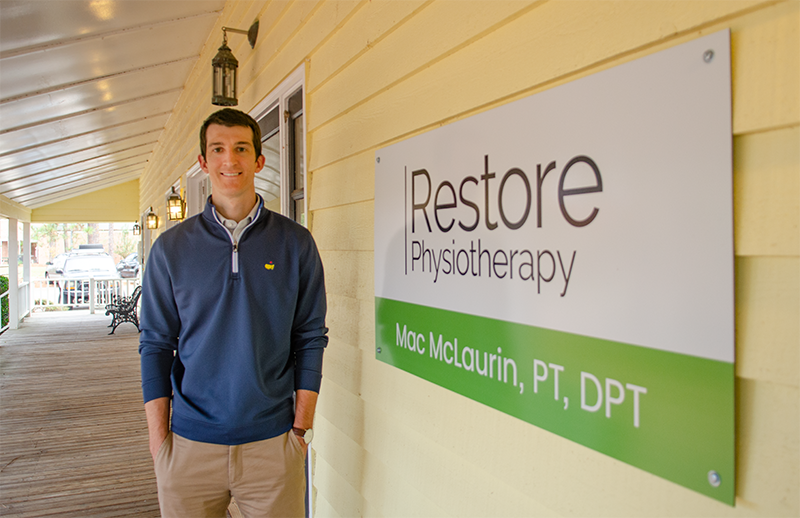 Small Clinic, Big Results
Manual therapy is Mac's specialty. From soft tissue work to dry needling to in-office therapeutic exercise, his techniques are focused on achieving one thing: results.
"The goal is not to just figure out what's wrong, or why you're having a problem," he says. "Treatments start at your first visit. We're going to treat the issue, test to make sure the treatment is working, and treat again."
After more than five years spent working with hundreds of patients in the constraints of insurance-driven, fast-paced clinics, Mac wanted the time to focus on each client's needs and make real, positive change with each visit.
"I don't like treating 3-4 patients at once," he says, "and I don't believe in simply writing a prescription and sending patients home with a sheet of exercises. Being able to treat patients the way that I wanted to and put in the time with them was the big driver behind opening my own practice."
The pandemic also played a role. In a large physical therapy clinic, you might find lots of people exercising in a room together. At Restore Physiotherapy, you'll have a room to yourself — with plenty of time between you and other patients for extra sanitation. The practice is open by appointment only, and masks are required to be worn by all who enter.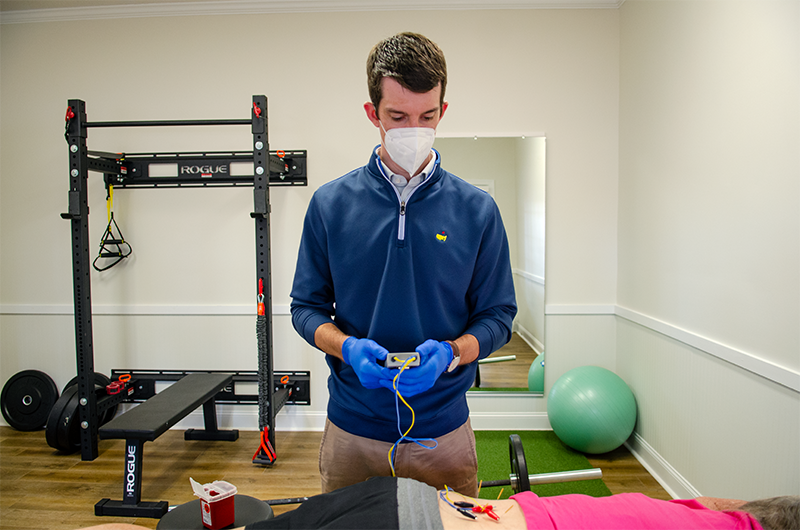 A Focus on Performance
The only physical therapist in Moore County to be certified by the Titleist Performance Institute, Mac can pinpoint any limitations in your golf game caused by mobility issues. A video swing analysis followed by treatment can improve speed and efficiency, decrease any pain you feel while playing, and help you enjoy the game for longer stretches of time.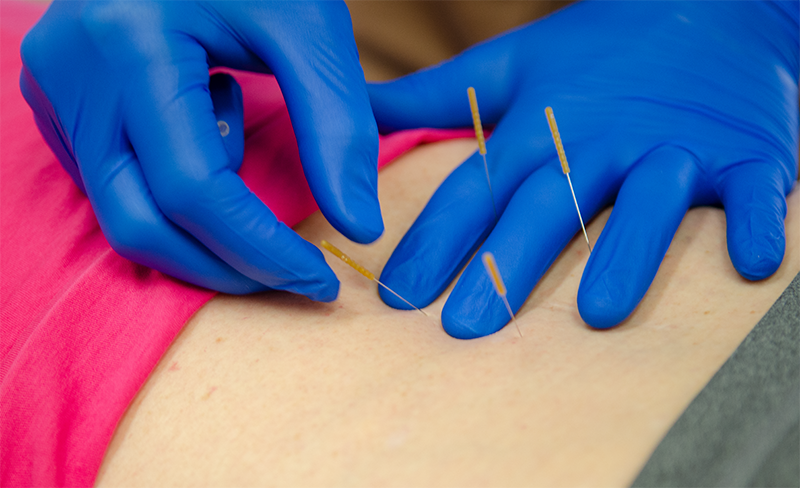 Whether you want to improve your swing or just improve your day-to-day life, it's important to seek treatment when you first feel discomfort. Chances of complete recovery are higher the closer they are to the time of injury — and a referral is not needed for physical therapy.
"There are a lot of things that go into issues that seem simple, like neck or knee pain," Mac says. "I love being able to determine the real problem and help clients fix it. The best moments are when someone comes in and says they're once again able to get down on the floor with their grandkids. It's fun to see what we are able to accomplish together."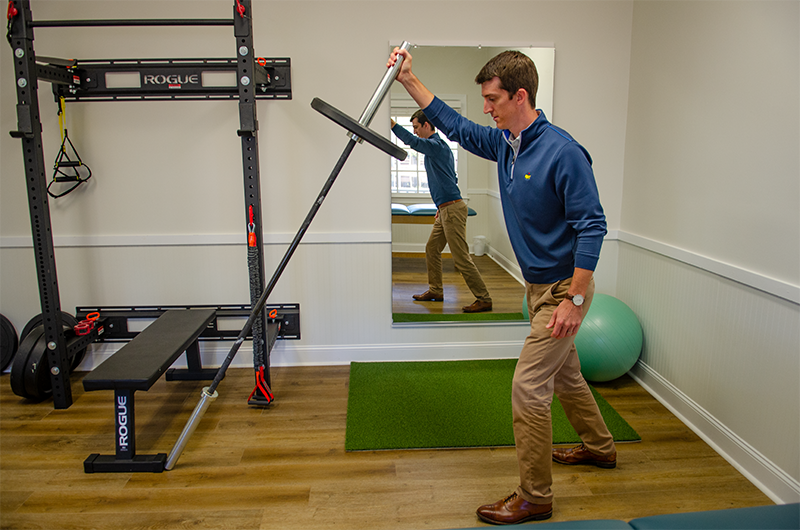 How it Works
If you're experiencing pain, schedule a free discovery visit at Restore Physiotherapy. Mac will spend 15-20 minutes determining if physical therapy is right for you and explaining how the process works. No commitment is necessary.
"If you're feeling something, come in," he says. "It could be something big or something small — either way, we'll try to nip it in the bud."
Restore Physiotherapy operates outside of the traditional insurance model, though payment for some treatments may be reimbursed by insurance providers. Clients can pay a flat fee for each visit or purchase a package at a discounted rate. Unlike larger clinics, which offer limited options, Mac can work with you to find the right fit.
Find Out More
Restore Physiotherapy is located at 45 Dowd Circle in Pinehurst. For more on the clinic or treatments offered, visit RestorePTNC.com or call 910-621-5003.