If you learned that you had a condition which interrupted your breathing while you slept, chances are you'd purchase a device that would deliver a steady stream of oxygen to your airway — only to never use it.
Such is the case for thousands of sleep apnea sufferers, who spend thousands on a Continuous Positive Airway Pressure (CPAP) device only to find they can't tolerate spending their nights tethered to a machine by a hose affixed to their nose and mouth. As a proven and reliable alternative for mild to moderate sleep apnea, the American Academy of Sleep Medicine recommends Oral Appliance Therapy, the use of small, comfortable, mouth guard-like devices prescribed only by dentists.
The oral appliance is small, comfortable, easy to transport, and eliminates the need for masks, hoses, humidifiers and other hassles that come along with CPAP. The appliance works by holding your jaw in the right position to open the airway, and creating extra room in your mouth to accommodate your tongue. The combination of the two allows you to sleep while breathing comfortably throughout the night.
Why Oral Appliance Therapy?
A CPAP works by streaming oxygen into your airway, and is effective at reducing the effects of sleep apnea. However, about 50 percent of sleep apnea patients report not using their machine, making it effective only as a piece of bedroom furniture.
While beneficial for sleep apnea, oral appliance therapy is also beneficial to your teeth and overall oral health. The device holds your jaw in an optimal position, preventing you from clenching or grinding your teeth while you sleep. Unlike the devices associated with a CPAP machine, oral appliances require little adjustment period. Patients report a huge improvement in their energy levels and mood after wearing the oral appliance for just a few nights.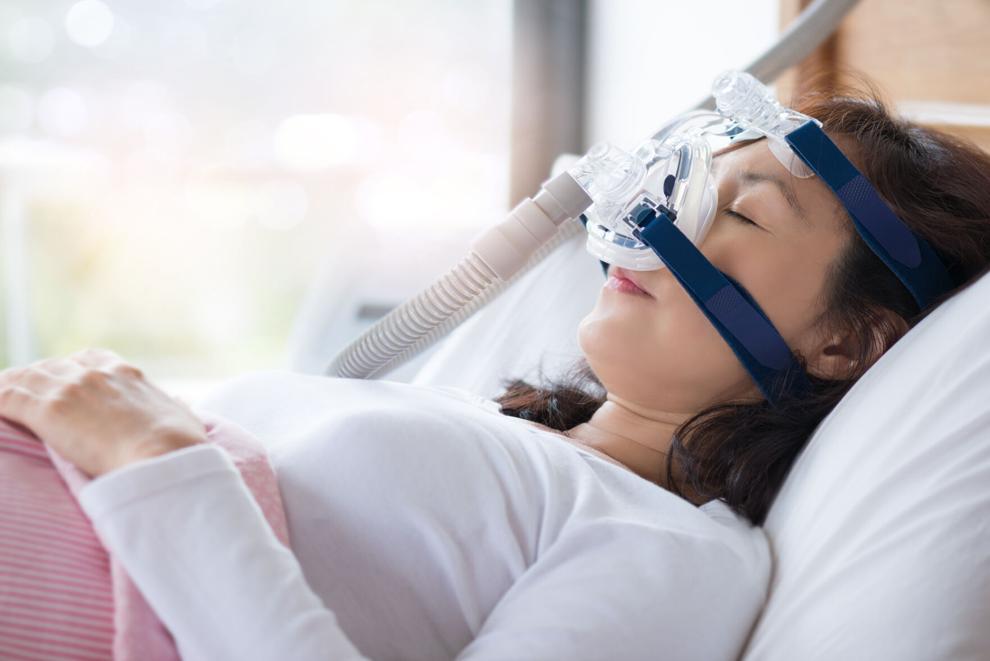 If you have been diagnosed with sleep apnea, Kuhn Dental will work with your physician to create your custom treatment plan. Unlike a traditional physician's office, the team at Kuhn Dental will evaluate surrounding muscles and tissues, and look for related issues with jaw alignment.
Dr. Mandy Grimshaw prescribes the Micr02™ appliance. The MicrO2 features a sleek, one-piece design that is easy to adjust. The low profile design, contoured cheek borders, and extra space for your tongue make this durable oral appliance very comfortable to wear while sleeping.
What is Sleep Apnea?
Characterized by pauses in breathing for at least 10 seconds during sleep, sleep apnea is a potentially serious disorder that can increase your risk for a heart attack, Type 2 diabetes, obesity, stroke, COPD and more.
Symptoms include excessive daytime sleepiness, impaired concentration, snoring, memory loss and irritability — and waking up in the night with heartburn, chest pain or covered in sweat.
Get Sleep Apnea Treatment at Kuhn Dental Associates
Dr. Grimshaw has over 10 years of experience in treating sleep apnea with oral appliances, and has taken post-graduate courses on diagnosing and treatment at the Las Vegas Institute for Advanced Dental Studies. Dr. Grimshaw's advanced dental technology ensures that the patient's jaws are relaxed and in the proper position when technicians take impressions to create a new oral appliance.
If needed, Dr. Grimshaw can also refer patients to a medical doctor who specializes in diagnosing and treating diseases and disorders of the ear, nose, throat (ENT), and related structures of the head and neck to determine if there are other causes that may be contributing to your condition.
With consistent use, oral appliance therapy can reduce health risks associated with untreated sleep apnea. If you think you might have sleep apnea or you're searching for an alternative to CPAP, schedule a consultation with Dr. Grimshaw at Kuhn Dental Associates in Aberdeen at 910-692-4450. Get a list of services offered at kuhndentist.com