When Harold Tharrington and Wade Smith opened the doors to Tharrington Smith, Attorneys at Law on Sept. 1, 1964, they made it their mission to help people from all walks of life with legal issues of all shapes and sizes.
For the past 57 years, Tharrington Smith, LLP has continued to put people first, getting to know and represent the unique individual behind every case. With a team of 37 attorneys specializing in family law, civil litigation, criminal defense, criminal tax defense, and education law, Tharrington Smith has the knowledge and resources to serve clients' needs across the board — without losing sight of why the firm was founded more than half a century ago.
Real People, Real Problems
From separation and divorce cases to child custody battles, the deeply personal and emotional situations surrounding family law require that personal connection and understanding be at the forefront of the attorney- client relationship.
Together, they handle a full range of divorce issues, including alimony, equitable distribution, and retirement, as well as domestic violence and appeals in family law matters.
The team at Tharrington Smith goes beyond the surface of a case to ensure that every concern in a family law case is adequately addressed.
"The depth of family law experience in this law firm is remarkable. There is rarely an issue that someone here has not addressed," Lynn P. Burleson says. "As a family law team, we freely share these experiences among ourselves to ensure that each of our clients receives the best possible representation."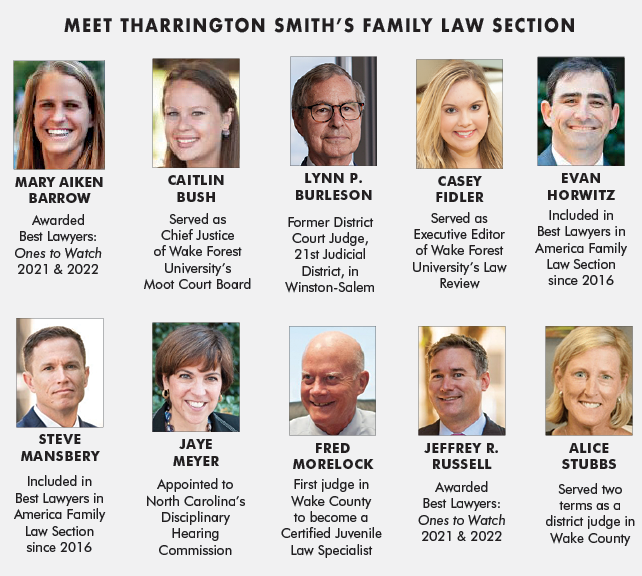 Members of the family law team at Tharrington Smith have been selected to North Carolina Super Lawyers, an organization that recognizes the state's top attorneys through a process that involves peer nominations.
Three team members have previously served as judges, three have headed the statewide family law section of the North Carolina Bar Association, and three are Fellows in the selective American Academy of Matrimonial Lawyers. In the words of Fred Morelock, the team has "a wealth of experience and knowledge of family law issues."
Providing Resources and Support
"We truly work as a team in the Family Law Section and play to each other's strengths to get the best results for our clients," Casey Fidler says.
The family law team understands that providing clients with an effective combination of resources and emotional support produces results beyond the courtroom. In fact, former, current, or future clients can find resources on Tharrington Smith's website, from child custody calculators to information on military family law and trade-in values for any shared property.
"We treat each client individually with the utmost care and professionalism," says Evan Horwitz. "We are experienced with regard to all aspects of family law and divorce and help our clients get through this difficult process from beginning to end."
"We have the resources and expertise to provide each client what he or she needs to navigate complex issues that arise from separation and divorce," states Alice Stubbs who has been with Tharrington Smith since 2006.
The family law section is founded on the most important aspect; they are dealing with real people and their real problems. "The Family Law section at Tharrington Smith is solution-oriented. We work as a team to address the specific legal issues in each case as efficiently and effectively as possible," says Caitlin Bush.
A Full-Service Law Firm
The knowledge, experience, and expertise at Tharrington Smith go beyond family law, but their client-focused, guided approach to law remains consistent across the board.
Additional specialties at Tharrington Smith include: 
Civil Litigation 
Education Law 
Criminal Defense 
Criminal Tax Defense
Though legal battles may have evolved since 1964, Tharrington Smith has evolved right along with them — never losing their passion for finding solutions to any legal problems their clients may face.