When her 8-year-old son was diagnosed with ADHD, Kelly Biltz felt vindicated.
For years, she and her husband, Tim, had questioned their sanity while searching for an answer to why they couldn't understand or relate to their son. Why they couldn't help him with what he was going through, whatever it was. And why, at the end of the day, she felt like the problem might be her.
Now, Kelly had her answer. Over the next two years, she would spend countless hours seeking out and weeding through information on how to best manage the diagnosis and its associated symptoms, from lack of focus and lack of motivation to anxiety and difficulty with sensory processing.
"It became a part-time job for me," she said, "from making sure he had the accommodations he needed in the school system to changing everything from our parenting to the way we spoke to each other at home."
She saw success. And with work, her family (and now-teenage son) found some peace. It wasn't until she stumbled across a Twitter thread on ADHD life coaches that she put a name to what it was she was doing for her own home; and realized she could help others be successful, too.
What is ADHD Coaching?
A relatively new field, ADHD coaching has grown in popularity as more children are diagnosed with the complex neurological disorder and it becomes a household word. Not to be confused with therapists or psychiatrists, life coaches help their clients achieve goals which may seem unattainable, lofty or abstract with concrete, actionable steps.
While no formal training is required, Kelly completed the One Year CALC program, and is currently pursuing credentials with the International Coaching Federation (ICF), a requirement of 100 hours or more of coaching and mentor hours. She is also a member of Children and Adults with Attention-Deficit/Hyperactivity Disorder (CHADD), the ADHD Coaches Association (ACO), and The ICF.
To work with Kelly through her program, Loving GrADDitude, an ADHD diagnosis isn't necessary. The only requirement is being ready and willing to change.
"The whole process is very client-driven, meaning the client decides on what to work on during each session. It's very goal-driven and action-oriented," she said. "We work on strategies and routines to help with things like time management, impulse control and working memory, as organization, prioritizing and executive functions are the most common challenges with ADHD."
That's everything from a mom who says she can't get her kids out of the house in the morning to a teenager who loses assignments in his cluttered backpack and can't manage his after-school time and work, or a single adult who is late so often that it has become a part of his identity.
"We work through those old stories and get in a different place where the client is responsible, and can ultimately succeed with ADHD. It's really important that people with this diagnosis know what they need to self-advocate and be more independent.
"That's my end goal with with clients: for them to understand, own and succeed. ADHD doesn't go away. The systems you put in place are what you need."
An Evolving Practice
As a busy mom, Kelly was able to build a virtual practice that traveled with her. First from her home in Charlotte, and now her permanent home in Pinehurst (that she calls her happy place), she communicates via conference call or Skype with clients as far away as Seattle and New York. In addition to writing a blog on her website, Kelly also maintains an active social media presence on Facebook, Instagram, and YouTube.
Kelly assumed the bulk of her clients would be teenagers and frustrated parents — a demographic she considers her "wheelhouse." But, to her surprise, about 30 percent of her business is comprised of adults. Though Kelly lives in "teen world" through her boys and enjoys helping adolescents navigate their unique challenges, she quickly grew to love helping grown-ups, too.
"At the point they come to me, they are totally stressed out," she said. "They are in crisis mode and ready to do anything to make a change, so they're very focused and we get a lot of goals accomplished. They already know what they need because they have been living with this for 20, 30, 40 years. I'm just there to help them be accountable and support them while they implement change."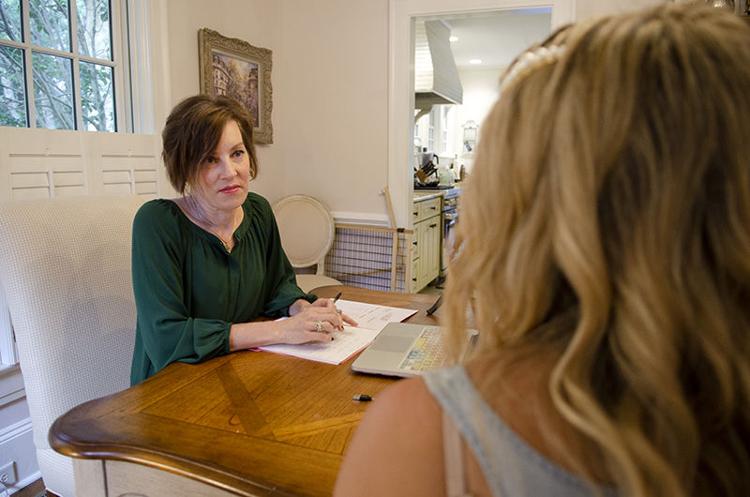 Homegrown Connections
Now that her family has moved to the vacation home they've owned in Pinehurst for 20 years, Kelly is eager to lend her support to the community by partnering with teachers, schools, psychologists and families. As part of that, she is studying to be a certified trainer for The Sanity School, a program for parents with complex kids which she hopes to bring to the area next year.
Kelly is also excited to grow her local client base via advocacy in the schools, and one-on-one sessions on her front porch and in her dining-room office.
The first step, as always, is a free 30-minute consultation which helps potential clients understand the coaching process and decide if Kelly is the right fit for them as an accountability partner. From there, clients devise a roadmap of goals and what they want to accomplish. Then the work begins.
"Clients who are coached see results, which is why I love it," she says. "The client creates the pace. They ultimately have the answers. It's my job to get them there."
--
Looking for someone to help your loved one with ADHD? See if Kelly might be the right partner for you at lovinggrADDitude.com or kelly@lovinggradditude.com.
Through the month of September, Kelly will be offering a special back-to-school promotion: two free sessions with any package purchased, a value of $200.