This summer, Pinehurst Surgical Clinic will welcome to its practice a North Carolina native who is looking forward to caring for the community he now calls home.
This month, Ryan Nance, DO, joins Pinehurst Surgical Clinic's Women's Comprehensive Health team — a team of gynecologists, obstetricians and nurse practitioners who value the opportunity to treat patients at every stage of their lives. As a doctor of osteopathic medicine, Dr. Nance follows a whole-person approach; and at Pinehurst Surgical Clinic, he will specialize in everything from menstrual disorders and family planning to infertility, prenatal and postpartum care and minimally invasive surgery.
"Obstetrics and gynecology is one of the few specialties that allow you to work with patients throughout their lifetime, from labor and delivery to menopause and beyond," Dr. Nance says. "I'm looking forward to building a close relationship with patients and building trust in the community. When patients know they're not just another chart, not just another lab value, you really get to know them and are able to take really good care of them."
Dr. Nance comes to Pinehurst Surgical Clinic from McLeod OB/GYN Associates in Florence, South Carolina. The son of an accountant and nurse, the Elizabethtown native earned his undergraduate degree in business administration from the University of North Carolina at Wilmington before pursuing a medical degree at The Edward Via College of Osteopathic Medicine, and completing residency at Riverside Regional Medical Center in Newport News, Virginia.
The caliber of Pinehurst Surgical Clinic's physicians attracted him to the practice, where he's been working behind the scenes since May.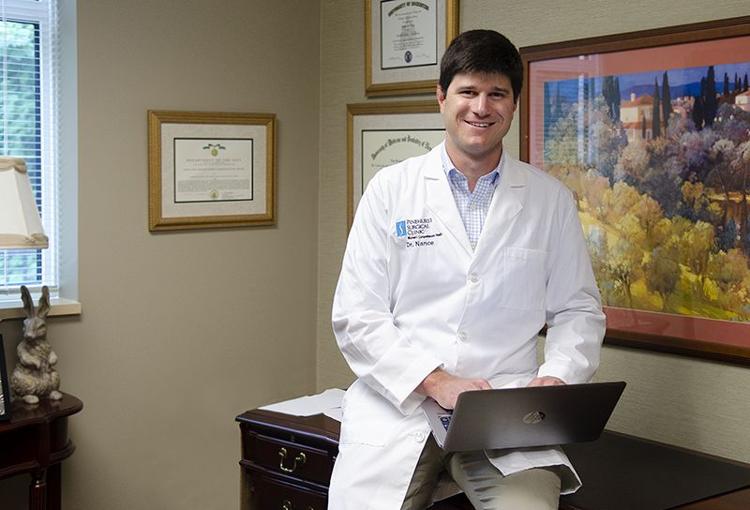 "The other physicians and staff here are amazing," Dr. Nance says. "From day one, they've been very professional, very helpful, very patient care-oriented; it's clear that they really enjoy what they do and where they work. Everyone here has autonomy in how we take care of patients.
"Something interesting about the OB/GYN specialty is that not everything we do is focused on whether you need surgery or not. Medical management can be ideal for some patients, while surgery can work better for others. Practicing medicine is about trying to figure out what works best for each individual patient."
As someone who grew up less than two hours from Pinehurst, where he played soccer as a kid and later picked up golf as a hobby, Dr. Nance also felt the pull of the Sandhills. He and his wife Sarah Kate, a dental hygienist and native of Virginia, are excited to put down roots in their MidSouth home — and to be in close proximity to sailing and scuba diving opportunities on the East Coast.
The two have enjoyed exploring their new neighborhood during quarantine but are looking forward to getting involved in the community. And Dr. Nance, of course, is ready to get to work.
"Delivering a happy, healthy baby is the best part of what we can do, and there's nothing like seeing excited parents," he says. "Whether it's their first baby or their fifth baby, I don't think that feeling changes for either of us.
"But my favorite thing about what I do is the satisfaction in seeing a patient happy with their outcome; when a treatment plan culminates in success, and the patient is happy with the quality of care they've received."
Dr. Ryan Nance will be based in the practice's Pinehurst location, and is currently accepting new patients. To schedule an appointment, call 910-295-0290.