One of my favorite movies from the 1980s is "Moscow on the Hudson." Robin Williams is a Russian musician playing saxophone in a traveling circus when he defects while in New York City.
The romantic comedy centers around Williams' character learning to cope in a new culture of plenty. The best scene comes when the newly defected Williams is told to run down to the corner grocery store for coffee.
"Excuse me," he says, to a clerk, "coffee line?" Aisle 2, he's told, "but there's no line." And so he turns down an aisle full of coffee choices. Maxwell House. Taster's Choice. Folger's. Overwhelmed by the abundance, he starts screaming "Coffee! Coffee! Coffee! Coffee" until he falls down and passes out.
You'd think the average American would be inured to the everyday grocery shopping experience, but a spirit somewhere between "passion" and "wild abandon" is kindled when you bring up the subject of a Wegmans Food Market with a "Wegmaniac."
And so it was that I about had my own "Coffee!" moment last weekend when I and a friend made the hour-long trip to Raleigh for the southernmost outpost of this upstate New York chain.
My friend had been giddy at the prospect of its late September opening. "You won't believe it! It's amazing."
I figured that Rubicon had been crossed when the Harris Teeter — what I call the Taj Ma Teeter — had opened in Taylortown a couple years ago. It marked the occasion by commissioning a sculpture of Payne Stewart from a 640-pound block of cheddar. A grocery store that sold fresh-made sushi, gasoline and boasted a bar of reasonably priced pints? How could there be another horizon to cross?
Skepticism is fair — until you see the parking garage in front of Wegmans. I have never seen a grocery store that requires a parking garage. And it's full at 10 a.m. On a Sunday.
The thing about Wegmans — this is store 100 — is that the stream of people coming and going is constant, like ants moving to and from the hill, except we're taking groceries from the collective rather than bringing them.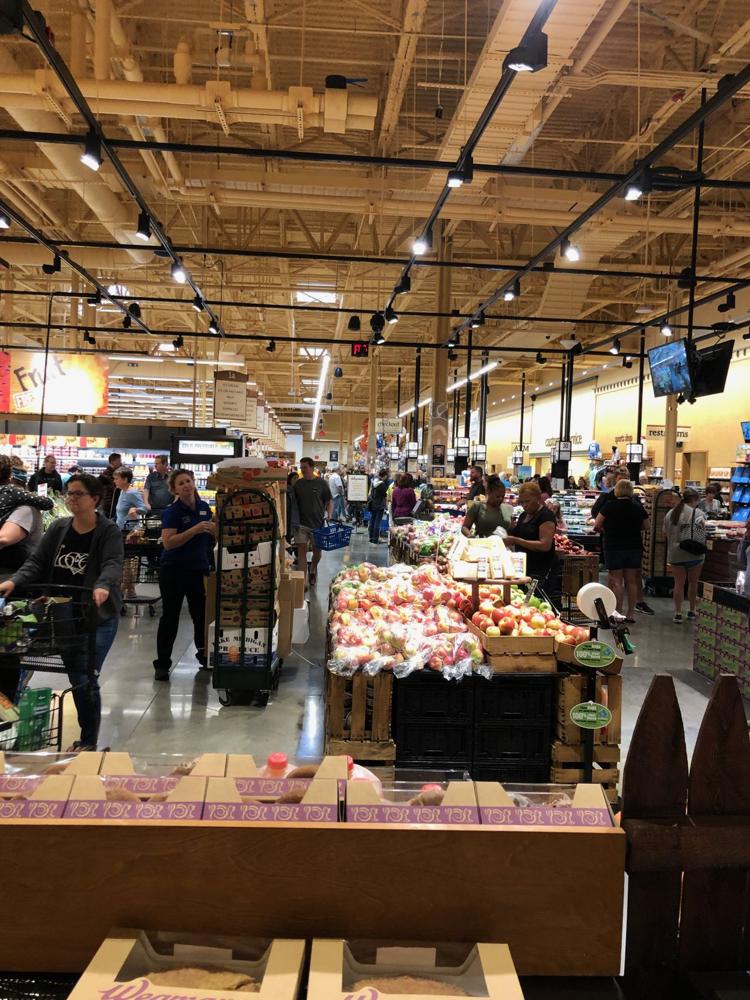 Walking inside, you confront 100,000 square feet of floor space. There are no small Wegmans — Wegmanses? Each is massive, twice the size of the Taylortown Harris Teeter. There are 31 checkout stalls, and each one of them is staffed and operating full-out.
From the moment you walk in, it is sensory overload, like a coffee-starved Russian walking down the coffee aisle. A team of chefs at the sushi bar are turning out rainbow-colored rows of freshness. The salad counter is stuffed with six brilliantly verdant lettuces and dozens of fixings that include even the vaguest of choices.
"Today," my salad server said, "we have red quinoa!" Red? Quinoa has colors? I thought it was all beige!
Burger bar, sandwich station, pizza line — and we hadn't even gotten to the grocery aisles yet.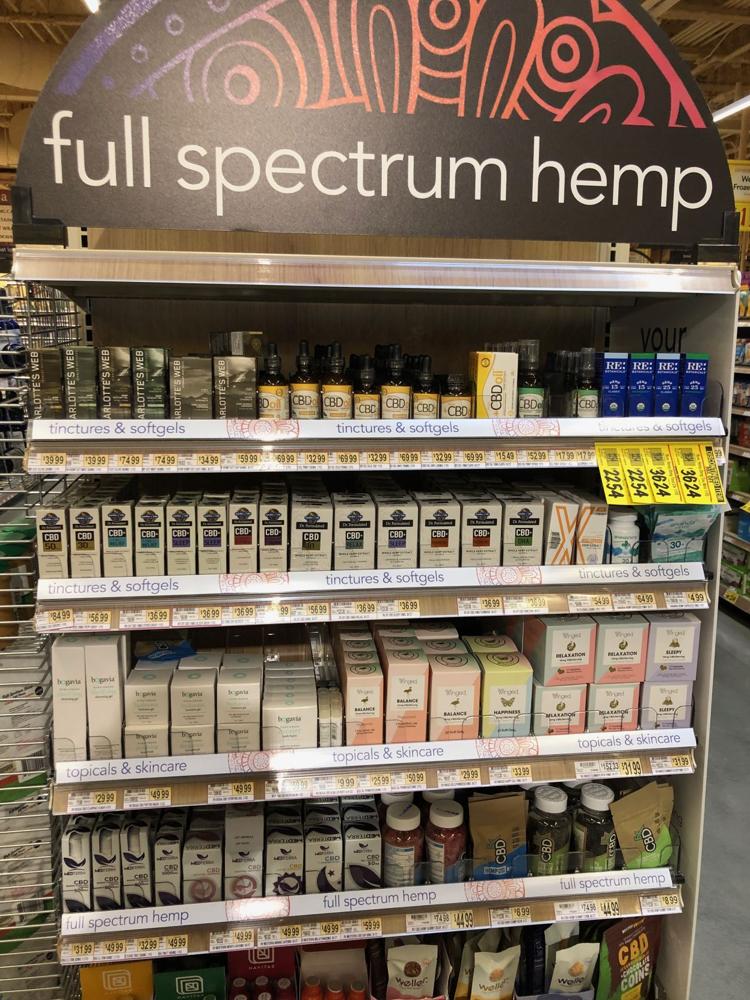 The wine section is bigger than most wine stores. The craft beer aisles (two) are alphabetized. Want to quit smoking? Choose from five shelves full of items. There's an end-cap bearing a sign "full spectrum hemp" — five shelves of various hemp products, including "peanut butter flavor" soft chews for your dog. Who's a good boy? Who's a good boy?
The cheese aisles feature "craft" cheeses from North Carolina makers as well as the most arcane offerings from Europe. A parm-cheddar? In the cart! Maybe a "cave-ripened" mild Cremeux de Bourgogne?
If you can take your eyes off the expanded dairy aisle — five types of "oat milk," 26 varieties of organic milk — an elevated model train takes laps around overhead.
Up and down every one of the 15 extra-long aisles, it is this orgiastic expanse of options. A whole aisle of nutrition bars? Who has a whole aisle? Wegmans.
Perhaps you have not been to a Wegmans. Like you, I did not understand what its apostles call "Wegmania" — the term has a Twitter and Instagram hashtag. In 2012, a high school theater group staged an 87-minute production called "Wegmans...The Musical." It was a sell-out.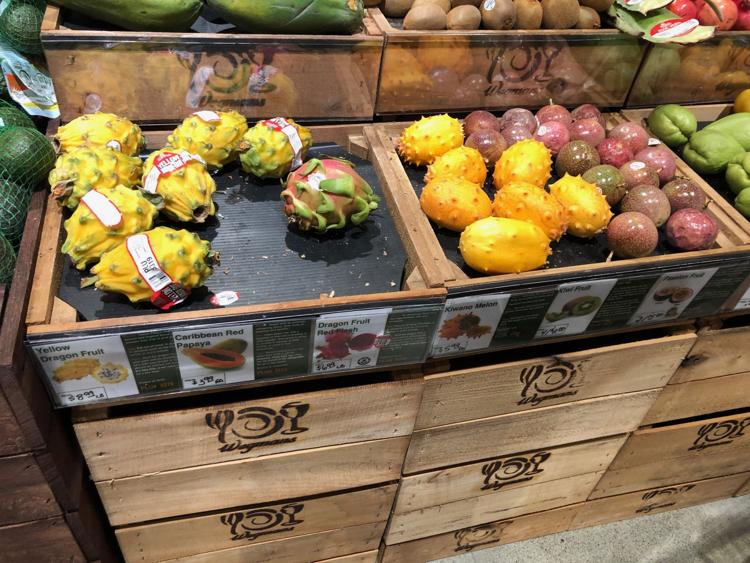 Perhaps you have worshipped at the produce section of Whole Foods or Trader Joe's. At this Wegmans in Raleigh, there is a Trader Joe's almost exactly in front of it. It is merely a speedbump to Wegmaniacs.
When this store opened last month, more than 3,000 people were waiting in line for its doors to open. That's more than you find outside a DMV office on a Monday morning.
More Wegmans stores are coming — Cary, Chapel Hill and Holly Springs — but thankfully not here. Moore County could not handle a Wegmans. It would break the highways. It would bankrupt the economy. It would addict us all to fresh cookies and the smell of warm 8-grain autumn loaves coming out of the oven.
You think you have seen everything. You have not until you see a Wegmans. What a country!