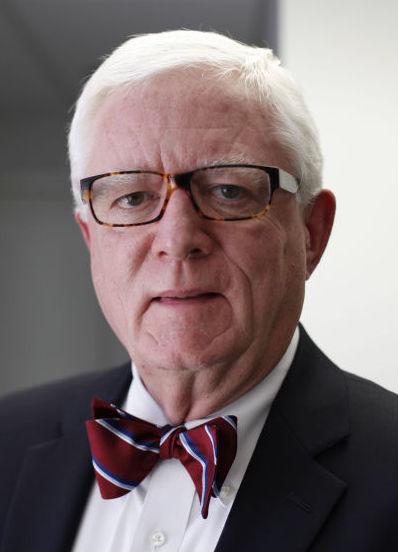 Just a few of the many things I'm thankful for on this Thanksgiving 2017:
• My wonderful and patient wife, Brenda — as well as sons Jacob and Ben and daughter Kate, who continue to make me so proud.
• The gift of being part of our beloved Emmanuel Episcopal Church for nearly 20 years. And especially for my long-cherished spot in the bass section of the church's choir under such brilliant musical leadership — from first Johnny Bradburn and then Homer Ferguson. And now our congregation has given me another opportunity to serve on our Vestry.
• Deborah Salomon's brownies.
• Brooke, at Great Clips, who cuts my hair. Gail, at the office of Dr. Thomas M. Vicars Jr., who cleans my teeth so thoroughly yet gently. Debbie, at American Cleaners, who so amiably keeps me in dress shirts. And Jim, Sevag and Jonathan, the pharmacy team at Harris Teeter in Aberdeen, who so efficiently and knowledgeably fill my prescriptions.
• Fat Tire beer. Or, when something a little more special is called for, a freshly filled bottle of something from Southern Pines Growler Company.
• Our dear, longtime friends Wendell and Vickie Guerry, who have so generously, and for so many seasons, made us a part of the special Thanksgiving celebration at their home near Charleston.
• The privilege of having so long been a member of The Pilot family, watching over the years as it has branched out into one imaginative new venture after another under the creative leadership of Publisher David Woronoff.
• Our legions of talented columnists and letter writers, who bring so much intelligence and variety to these pages.
• Sitting (in season) outside the Pik N Pig, next to the Carthage Airport, and savoring some authentic barbecue while watching light planes take off and touch down.
• Our pooches, Georgia and May, and our kitties, Lucy and Lily — each of whom is so endearingly crazy in her own unique way.
• Biographer Ron Chernow, whose thick tomes manage to be both as informative as scholarly academic works and as grippingly readable as suspense novels. Having read his "Hamilton" and listened to a 33-CD version of his "Washington" while driving back and forth to Chapel Hill, I am now girding up to take on the print version of his latest, "Grant." I cannot recommend Mr. Chernow's masterpieces highly enough.
• Those highly addictive and challenging puzzles known as acrostics, which might be described as crosswords on steroids.
• The good fellowship and conversation provided by the nice guys in our monthly breakfast group — which I dubbed the Junto, after Ben Franklin's club. And for the Pine Crest Inn, where we convene.
• Our beloved towns of Southern Pines, Pinehurst and Aberdeen, which are all so different from each other in terms of their histories and their characters — but which manage to cuddle together and create this southern Moore County micropolis of ours, whose whole is so much more than the sum of its parts.
• Living in the Southern Pines neighborhood of Weymouth Heights — whose unique collection of beautiful and sometimes quirky homes is anything but cookie-cutter, and whose residents also come from such fascinatingly diverse backgrounds.
• The Country Bookshop, the Sunrise Theater, Betsy's Crepes, the Nosh deli, SoPies Pizzeria, Wolcott's, the Bell Tree, River Jack, Ashten's, Sweet Basil, the Framer's Cottage — and all the other entities (there's not nearly enough room to name all of them) that make downtown Southern Pines so much more than you might expect from your average small Southern town.
• The long-ago piece of dumb luck (which Veterans Day recently got me to thinking about) that allowed me to complete my three-year U.S. Army hitch and get a discharge in my pocket not long before things began to break loose in that then-little-known place called Vietnam.
• Reese's Peanut Butter Cups.
• National Public Radio, which keeps doing a better job and playing a more effective role in keeping the public objectively informed at a time when that is so much more important than ever.
• Movies like the splendid and spectacularly filmed "Murder on the Orient Express."
• Our Southern Pines Public Library, an outstanding community resource, whose friendly staff members — under the able supervision of our friend Lynn Thompson — always go out of their way to be helpful and friendly.
• My bright and engaging journalism students at UNC-Chapel Hill, who do so much to restore my faith in the younger generation and help keep me — if not young (no way) — then at least younger.
• And last but not least, Dear Reader — you. Have a great Thanksgiving!