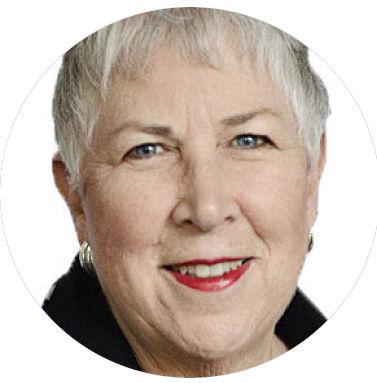 I experienced my first assault at age 10 in a barn, when a field hand put his hand up my T-shirt. I jumped on my bike and pedaled like hell. I felt ashamed and alone, and I told no one.
I had a good family. And, yes, I would have thought I could tell. But, like almost all women before we really mature, I was afraid — irrationally afraid that I was responsible. Girls are trained to be nice and polite and respect elders. No one ever talks about when you should throw all of that away.
I was abused in college by a drunken guy who wanted to show his girlfriend she wasn't the only one. My clothes remained on, but my dignity and sense of self took a beating.
On a TV set, the director of a commercial adjusted my blouse too often. The crew of 10 or so, the client and ad folks, mostly men but a few women, did nothing and said nothing. I was working and froze. I was in my late 20s and untrained in how to rebuff harassment.
But it is not always touchy-feely. Sometimes it is becoming the person that the teacher makes fun of every day. Or the director who uses you as the whipping boy to get the rest of the cast in order. It can be the senator who talks down to women at every turn or the "don't worry your pretty head" comment.
It is the car dealer who says the color matches your eyes when you should be hearing about the mileage. Or the garage mechanic who feeds you a load of hooey and overcharges you because you are a girl and know too little about cars.
It is the truck driver who pulls alongside your car and asks you to meet him at the next rest stop. It is the doctor whose hands linger on your breast during the exam that goes longer than it should. It is your uncle who insists that you sit on his lap for an extended period.
Yes, guys, these things happen to nice girls, girls from broken homes, rich girls and poor girls, old women and young women. And I think the time for excuses should be over. The time for turning-away by our brothers, fathers, and all male friends should be over.
Sometimes it is a joke gone wrong, but mostly it is insulting, demeaning and harmful. Discomfort is the lowest indicator, but it rises to the destructive level very quickly. Little girls and young women should not have to develop a sense of self in a minefield of abuse. And that is what we have allowed to grow over centuries: a minefield of abuse.
The fact that predators and their enablers find it amusing has begun to be recognized by the general population, but it is women who have to pay the price — the price of not being believed, of being fired, of needing therapy and often not getting it. If a car hits you, we call an ambulance. But if a boss or family member or reality TV star gropes you, you are told to shut up and go on. Of course, anger is the result. Of course, we wish to see change.
I don't think that treatment for the predator is enough. I think the victims should get treatment, and the predators deserve jail time or loss of jobs and perks. They should have to earn their way back into a healthy society.
They don't get to leave by a revolving door that immediately gives them first-class seats, best restaurant tables and huge salaries. No, they go to the back of the line and work their way back from pariah to dignified human being. Their victims should get the best of everything for their bravery and for not killing themselves from the pain.
First, we all must admit that the problem is there — and make sure that the perpetrators bear consequences and have to earn their way back to decent society. But by doing little, we are randomly choosing the next girls to fall prey to these men. Are you willing to pick those girls by inaction?
Demand serious action by state and federal representatives. And if they do not think this is important, see that they no longer serve. Actions, not just words, are needed in towns, counties, states and the nation.
Enough. Save the girls and women who now are only targets.
Joyce Reehling lives in Pinehurst. She retired here from New York after a 33-year career in theater, TV and commercials.