I was the youngest of four boys, a 10-year spread from beginning to end. By the time I got around to the same experiences as my older brothers, my parents were pretty well broken in. If you were on the tail end of a long(ish) family, you know what I'm talking about.
This works to your advantage in some ways. Parents tend to mellow out with experience and loosen up a bit. My brothers always accused me of getting away with things they never could.
But there's a flip side to that also. Mom and dad had already "done their time" on school volunteering and chaperoning by the time I came around to many of those experiences.
And that was OK, certainly by the time high school rolled around. Parents on field trips as chaperones? Talk about cramping one's style — not that I was one with much style. So when it came to that 8th grade Marine Biology class trip to the Florida Keys or the 10th grade Latin Club weekend tournaments in Orlando, I was out from under any watchful gaze that mattered.
It's a rare thing to have your child willing to share any significant high school experience, much less a trip requiring charter buses and hotels. So it was an opportunity to be seized when my daughter asked me along with her Pinecrest Speech and Debate Team to George Mason University last weekend for that school's 15th annual national tournament.
Now a senior, Loreleigh had been each year to George Mason and always asked me to accompany her as a chaperone and volunteer debate judge. I can still remember what I was like as a student on these trips. My desire for custodial responsibility was appropriately low.
But if you can make memories with your child, why let that pass by? I boarded the bus.
In the end, we had a great time, and I didn't have to play sergeant major once. We had Riley along for that. He served in Afghanistan and had combat experience. When Riley would call the roll, each child's name was hollered out by last name, first name — and he didn't skip the comma: "NAGY COMMA LORELEIGH!" He gave us situational briefings all along the way. God bless him. We even had two doctor dads along, one of whom dutifully dispensed kids' daily medicines. Kids take a lot of medicines these days.
On Sunday, with most of the team not going on to final competitions, we small band of merry chaperones — with Riley firmly in command — led a 23-student expedition down to Washington, D.C., going in on the Metro subway. The Metro can be tricky in its own ways, so to keep that in mind while also endlessly counting 23 heads gave me new respect for mother geese.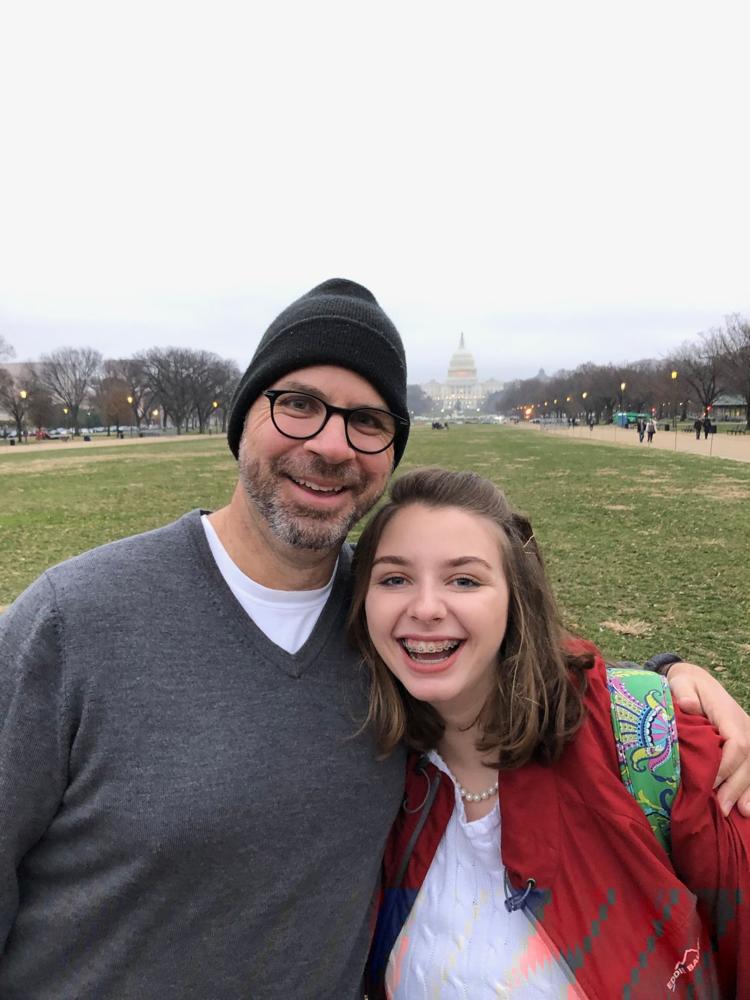 The kids got to experience the National Air and Space Museum and walk the length of the National Mall. We took them by the Lincoln Memorial and through the World War II, Korean War and Vietnam War memorials. Riley needn't have issued his call for respectful behavior; the kids were as solemn as the gloomy evening around them.
D.C. has always been a special place for me. Growing up just outside it, my school frequently took classes downtown for day-trips to the various Smithsonian museums. We'd sit on the Mall, eating our peanut butter and jelly sandwiches while the chaperone moms would run around keeping us in check. My friends and I walked the same gravel paths as my daughter and her classmates.
I couldn't help feeling a little full-circle about it all. Loreleigh thanked me for going on the trip, but I was the one thankful for the chance to work long days, eat fast food, spend a sleep-deprived night on the bus and love every memory made along the way.