Since The Pilot and I have arrived at a bit of a milestone, please allow me a few moments of nostalgic reflection.
You see, this week — more than 20 years since I came here as editor, and six years since I semi-
retired into the opinion editor spot — is my last as a staff member with this wonderful paper.
Yep, I'm peeling off the "semi" label and retiring for good. Two quick disclaimers, though:
First, that doesn't necessarily mean I'll just be lying around watching soap operas all day and getting in Brenda's way. I hope to keep teaching my journalism classes at Chapel Hill for as long as they'll have me — and turning my attention to long-delayed writing projects and catching up on long-avoided yard and garage work.
Nor does it mean that you will be spared seeing my face and words ever again on these pages. Publisher David Woronoff and Editor John Nagy have been nice enough to ask me to keep writing columns — and even keep a desk in this newsroom. So this is not a farewell to you, as such.
I am thankful for that — and for being part of this remarkable newspaper, which keeps winning big national awards at a time when so many others are fading into ghosts of their former selves. Credit much of that success to the imaginative leadership of David and our highly supportive owners in strengthening our base by branching out into other related fields — phone books, five excellent magazines, multiple digital entities — even the outstanding Country Bookshop.
As for the rest of this column, permit me to briefly recount a few of the things I am most proud of being involved in since Brenda and I and daughter Kate arrived here in that long-ago August of 1997:
First, I am ever proud of how we relative novices at The Pilot (along with some outstanding outside talent we brought on board) pulled together and worked day and night to prepare for and cover the 1999 U.S. Open — first ever held at Pinehurst Resort and only the second held anywhere in the South in a century — in a way it had hardly ever been covered before.
I'll never forget dropping into the media tent a couple of times and seeing all those sportswriters from The New York Times or ESPN sitting with their noses buried in one of the U.S. Open Daily tabloid sections that we put out for eight days running — along with publishing our regular, twice-weekly broadsheet newspaper. Whew!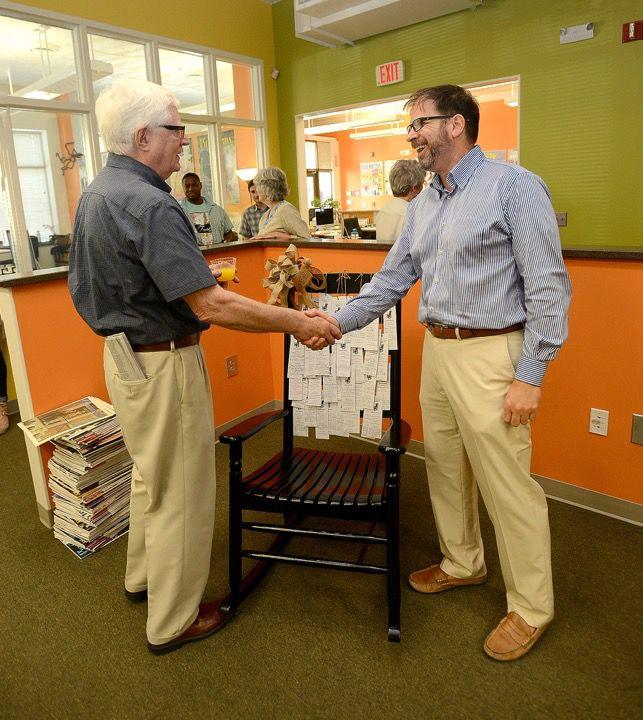 I have to mention Moore Friends for Mississippi, launched by us at The Pilot, which ultimately routed well over $1 million worth of assistance into the area around Bay St. Louis hit so hard by Hurricane Katrina in August 2005. The handful of us who flew down there a few days later will never forget either the unimaginable devastation we saw or the bravery displayed by survivors we met.
Then there was the time I noticed an ad in the paper saying that the old Sunrise Theater was for sale — and seemed about to be turned into a store or something. That resulted in the hurried formation of a group called SOS, or Save Our Sunrise — through which we ultimately managed to do just that. It's hard not to feel pleased about that whenever I drive by there and see people lined up under the lighted marquee.
I'm especially proud of the number of talented individuals I've had a part in recruiting or persuading to join The Pilot over the years, whether in the newsroom or other departments. Just a few current staffers who come to mind are Managing Editor David Sinclair, Sports Editor Hunter Chase, proofreader Mary Novitsky, Advertising Director Pat Taylor (who himself has recently semi-retired), and Andie Rose, creative director of PineStraw magazine.
While I'm at it, here's a thank-you to Faye Dasen, who predated me but graciously accepted my early offer to take over what we then called the "society pages" but soon turned into a new section for which David came up with a new name: "Sandhills Scene." Thanks also to the extra-creative John Cole, who doesn't live here but who contracted to take on a total typographical redesign of The Pilot's pages in 1999 — and who still draws outstanding twice-monthly, locally oriented cartoons.
I also must evoke the spirits of other good people who played important roles at The Pilot but who are no longer with us. People like Florence Gilkeson. Clark Cox. Brent Hackney. John Chappell. Charlie Weatherspoon. Tom Embrey. Locke E. Bowman Jr. Names like those may not mean much to the highly talented younger generation in our newsroom, but they mean a lot to me.
I could go on — and may in future columns. For now, though, I can't close without offering an increasingly anxious prayer for the continued survival of a vibrant free press in this country — and for The Pilot, which continues to be such a good example of just that.