Residents of unincorporated areas outside Pinehurst who oppose being zoned by the village are pleased the county Planning Board sided with them last week. But they are taking nothing for granted since the county commissioners have the final say on their fate.
"I'm happy, but I am scared," said Sherry Locklear, who is part of a committee called Citizens Against Zoning that organized the opposition. "The county commissioners can overturn that decision. We will continue to fight to keep that from happening to us."
The advisory Planning Board voted unanimously last Thursday night to recommend that the commissioners deny the request by the Pinehurst Village Council to extend its zoning control in unincorporated areas to the north and west.
Board Vice Chairman Joe Garrison said he "just didn't hear a 'why'" for granting the village's request.
The area the village is asking to zone is to the west and north of Pinehurst along the corridors of N.C. 211 and US 15-501. It roughly runs along the southern portion of Esther Road and Hardee Branch Road and takes in undeveloped areas left between the village and Taylortown. The area along the 211 corridor extends out the full two miles.
Protecting the appearance of the N.C 211 corridor was behind the initial thrust for seeking a zoning extension. Council members have also said it is important for the village to have a greater say on development that occurs on its borders stretching over to U.S. 15-501, which it considers to be a gateway like N.C. 211.
State law allows municipalities with populations of more than 10,000 to extend its zoning controls up to two miles outside of its borders in what is called an extraterritorial zoning jurisdiction (ETJ). Village officials say they are not pushing out that far, especially to the north toward Eastwood.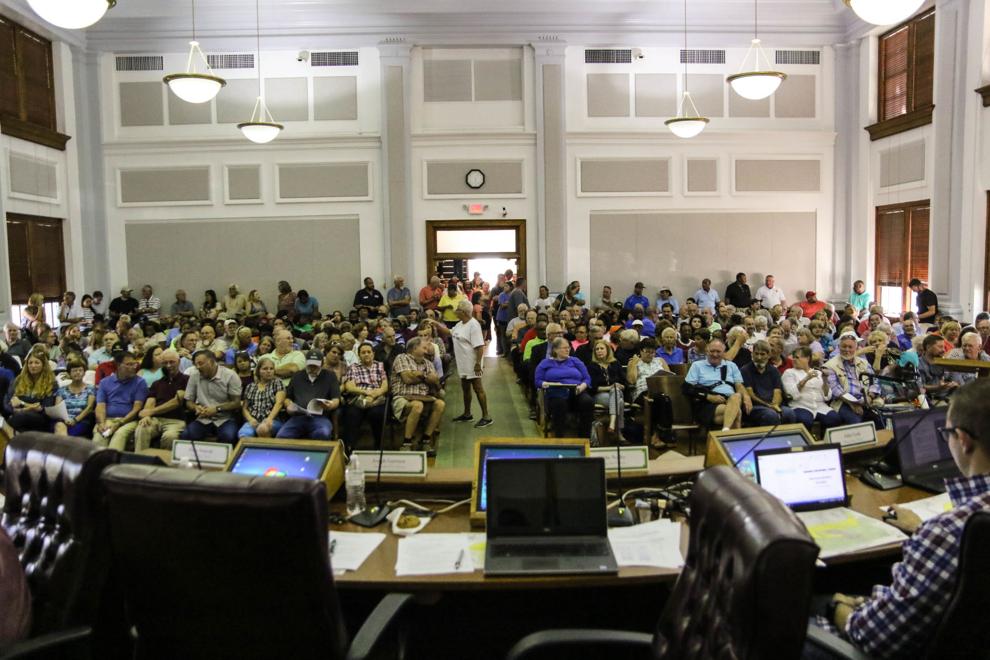 Pinehurst Mayor Nancy Fiorillo, who attended the Planning Board hearing but did not speak, said Monday afternoon that she could not say what the council might do with its request. The council was scheduled to discuss the matter at its work session Tuesday evening (which was too late for The Pilot's press time).
"At this point, the entire council needs to talk about and decide what to do," she said Monday. "We are hoping we can find a way to collaborate with the county so the growth that is occurring will be high quality and will compliment our area."
The village could withdraw the request, scale it back or push ahead
Fiorillo, who had warned other members of the council at an earlier meeting that it would be met with strong resistance, said she was not surprised by overwhelming opposition.
Village Manager Jeff Sanborn said in his presentation to the Planning Board that when growth occurs in these areas, it should be "compatible and complimentary of the village's character." He said it also wants to be sure that these "resulting urban areas are adequately supported by municipal services" that the county is not equipped to provide.
He and other members of the Village Council tried to make a case to residents of the affected area that the village's stronger zoning regulations would result in higher quality development and increased property values.
Sanborn also tried to assure residents that any existing uses that do not comply with the village's zoning ordinance would be "grandfathered" and that the village would work with them to come up with "the best possible zoning and desirable changes to our development ordinance to accommodate the expansion."
But Locklear and other opponents, as well as members of the Planning Board, did not buy that. She said if a resident wanted to change something or subdivide land for their family, they would be subjected to the village's rules.
She said she and her husband have five parcels and plan to deed land to their children.
"So they would have to go by their rules," she said. "It should be up to the owners to decide what to do. We shouldn't have to have Pinehurst coming in here and telling us what we can and cannot do."
The only people speaking in favor of the village's request were three residents of Pinewild Country Club. Residents of the gated community have wanted the village to seek an ETJ extension since being forcibly annexed in 2009, which they say is needed to protect N.C. 211.
Several of them said during the public hearing Thursday night that residents of Pinehurst No. 6 and the Donald Ross Drive area, as well as Foxfire Village, also support the village's request.
Barring a withdrawal of the request by the council, the commissioners would hold a public hearing at their Oct. 16 meeting — it would normally have been Oct. 2, but Commissioner Frank Quis will be out of town.
County officials said they will look for a larger venue for that the meeting to accommodate a large crowd.