It can be the little things that mean the most: Picking up a child to carry on your shoulder, doing a little yard work or simply holding your wife's hand while you walk.
For David Tupper, getting back on his feet is the first step on a journey he never expected to take.
Paralyzed from the waist down since July 9, 2012, when a rocket-propelled grenade blast in Afghanistan caused his traumatic brain injury, the former Marine is finding new joy in the mundane.
Tupper, who lives in Fuquay-Varina, is the first in North Carolina to be fitted with second-generation bilateral C-Braces, basically a synced-up pair of computerized exoskeletal devices that allow him to sit, stand and walk with a natural gait.
The devices are manufactured by Ottobock, the German prosthetics company founded in 1919 to serve the large number of disabled soldiers following World War I. Since then, Ottobock has expanded with branches in 50 countries.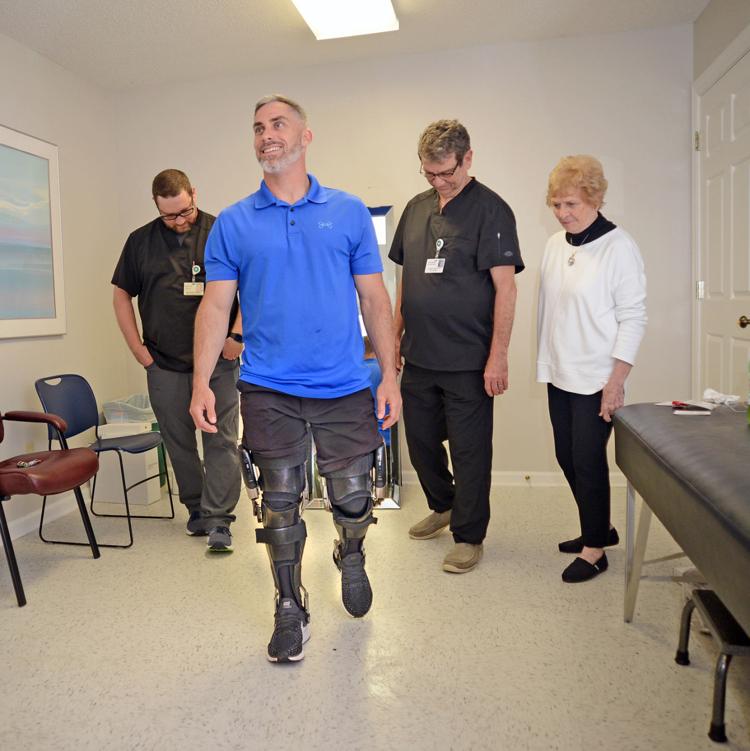 "We work closely with the Department of Defense," said John Smith, an orthotics sales specialist with Ottobock. The technology was developed from the prosthetics side of the business, working with above-knee amputees.
Tupper was referred to Orthotics and Prosthetics of Pinehurst by the U.S. Department of Veterans Affairs to be fitted for the Ottobock braces. Most private insurance companies refuse to cover the cost for these high-tech orthotics, which can run upwards of $75,000.
"This has changed my life," Tupper said, plainly. "Before this I was wheelchair-bound or I would use forearm crutches occasionally at home or if we went places the chair wouldn't fit."
Elease Goodwin, who founded Orthotics and Prosthetics of Pinehurst in 1981, said seeing Tupper walk has been like witnessing a miracle.
"This has been an exciting experience for us. It's a real red-letter day!" she said.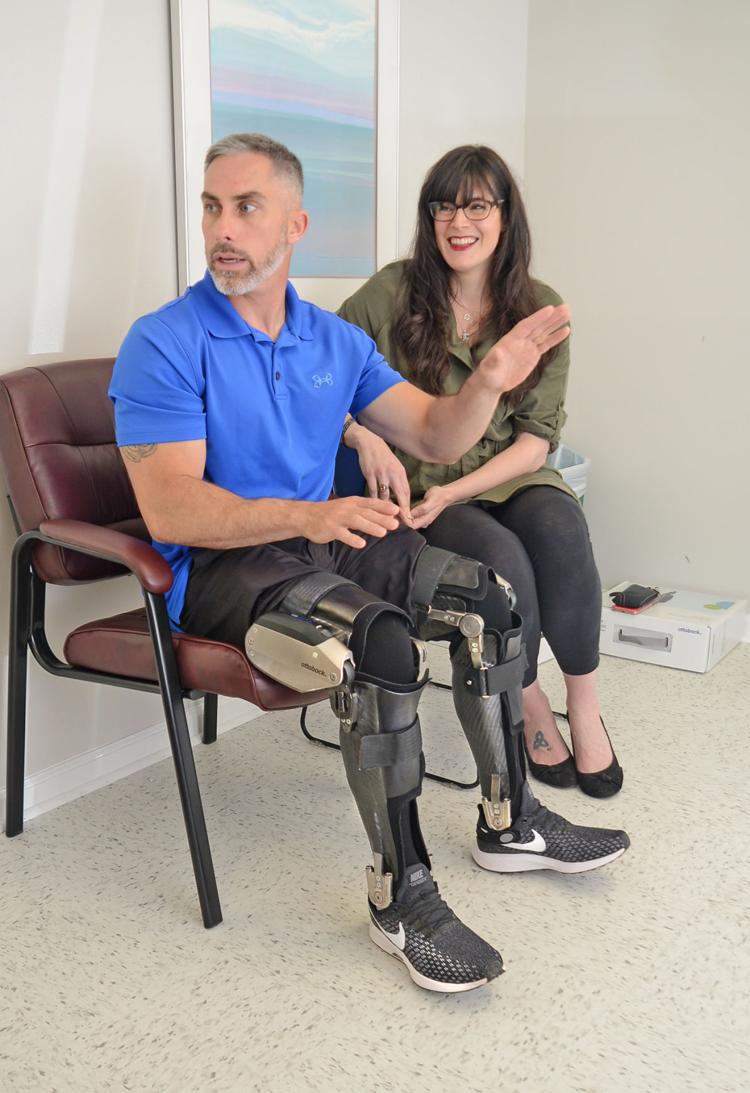 Known locally as O&P, Goodwin said her company's driving purpose is to help clients regain their lifestyle. They provide custom orthotics and prosthetics fit and designed in-house, in addition to working with high-tech manufacturers like Ottobock.
Originally from Connecticut, Tupper joined the Marine Corps in 2003 and served three combat deployments. He was part of a bomb disposal unit with the 3rd Battalion, 8th Marine Regiment, in 2012, when he was injured.
He spent close to a year in the hospital and then another three years as an outpatient.
"I was told I would never walk again," Tupper said.
In 2017, he was the beneficiary of an advanced mechanical wheelchair that gave him more freedom to enjoy the outdoors, provided through a donation by The Independence Fund.
But it was two weeks ago when he received the C-Braces that a lifetime's worth of new possibilities suddenly became real.
"This is as close to normal as I've felt. Being able to walk and hold my wife's hand. Getting outside to do yard work. Being able to stop at the store for a full load of groceries," Tupper said. "I did a lot before, but we always had to plan around the chair. This allows us to enjoy things as normal."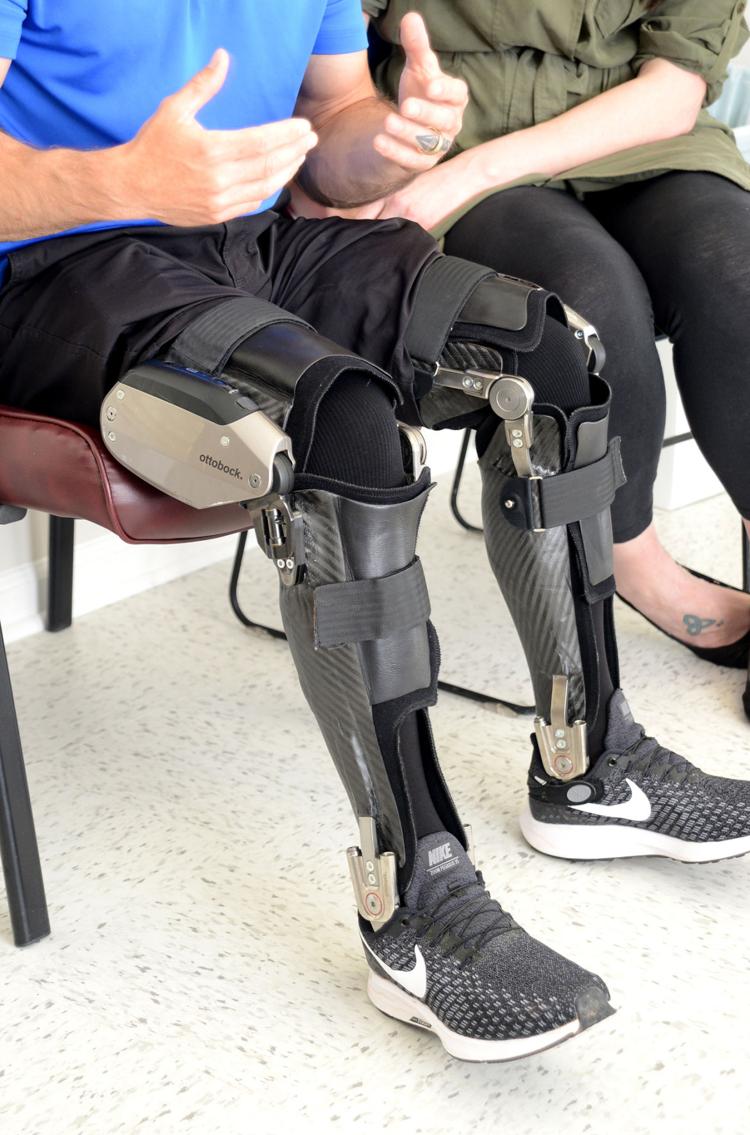 Newly remarried, he and his wife Jade have two children at home and five altogether.
Tupper said his two eldest daughters remember him pre-injury and were thrilled to see him standing and walking again.
"I got in a little bit of a hole in the beginning. After the injury I thought I was not the person I had been," he said. "But then I realized that I was young, I had kids, that I was alive."
He has participated in adaptive sports and had tried leg braces previously without success. Because of his limited mobility, he said the movement was unnatural and more like a waddle with him kicking his legs forward.
"The day I put the C-Braces on, it changed my life. Every morning now, I wake up and I'm excited."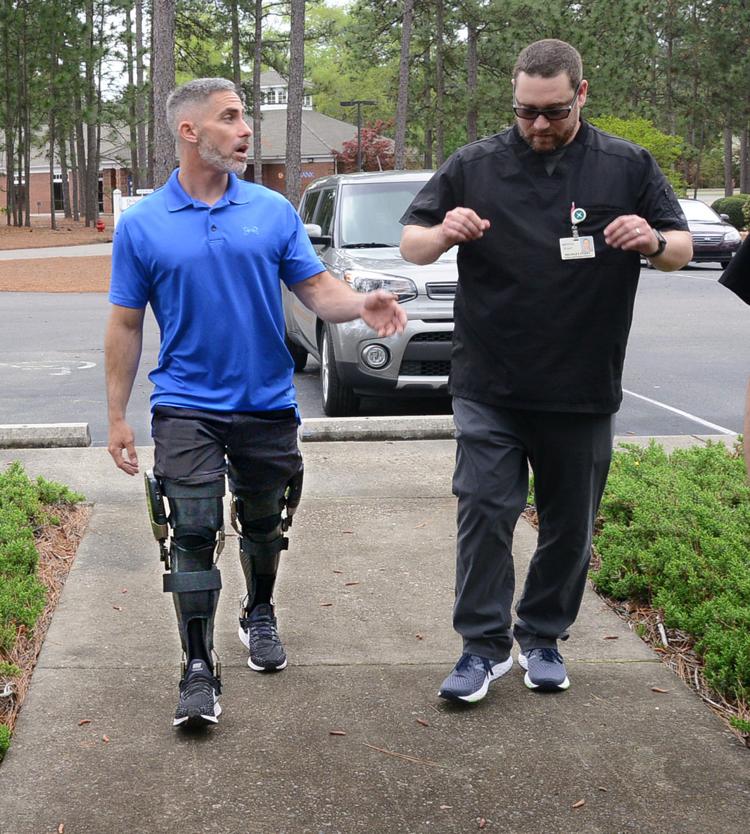 Carson Perry, a certified orthotist with Orthotics and Prosthetics of Pinehurst, said the devices are groundbreaking.
"I've never seen anything like this ever in my 42-year career. I've worked with everything from metal to plastic to carbon fiber," Perry said. "To watch him go from a wheelchair to walking in one day was incredible."
The C-Brace does not walk for patients. It is designed to strengthen the leg of a person who only has partial motor control — so it is appropriate for patients with incomplete spinal cord injury, post-polio syndrome, or post-stroke.
"They are intimately fit for each person," Perry said. "The fit has to be perfect for them to work."
Tupper charges the computers that attach to his thighs overnight and there is an app that he can use to tweak the resistance. Each leg is calibrated individually and the devices communicate with each other using Bluetooth technology.
Perry anticipated the computer components will need to be replaced once a year and the braces less often, though that depends also on the activity level of each patient.
"With someone as active as David, it'll likely need to be replaced more often," he said, with a smile.
Tupper said he's still learning how to navigate inclines and stairs, and is relearning how to use the strength in his hips.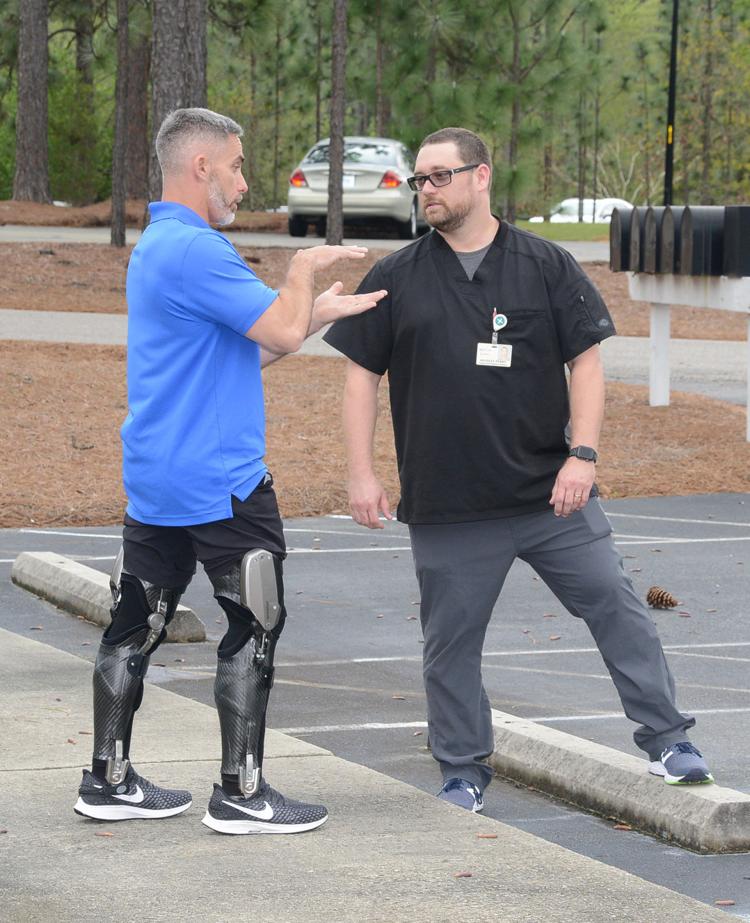 "But I am motivated to get them on and get out there. I have kids and I have a life that I want to get back," he said. "I also want to show people that you might have an injury and you can get back to the life you once had — to not to give up on it."