If you are a fan of landscape artist William Mangum's paintings, be sure to attend the "North Carolina Beautiful" exhibition from Oct. 31 through Dec. 22 at Broadhurst Gallery. Mangum will greet visitors during the show's opening weekend receptions Oct. 31 through Nov. 2.
The exhibition is a homecoming of sorts for the Pinehurst native — marking his first solo gallery opening in Pinehurst. Mangum, considered one of the South's leading artists, has spent most of his 42-year career celebrating the natural beauty of the seasons of North Carolina.
"It's going to be exciting," says Judy Broadhurst, the owner of Broadhurst Gallery, which has featured fine art for private and corporate collectors for 29 years. "It's not very often that you see realism so well done and it's very touching," she says of Mangum's familiar style.
The show will feature more than 50 new paintings. The subject matter is diverse and captures a variety of new techniques that Mangum has been mastering, including transitional and contemporary work.
"This show includes some of my finest watercolors, and they are the jewels," he says. "I'll also bring a handful of acrylic transitional landscapes, which have a softer, broader hand and several contemporary works, showing the diversity that my artwork has grown into."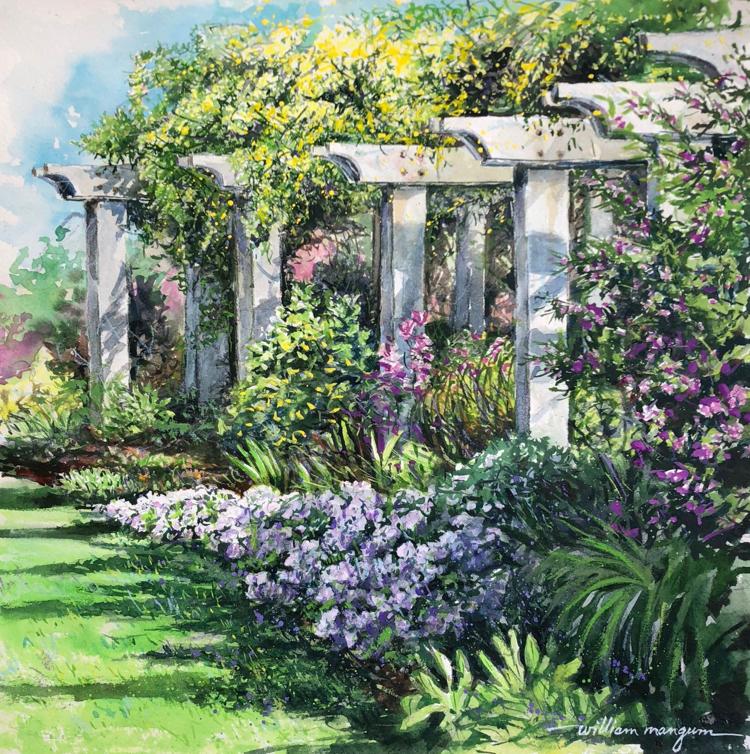 Four years ago he took a hiatus from working with watercolors to expand his talent to a new medium, applying acrylic paints on canvas with colorful techniques from pouring to using palette knives.
"I've been re-imagining the landscape and wanted to try something new," Mangum says. "The medium of acrylics has been one of the greatest teachers I've had in painting. I was trying to make it similar to the watercolors that I'd mastered but was failing miserably, until I finally adapted its unique qualities. It's not until you tactfully apply the paint and know the pushback, the frustration, the mess, the 'oops' and 'ahh's,' that you're going to get anywhere with it."
Mangum says he has only done one watercolor this year and has created nearly 300 transitional and contemporary paintings in the past four years. He is in the process of completing one of the largest paintings of his career, a commissioned contemporary work, for a private collector.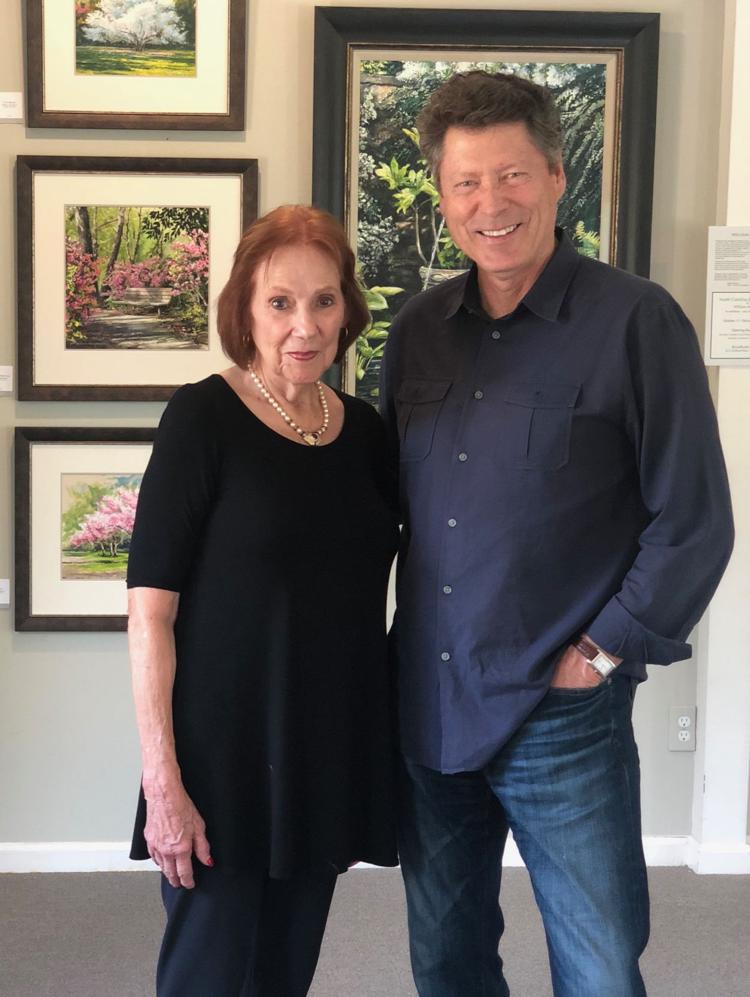 Mangum calls Pinehurst home but lived in Fayetteville most of his young life. After graduating from high school in Fayetteville, he enrolled in the art program at Sandhills Community College (SCC) and made the dean's list, which gave him the confidence to pursue his passion for art. Money for school and gasoline came from jobs at the Carolina Hotel and the Carolina Candle Company.
"My time at Sandhills put the wind under my wings," he says. "It set me on my path. I received an Associate of Arts degree, and that gave me the incentive to pursue my dreams."
Many years later, John Dempsey, president of SCC, heard from his wife Evelyn, an artist, that Mangum had been a student.
"I thought 'wow,' this is quite a feather in our cap and asked him if he'd be willing to return and speak to our graduates about how he applied what he learned here to his career," says Dempsey.
Mangum received a hearty welcome from graduates and received the Distinguished Alumnus Award from SCC.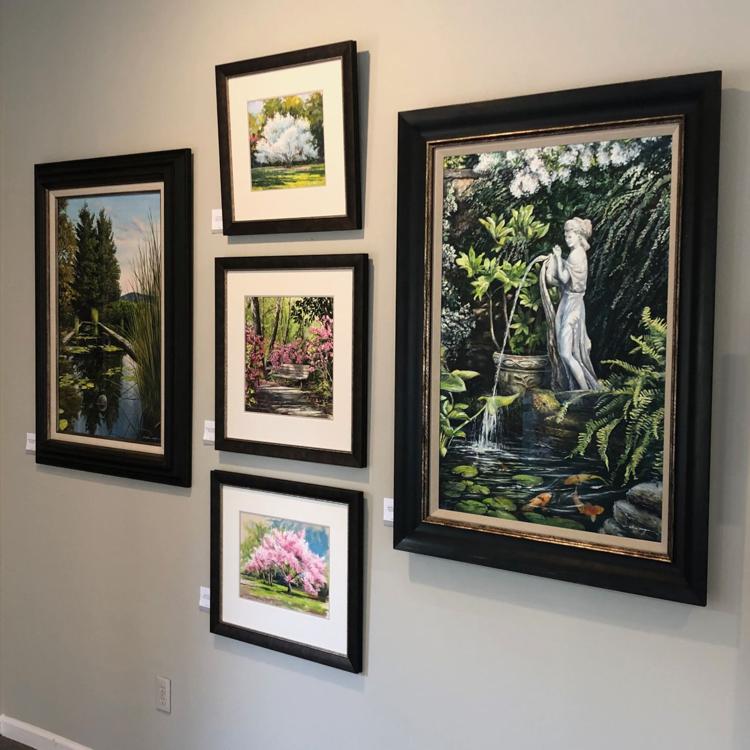 After graduating from SCC, he recognized the need for a backup plan if his thoughts about being a successful artist did not work, and he enrolled at the University of North Carolina at Greensboro.
While a senior art student, he purchased a 59-cent tray of watercolors at Woolworth's and created a painting for his mother, which led to his first public success. He went on to begin his professional journey while earning a Master of Fine Arts.
At the height of Mangum's career, he had a gallery, staff of 17 and more than 500 galleries across the country distributing his limited edition prints — and he and his wife Cynthia were raising three children.
He has faced many personal and financial hurdles in his career and during the most recent years endured devastating injuries that nearly cost him the ability to paint. Through it all, he says his deep faith sustained him.
Today, with more than 3,000 paintings to his credit, Mangum is the recipient of national and international awards. His work is the subject of eight coffee table books and two films that pay tribute to his keen eye for detail and masterful painting. He also signed a licensing deal with Asheboro-based Klaussner Home Furnishings and translated his artistry to several highly successful lines of artist-inspired home collections.
"In this season of my career, I'm not coming in for a landing," Mangum says. "It's building meaningful relationships that are most important to me — and celebrating life as art."
For years, while partnered with Pinehurst Resort, he maintained a small gallery in the village of Pinehurst. He would drive past the Broadhurst Gallery, but knew its focus was contemporary art and never ventured inside.
"This summer I decided to stop," he says. "Judy and I found that we're both in that place in life where we're looking for a new experience, and she's courageous enough to partner with me for this opportunity. To be in Pinehurst, which has blessed me in so many ways, with my old friends, is perfect."