In November, a long-lost Leonardo da Vinci painting sold at auction for a record $450.3 million, the most ever paid for a piece of art. The bidding war was overseen by Christie's. The venerable British auction house also handled the record-shattering sales of Audrey Hepburn's dress from "Breakfast at Tiffany's" and George Washington's personal annotated copy of the U.S. Constitution.
Wild Bill is very different from Christie's.
Customers at Wild Bill's auction house in Vass are more likely to leave with offbeat treasures than highly coveted artifacts. Some of the items sold during an auction Saturday included a Dale Earnhardt bobblehead, a gold-plated Elvis Presley coin, a 15-foot-long fishing pole, bags of Mardi Gras beads and several copies of the 2011 video game "Skylanders."
Common household goods are also auctioned off at Wild Bill's, making the business a favorite among bargain hunters who go to bid on everything from cleaning products to office supplies at prices significantly lower than retail.
Bill South, aka "Wild Bill," does not look like the shotgun-wielding cowboy in the business's logo. Unlike his cartoon counterpart, South has a long ponytail and conducts sales through a wireless headset connected to a PA system.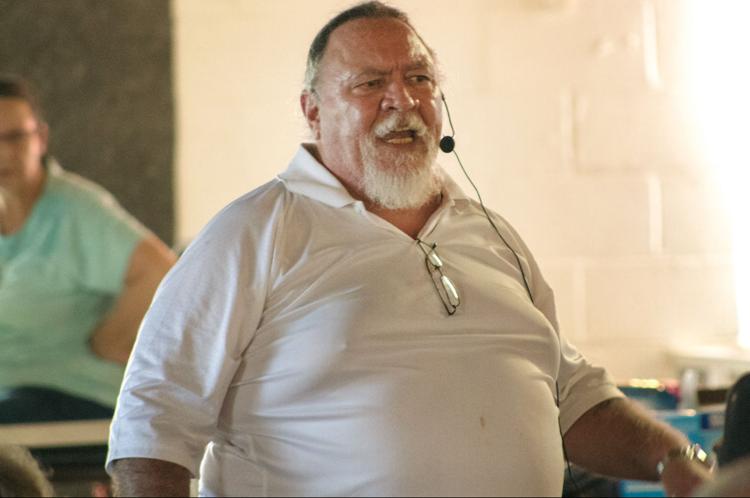 Like any good auctioneer, South is able to seamlessly launch into a rapid-fire chant: Two and a half, I need five twenty-five. Five twenty-five, give me seven fifty. Seven fifty, I need ten. Give me ten. Can I get ten?
The escalating rhythm of South's well-honed auctioneer's chant can make every small act of one-upmanship seem like a dramatic salvo in a high-stakes bidding war. The stakes at Wild Bill's, however, tend to run small.
During a recent auction, a competitive back-and-forth broke out over a steam iron. Bidding began at $20 and dropped to $7 before climbing past the starting price.
South, who can be as quick-witted as he is fast-talking, likes to open the bidding process with lighthearted asides.
"All you Chevy owners need these," he said during a pitch for roadside flares.
"You can use this to hypnotize your friends," he said while listing selling points for a handheld fan with light-up blades.
Judy South, Bill's wife, is also a licensed auctioneer. The couple ran an auction house in Sanford for several years before setting up shop at their current location on Thurlow Lake Road.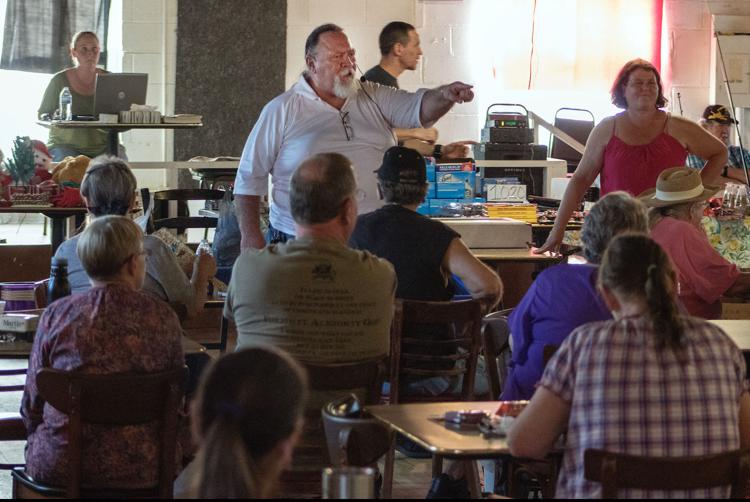 They moved into the building, a former concert hall with exposed trusses covered in Christmas lights, in December. Since then, the auction house has attracted a loyal following through Facebook and word-of-mouth from early patrons like Michael Taylor.
"You can get pretty good deals on stuff, sometimes half to 75 percent off," said Taylor, who ranked a Daisy BB gun, still in the box, as the most interesting item he's won at a Wild Bill-branded auction. "Everybody's friendly here and it's somewhere to go to get out of the house."
Taylor and his wife Teressa are among the more than 40 regular bidders who turn out for Wild Bill's weekly auctions. Bill South, in an apparent nod to the chummy caricature of an old-school salesman, addresses his customers as "folks" — as in, "folks, where else are you going to get a brand new, king-size sheet set for $10? Wild Bill's, that's where."
The showmanship, multiple auction-goers said, is part of the appeal. While they could probably find cheap household items at a yard sale or flea market, the experience wouldn't be nearly as fun.
Beyond the cut-rate goods — a large can of Lysol, won for $2 — and kitschy treasures — a light-up applause sign, won for $15 — the business offers the same heirlooms and antiques that customers have come to expect from a traditional auction service. Saturday's inventory included an assortment of vintage coins, some dating as far back as 1865.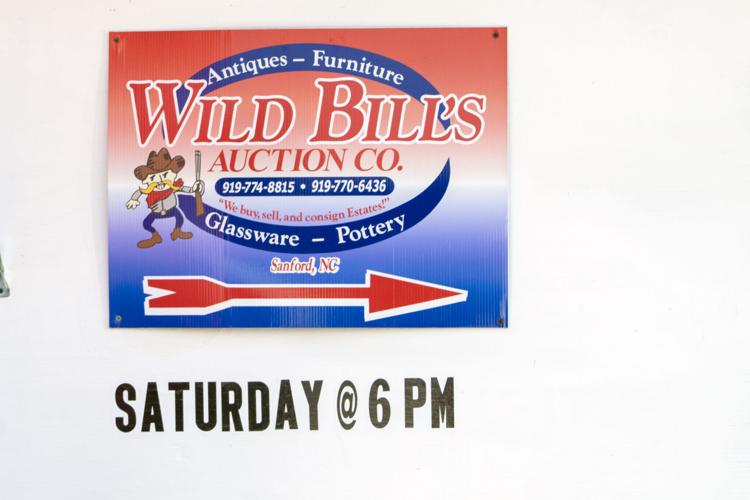 Judy South said the items come from various sellers she and her husband have built relationships with over the years.
"In auction circles, everybody knows everybody else," she said. "We sell anything that comes in, and you never know what's going to come in."
Wild Bill's is a family-run business in the truest sense. Almost every aspect of the operation is handled by a relative of Bill and Judy South.
Their son, Wes, helps introduce the items for sale. Nieces and nephews carry merchandise to potential bidders for inspection. Judy's mother is in charge of the snack bar.
When Bill South needed a quick break from conducting the three-hour auction, his daughter Maryanne Aucompaugh filled in. Like her parents, Aucompaugh is a licensed auctioneer.
She shares her father's talent for slipping effortlessly into the auctioneer's chant. She also shares his penchant for jokes.
"You ladies can use these to chase your husbands around the house," Aucompaugh said before opening bids on the next odd lot for sale: a collection of hand axes.
Wild Bill's auctions begin 6 p.m. Saturdays at 501 Thurlow Lake Road in Vass. For information, call (919) 770-6436.