Weymouth Center for the Arts and Humanities in Southern Pines is much more than a special place offering select cultural programs. Weymouth has become the great expression of North Carolina's literary culture.
The North Carolina Literary Hall of Fame has enshrined writers there since 1996. Also calling Weymouth home are the North Carolina Poetry Society and its annual festival. Residencies for writers and readings by them regularly fill the active schedule in the Great Room.
Visit Weymouth and come away enlightened.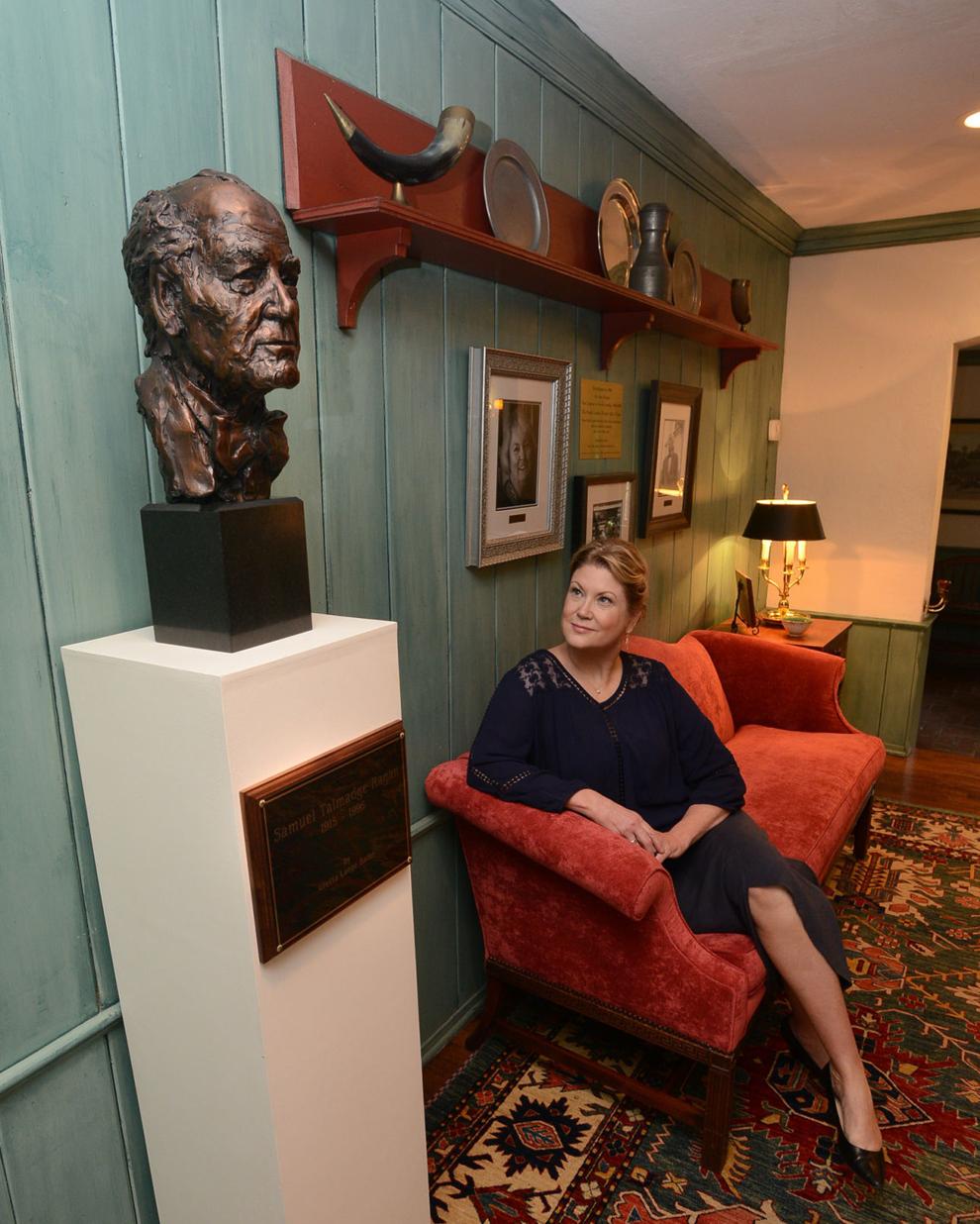 Located centrally in the state, the former home of James and Katharine Boyd is governed by a private foundation called Friends of Weymouth. Other literary homes in our state are public literary shrines. Carl Sandburg's Connemara at Flat Rock is federally managed, and Asheville's Old Kentucky Home, setting of Thomas Wolfe's fabled boyhood, is state owned and operated.
Weymouth's cultural heritage is also more complex than either the Sandburg farm or the Wolfe memorial. A visit to the Boyd manor house surrounded by splendid grounds introduces visitors to a variety of traditions besides literary history and celebration.
James Boyd and his friends rode to the fox hounds. A native of Pennsylvania, he and his wife, a native New Yorker, welcomed members of their northern social circles to their southern home. Famous writers far and near visited there too.
During the international civil liberties upheaval preceding the U.S. entry in World War II, James Boyd formed and led The Free Company of Players. Between February and May 1941, Columbia Broadcasting System presented 10 original radio dramas in which well-known actors such as Elia Kazan and Agnes Moorehead donated their time and talents to perform scripts by William Saroyan, Marc Connelly, Robert Sherwood, Stephen Vincent Benet, Orson Welles, Paul Green, Archibald McLeish, Maxwell Anderson, Sherwood Anderson, and Boyd himself.
When William Randolph Hearst and other conservatives objected to these half-hour productions, CBS withdrew support, ending the series. In just over three months the free programs had been aired more than 89 CBS affiliates and heard by nearly five million people each week.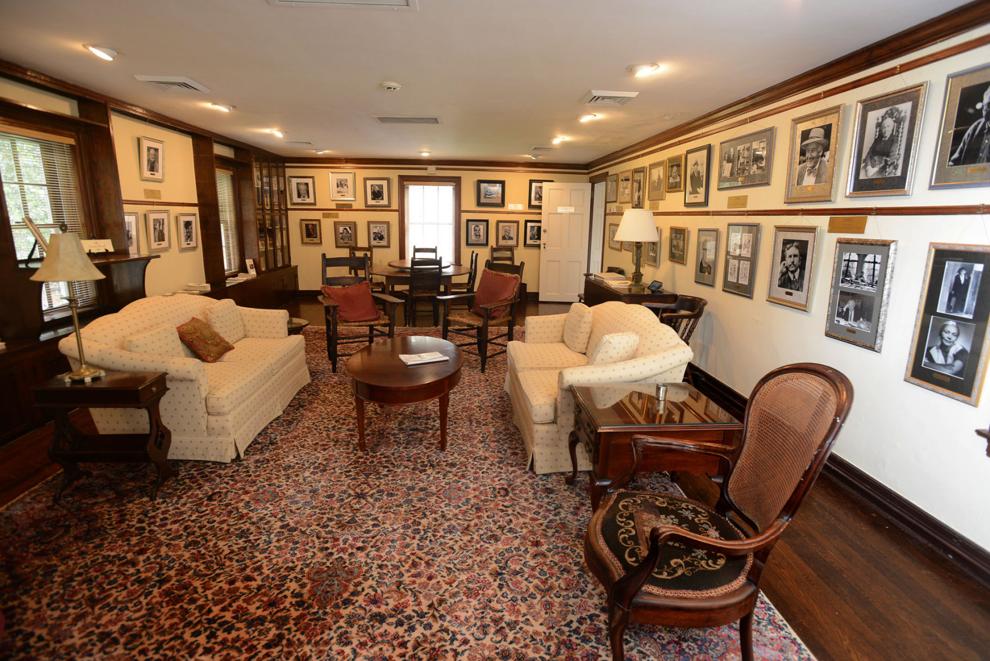 Soon the Boyds bought The Pilot. True to their belief that writers have responsibility for the life immediately around them, they revitalized the newspaper as an organ of civil, civic dialogue and information. After James died suddenly in February 1944, his wife carried on with this noble work until her death 30 years later.
Katharine Boyd's will left the manor house and grounds to Sandhills Community College. The Pilot became the responsibility in late 1968 of Sam Ragan and his wife, Marjorie. Ragan was formerly executive editor of The News and Observer in Raleigh and served as the first Secretary of the North Carolina Department of Cultural Resources. In 1982 Gov. James B. Hunt appointed Ragan North Carolina's Poet Laureate, at that time a lifetime appointment.
Through painful compromises, fundraising pressures, and press deadlines, the force of Ragan's vision to establish the N.C. Literary Hall of Fame at Weymouth evolved between 1992 and 1996. Moore County leaders, Betty Ray McCain, and other government officials in Raleigh honored commitments and pledges.
The first class of 15 deceased writers, including James Boyd, was enshrined May 18, 1996. Friends of Weymouth, incorporated before 1980, and the N.C. Writers' Network, formed a few years later, collaborated in planning this inaugural, outdoor ceremony. Lois Holt and Marsha Warren, leaders of these two organizations, boldly persisted during one of the hottest afternoons ever recalled in the Sandhills. Sweat mixed with tears expressed great joy and deep sadness. Guiding spirit Sam Ragan had died the previous week.
Now three decades later, the literary shrine at Weymouth has 60 members, Sam Ragan among them. Many splendid prospects await selection. Last October, writers Clyde Edgerton and Margaret Maron were inducted along with the late Carl Sandburg. Thirteen current members are alive and still writing. Native and non-native North Carolinians make up this inclusive gallery of literary talent upstairs in the writing studio of James Boyd.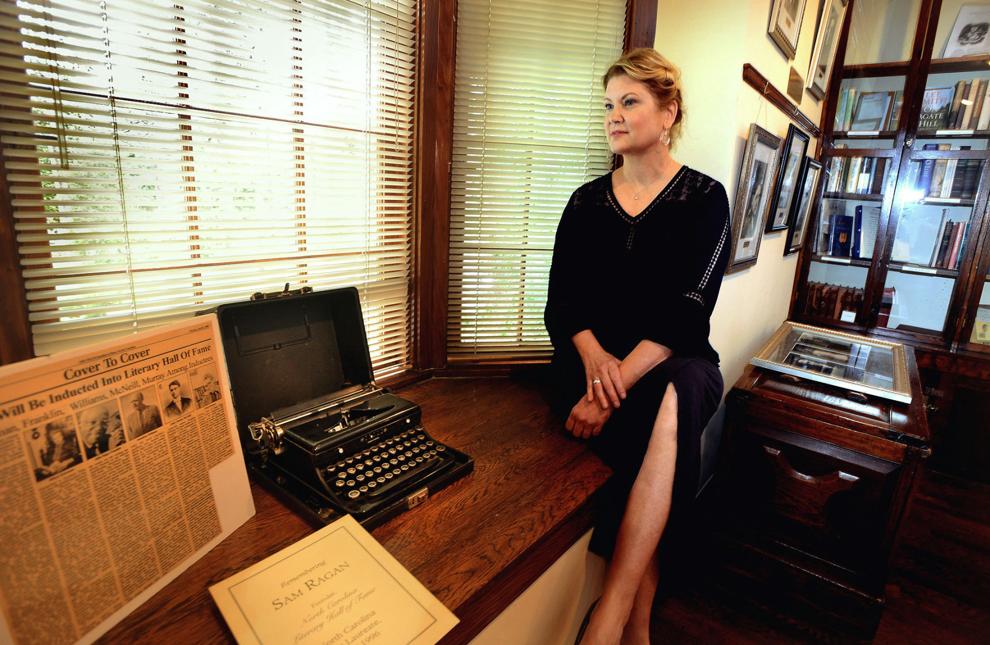 Room for portraits of future inductees is already at a premium there. This new challenge of managing available wall space belongs to five organizations that now collaborate in sustaining the Literary Hall of Fame.
Friends of Weymouth and the N.C. Writers' Network have been partnering since 2008 with the N.C. Center for the Book, the N.C. Humanities Council, and the North Carolina Collection in Wilson Library at UNC-CH. Representatives of these nonprofits nominate writers every two years. A committee appointed by the partners then selects and announces the names of the three or four nominees to be inducted every other fall.
The nomination and selection process for the N.C. Literary Hall of Fame owes a huge debt to the life work of one of the members inducted in 1996. Richard Walser, a graduate student at Chapel Hill prior to World War II, had stopped pursuing a doctorate in English when his proposal to study North Carolina's literary history was turned down. His faculty advisers said insufficient scholarship was in print to sustain a dissertation.
Dedicated Richard Walser devoted his professorship at N.C. State to researching and publishing scores of impressive articles and books, including anthologies, to make North Carolina writers more visible and occasionally even prominent. The first and second editions of his "Literary North Carolina" became the guide for winnowing inductees for the NC Literary Hall of Fame ceremony in 1995-96 and thereafter.
Likewise the tenacious and inventive genius of public servant and editor Sam Ragan gave enduring vitality to North Carolina's great expression of literary culture upstairs at Weymouth.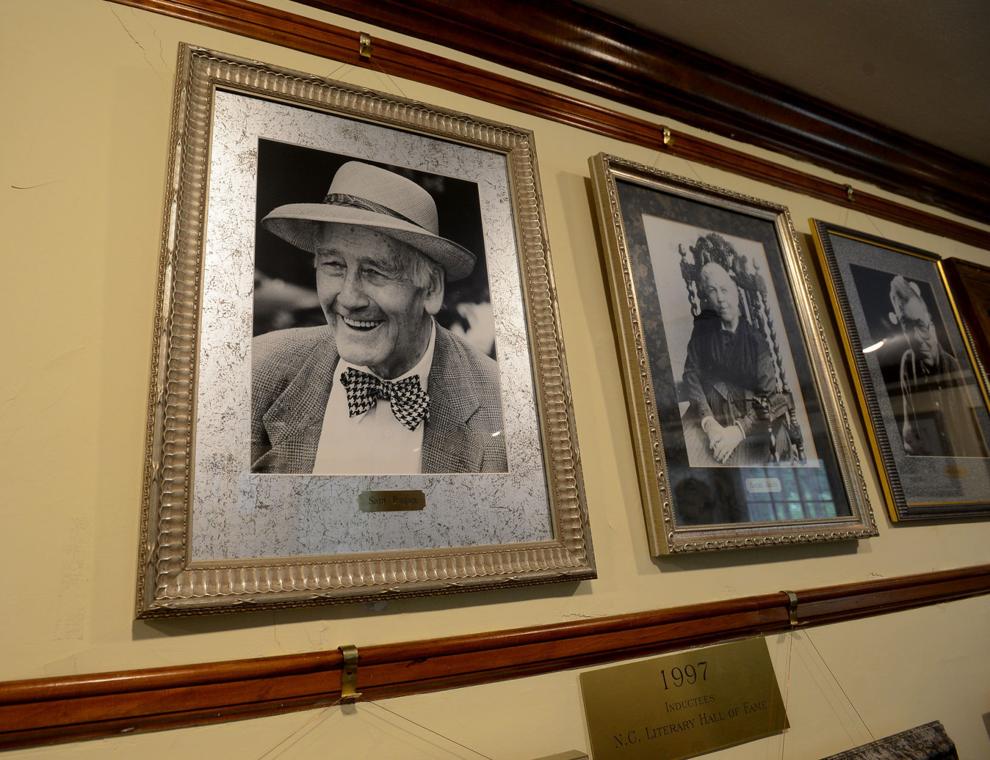 What Godfather Sam had in mind each step of this long, collective journey into the future was his singular experience as a teenage farm boy. His parents had moved their large family from a worn-out tobacco farm in Granville County to a better one in Johnston County, but their new tenant house was too small.
So Sam went across the field to the home of Mr. and Mrs. Charles Ogburn, the owners, and asked if he could live with their family. They welcomed him, and this experience of inclusion with compassion marked him for life. Weymouth's open embrace of outstanding literary talent is a splendid result.
Author and social activist Paul Green entered the N.C. Literary Hall of Fame along with Richard Walser in 1996. Sam Ragan entered the next year. Of these three early members, only Green had been James Boyd's close friend. After Boyd's untimely death in 1944, Green wrote in the introduction to Boyd's posthumous collection titled "Eighteen Poems": "For 25 years I lived near James Boyd in North Carolina. I knew him well, took trips with him, sat many a night in his hospitable home and talked the darkness away…."
In that still-hospitable home in Southern Pines, we honor the numerous North Carolinians whose writing in a variety of forms is "talking the darkness away" as expressively as ever.
Jim Clark is a Professor Emeritus of English at N.C. State University.