On the 19th anniversary of 9/11, outgoing Southern Pines Police Chief Robert "Bob" Temme warned that the "flame of remembrance is burning out" for the nearly 3,000 people who perished in the terror attacks.
"We now have a whole new generation that's coming into adulthood, a generation that never experienced a pre-9/11 world," Temme said, reading from prepared remarks during a ceremony in front of the Southern Pines Fire and Rescue Department on Friday morning. "They never experienced the terror we felt on 9/11, cried the tears for friends that were lost or experienced the anger of our nation demanding a pound of flesh in retaliation."
Temme, who is expected to retire on Oct. 1, worked in the rubble of Ground Zero as a first responder. In the eyes of individuals born after the terror attacks, he said 9/11 is "just another history lesson in line with Pearl Harbor, D-Day or the fall of the Soviet Union.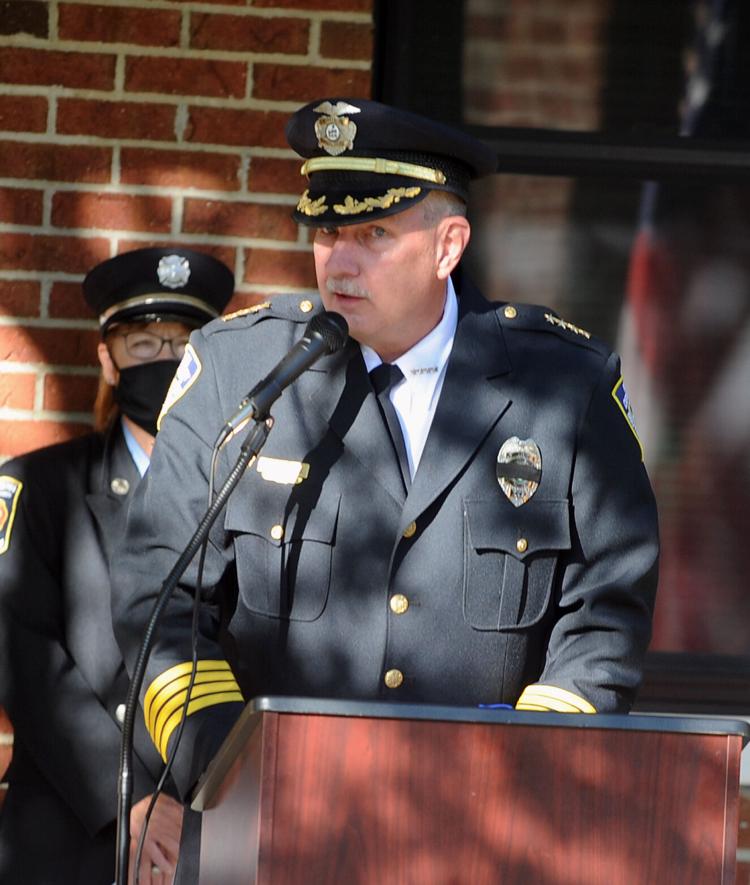 "But the waning of commitment to remember 9/11 and all that it stands for does not fall solely on the new generation," he said. "Take a look around today and you'll find American flags still raised to the top of the flagpole in spite of a presidential proclamation of remembrance dictating that the American flag be flown at half-staff."
He added: "We must gather to teach our children the importance of learning what occurred on September 11th, 2001, how it changed the lives of many and how it changed our country forever."
At the conclusion of his remarks, Temme presented his soon-to-be successor, Deputy Chief Nick Polidori, with a plaque to be displayed inside the police department following his retirement. The plaque, Temme said, represents a "small token of my commitment to seeing that my brothers and sisters of the Southern Pines Police Department, both present and future, never forget the heroes of 9/11."
Temme also presented Polidori with a flag bearing the name of every first responder killed on 9/11.
"It is my wish that you will fly this flag in place of the police department flag each September 11th from dawn until dusk as our sign to our community that, yes, we will always remember and never forget — and (we're) hoping the community will do the same," he said.
The ceremony, which included presentations from Southern Pines Mayor Carol Haney and Fire Chief Mike Cameron, was one of several solemn tributes held Friday in Moore County.
Photos: Southern Pines Marks 9/11 With Memorial Stair-Climb
Strong Soul and Southern Pines Crossfit marked the 19th anniversary of 9/11 with a memorial stair-climb on Friday in downtown Southern Pines. Participants did multiple step-up exercises to simulate the experience of climbing the 110 floors of the World Trade Center. The event, which raised money for area fire departments, also included a 1.4-mile memorial run. (Photographs by Ted Fitzgerald/The Pilot)