Legislation prompted by the plight of a Moore County Green Beret was signed into law Friday by President Donald Trump.
Named after Sgt. 1st Class Richard "Rich" Stayskal, the new law allows service members to sue the federal government for medical malpractice. Military personnel were previously prohibited from bringing lawsuits against the government by the Feres Doctrine, an obscure rule stemming from a 1950 Supreme Court decision.
Stayskal, who lives in Pinehurst, began meeting with lawmakers after he was diagnosed last year with terminal lung cancer. Doctors at Womack Army Medical Center had failed to catch the disease when Stayskal went in for a routine screening in January 2017.
The delayed diagnosis greatly diminished Stayskal's odds of survival, but the Feres Doctrine left him with little legal recourse. Under the SFC Richard Stayskal Military Medical Accountability Act of 2019, the rule is amended to "allow suit against the United States for injuries and deaths of members of the Armed Forces of the United States caused by improper medical care."
The legislation was introduced through a bipartisan collaboration between U.S. reps. Jackie Speier, a Democrat from California, and Richard Hudson, a North Carolina Republican whose district includes Moore County.
"When I first met Rich and his family last year, I knew this was a fight worth fighting," Hudson said. "This is a historic moment for Rich, his family and our men and women in uniform. It's about fairness and what's right, and I applaud Rich for his courage and tireless work to get this done. 
"I'm glad to see President Trump sign this landmark legislation into law."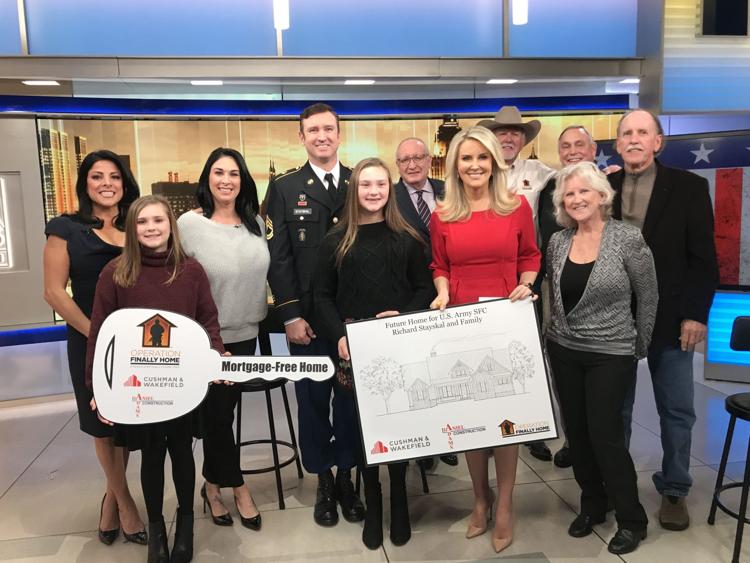 Trump's action capped off an eventful Friday for Stayskal, who appeared with his wife and daughters on that morning's episode on Fox and Friends. During the show, the Stayskals learned they will receive a new mortgage-free residence in Moore County from Operation Finally Home, a nonprofit that provides housing to veterans and families of fallen service members.
According to a news release, it will be the 200th project launched by Operation Finally Home. Daniel Adams Construction of Pinehurst and Cushman and Wakefield, a real estate services firm, are also involved with the donation.
"This gift takes such a huge weight off of our shoulders," Stayskal said in a statement. "It's inevitable that one day I'm going to succumb to my cancer and my wife will be left to provide for our daughters, so it is comforting to know this is one less thing she has to worry about. 
"I am so very fortunate, so grateful and so appreciative for this day."
With the law now in effect, Stayskal is expected to file an administrative complaint with the Department of Defense. He is being represented by Natalie Khawarm, an attorney with the Whistleblower Law Firm of Florida.