When overnight tourists visit Moore County they leave behind more than a rumpled bed sheet. Restaurants, shops, golf courses and other attractions benefit from tourist dollars and that, in turn, drives up new investments and sales tax revenue. In addition, hotels and Airbnb-type short-term home rentals also collect a 3 percent occupancy tax from visitors.
The room tax, as it's better known, tallies up to about $1.7 million a year and is directed toward the local Convention and Visitors Bureau (CVB). State law dictates two-thirds is to be used to promote travel and tourism initiatives and one-third is for tourism-related expenditures.
But here locally, defining what is and what is not a tourism-related expenditure has been a muddy discussion.
Last week the Tri Cities Work Group tackled this topic for a second consecutive meeting. This collaborative bimonthly discussion group brings together Triangle J Council of Government staff, town leaders and top-level planners from Aberdeen, Pinehurst and Southern Pines. Also attending were County Commissioners' Chairman Frank Quis, County Manager Wayne Vest and CVB President Phil Werz, who participated in the broad, at times terse, discussion about room tax options.
Moore County currently levies a 3 percent occupancy tax but is authorized to go up to 6 percent. Chris McLaughlin, with the UNC School of Government, said if the county does not max out the tax, that other towns — or potentially the Tri Cities group itself could seek authorization from the General Assembly to establish its own room tax for properties within their respective jurisdictions. Any revenue collected would be restricted to a "Tourism Development Authority" with limitations on how it could be spent.
A TDA can have different names. In Moore County it is the CVB, an organization with its own board appointed by the county commissioners. The CVB independently determines how to spend its money.
"The TDA is subject to pretty severe restrictions on how to use its funds. It cannot be used to build schools, it cannot be used to build roads," McLaughlin said.
Back in 2015, the N.C. General Assembly granted Moore County commissioners the authority to raise the room tax to 6 percent; however, that action has not been taken despite strong interest from the CVB.
The Board of Commissioners are expected to pick up the topic once again next week as part of a discussion on economic development.
In recent months, county leaders have indicated they have no appetite for any more tax increases this year — even a room tax, which is restricted to overnight hotel guests.
Quis, who serves on the CVB board and previously served as mayor of Southern Pines for 10 years, said he has encouraged the CVB to listen to the municipalities but reiterated that the Board of Commissioners are "not in any hurry to discuss the room tax until next year."
"We would consider it then. We are united in not raising it this year," Quis said.
McLaughlin told the Tri Cities group there is latitude for interpretation on what qualifies as tourism-related expenditures. Some coastal communities in the state use their funds for beach renourishment, for instance, or advertising and signage; festivals and special events; visitor or welcome center construction and operation; and financial assistance for construction or operation of tourist attractions.
"You can be creative," McLaughlin added, noting one town bought an antique airplane to advertise itself. "The question is, can you reasonably define it as related to tourism?"
"It is really a political decision," he added, noting there was not a legal precedent he could point to where an area's spending was challenged. "There are other things like streets, police, fire, that could be argued contribute to tourism."
McLaughlin also said, in his experience, a TDA will usually try to allocate the funding back to where it was generated. For instance, money collected from rooms in Aberdeen would go toward tourism related expenses in Aberdeen.
"Lots of counties do have an informal agreement to spend the money roughly where it came from, but there is no statute that requires it," he said.
And it is in this nuance where town leaders from Aberdeen, Pinehurst and Southern Pines are trying to find clarity. Each visitor puts more demand and pressure on the town's infrastructure and manpower; however, the extra foot traffic can bring other perks.
Werz said the CVB is looking at the notion of a tourism development project fund. One or two percent of a room tax increase could be set aside in that account to fund grants for tourism-related projects. Towns or nonprofit organizations could apply for funding wish list items that meet set criteria.
Southern Pines Assistant Town Manager Chris Kennedy said one of the fastest ways to damage tourism is having public safety issues, especially crime.
"Finding good police officers is more difficult and expensive everyday. On the number of things that contribute to tourism — police, fire, safe roads — all these things you have disqualified," he said.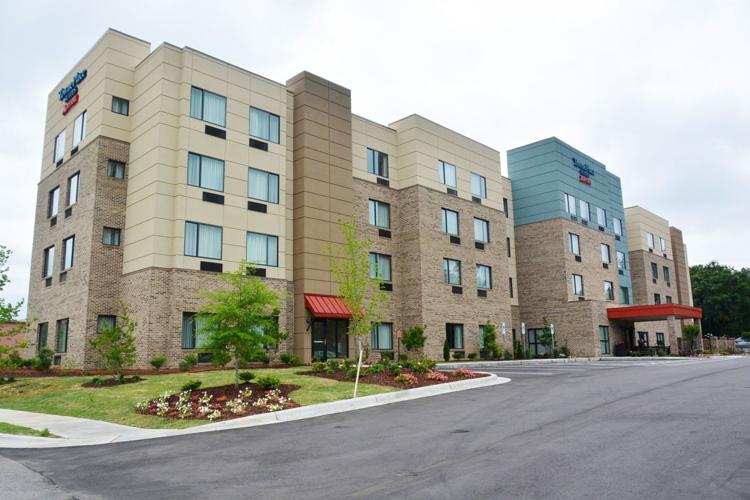 Werz responded that Pinehurst is one of the state's safest municipalities: an accurate fact, but narrow view that prompted a sharp retort from Aberdeen Mayor Robbie Farrell.
"There are 11 municipalities in Moore County. Pinehurst is one," Farrell said.
Werz tried again, noting that specific criteria for a tourism development project had not been determined since the idea was still conceptual.
"You are putting the cart ahead of the horse," he said.
Kennedy said the southern Moore municipalities are not looking for tourism dollars to pay for the entirety of police or fire protection.
"What we are saying is that more goes into tourism," he said. "We are not trying to detract from the CVB's mission. But there are contributing things that help tourism. And how do we facilitate that tourism because that is our goose and if we want to keep it golden, we need to make sure we have the proper things in place."
Pinehurst Village Manager Jeff Sanborn said he would push back on the notion that consumers only come to an area for what there is to eat or do.
"It is about the total experience," he said. "When somebody comes here, they experience the total package. When you have the 'wow' factor of the beauty of the area, the friendliness of people, all of that is tourism-related.
"And they may decide to come back next year, and tell their friends about this wonderful place they visited. That is tourism related," Sanborn added. "It is not just hotel related and about where to eat."
Pinehurst Councilman Kevin Drum, who owns the Drum & Quill pub in the Pinehurst village center, noted that half of the village's beautification budget was spent on gateway planting beds. He also argued in support of improved language that could help Moore County better enforce requirements for short-term rental owners to abide by regulations and taxing requirements.
"We literally get up every day and go to work and think about tourism, which is unusual for municipalities in this state," Drum said.
Quis said the "whole package" and how places look have value, but he questioned whether tourism dollars could be spent on beautification projects, or things like a new parking deck in one of the downtown shopping districts.
"The grass being cut on the entrance to town is the town's responsibility. But it does enhance the beauty," Quis said.
Kennedy responded that grass along the area's state-owned roads is typically cut using town labor and funding.
"We could take the DOT approach and cut it twice a year, but we've decided to go above and beyond that," He said. "But that is a great example of a project that when budget time comes, it is an easy thing to decide to mow only half the time."
Aberdeen Town Manager Paul Sabiston said he has seen a lot of CVB promotional work in the last few years.
"What I haven't seen so much is capital items. A grant program sounds like a step in the right direction," he said. "Given the source of the money and where it is coming from, it seems like it should be more than one-third that is sent back in that direction.
"We just want some back. We can quibble later whether we want to spend it on entrances or nice soccer fields," he added.
Quis said there are ways that each municipality is supporting tourism and suggested that town leaders work to put a dollar figure on those costs.
"I hear what is being said. We are all working together to make our area attractive and livable for tourists and ourselves," he said.