A new chief has been named at the Robbins Fire and Rescue Department. 
Timmy Brown, an employee of the town for nearly 12 years, agreed to serve as chief after Jarius Garner, his predecessor, announced he would be stepping down on Dec. 20. Garner, a volunteer employee, will now serve as the department's deputy chief.
Brown is one of the agency's two full-time firefighters. The department is supported by an annual budget of about $246,000.  
Kevin Stewart, a longtime Robbins firefighter and town commissioner, said Brown is a "perfect fit" for the position.
"Timmy is a great guy, and he's been in the department for a long time," Stewart said. "He's already at the station full-time, and he has moved into the position seamlessly."
Garner is expected to remain active in events like the Farmers Day festival, which he has helped organize for many years. He will also continue working to secure grants for the fire department, according to Stewart.
"Jarius has been super good as chief," Stewart said. "He's won several million dollars for us (in grants)."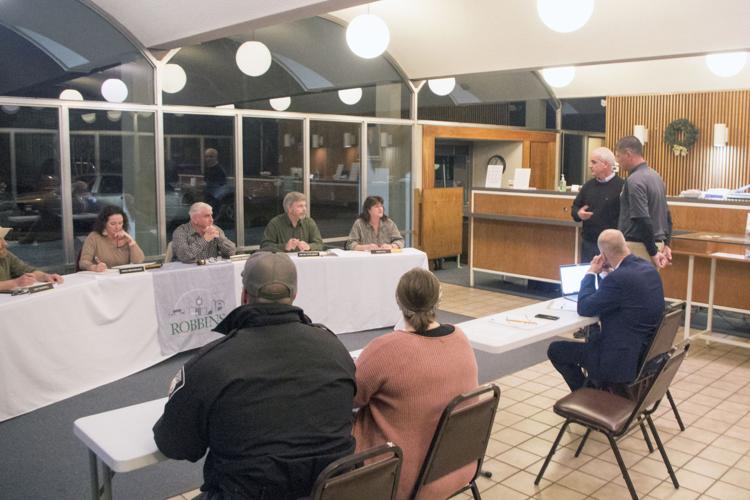 Brown was introduced as the new fire chief during Thursday's meeting of the Robbins Board of Commissioners. Later during the meeting, the commissioners voted to tentatively award more than $610,000 to J.S. Haren Company of Tennessee to perform a series of water system improvements.
The approved proposal eliminates a sprayer component from a THC removal system in one of the town's water tanks, a change necessary to keep the project within budget. A sprayer will still be included in the system to be installed in the town's primary water tank.
Writing in a memo to the commissioners, Jon Barlow, interim town manager for Robbins, said the "overall project will not be diminished by removing" the second sprayer. The plan must be approved by the state Division of Water Infrastructure.
In other business on Thursday, the commissioners voted to allow Commissioner Joey Boswell to work with Kim Williams, finance officer for Robbins, to find a less expensive hosting service for the town's website. Boswell said the town currently pays about $500 a year for web hosting.
"I know there's much better hosts at half the cost annually" he said.