Outside of a handful of horse-centric communities around the United States, it would be easy to assume that foxhunting is a dying pastime.
But the hundreds of onlookers who take in Moore County Hounds' annual Thanksgiving blessing can attest that foxhunting is alive and well in Southern Pines — especially after taking in the buoyant pack of hounds, dozens of alert horses in various shades of bay, chestnut and gray and riders in formal red or blue hunting jackets against the impossibly green expanse of Buchan Field.
This year, that Thanksgiving Day tradition will continue to be free and open to all. But for the first time, the hunt is selling a handful of VIP tailgating spaces at $500 each in the hope of raising $450,000 to purchase Buchan Field and dedicate it to permanent equestrian use.
"Buchan Field is a strategic place because it literally does provide an entrance to the (Walthour Moss) Foundation," said David Thornton, a local physician and foxhunter who is leading the fundraising effort.
"If we can get Buchan Field and complement the foundation's efforts, I think we will feel like we have accomplished quite a bit."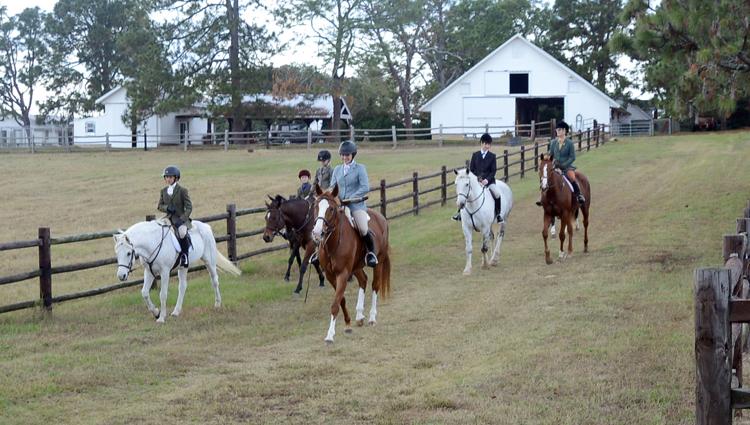 Moore County Hounds manages to remain a community knit close around beloved traditions while, at the same time, welcoming new members and junior riders into the fold.
On Thursday and Saturday mornings during hunt season, 16-year-old Madison Elliott rolls out of bed at 4 a.m., short on sleep after working the previous evening as a hostess at her family's Pinehurst restaurant. She feeds her hunt horse, hitches her two-horse trailer to a one-ton pickup truck in pitch darkness, and cleans stalls and the barn aisle before hitting the road solo no later than 7.
"Zevida takes a while to eat. Usually on hunt mornings she's a little nervous," she said. "Then I'll polish my boots and put everything in the truck and trailer. My mom sometimes helps me, but usually I like to be quiet on hunt mornings and think about the day to come."
Isabella Tanner, the hunt's youngest junior at 10, goes through a similar Saturday morning routine. Though her trusty pony Clementine is owned by hunt member Shelly Talk, Isabella gets to the barn well before daybreak on hunt mornings to take care of the mount she describes as a combination of a best friend and a teacher.
"She's fast," said Isabella. "I like to jump her because she's just a really good jumper."
She started hunting this past summer after taking lessons in an arena for a few years. Each fall, Moore County Hounds hosts a series of introductory clinics for equestrians interested in foxhunting. Her mom Caroline Tanner was never a rider herself, but she jumped at the chance to get her daughter involved in a confidence-inspiring activity.

"Isabella came out and loved it, and then she met the other kids. It's nice because they all go out together," she said. "They love it, they're out there galloping through the woods. When I ask what she loves about hunting, she says it makes her feel like she can do anything."
Madison's parents are restaurateurs, not horse people, but she had lost interest in competitive swimming — and most other sports — by the age of 10. She was exposed to foxhunting and polocrosse while learning to ride at Muddy Creek Farm in Whispering Pines.
Over the years, she's gone from a galloping and jumping fiend to a polished show rider. Helping at hound shows, she's also become a student of huntsman Lincoln Sadler's painstaking training of his pack.
"When you first start you just love jumping," she said. "This year I've grown to appreciate watching the hounds work. Watching them, seeing all of Lincoln's hard work go into this, is so mesmerizing."
Madison is one of a long list of young riders who racked up valuable off-road mileage on Merrylegs, a pony owned by joint hunt master Cameron Sadler, before acquiring her own hunt horse.
"Cameron is so accommodating with Merrylegs — that pony has brought so many kids up. It's amazing the opportunity the hunt gives you as a junior," she said.
"If you were ever in trouble and you needed help, you could always call someone in the hunt and they would do anything to help you. It's so heartwarming to have people like that in your life."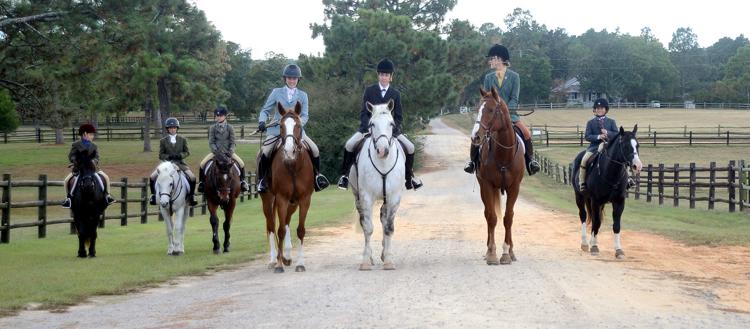 It's that spirit that has the 105-year-old hunt determined to maintain its Thanksgiving opening meet as a community affair.
Working to Preserve Tradition
Blessing of the Hounds has been held at Buchan Field, just over two miles from the center of Southern Pines off of Mile Away Lane, since 2014. The move from Hobby Field on Youngs Road had its perks — it was closer to Moore County Hounds' kennels, and nearer to Mile Away, the historic farm of Ginny and Pappy Moss. Next to the Boyd family, the Mosses have played the greatest role in establishing and preserving the tradition of foxhunting in Southern Pines over the last century.
In 2014, Bryan and Lyell McMerty purchased the 25 acres adjacent to Buchan Field and donated that parcel to the Walthour-Moss Foundation. Formerly known as Kaylor Field, it was renamed Lyell's Meadow and has been used for parking for opening meet ever since. But the move was also out of necessity, as the Moss family heirs sold Hobby Field that year. While they're preserving the field as undeveloped open space, the new owners fenced it off from public use.
Buchan Field is now the only property in the vicinity of Southern Pines that allows the hunt to stage the Blessing of the Hounds as a public event. For the last two years, a group of hunt members has raised more than $250,000 in the hope of keeping it that way. The original 84-acre tract owned by the Moss Family has been subdivided into several parcels, all but two of which have been sold.
They've established a nonprofit, Preserve the Sandhills, LLC, in the hope of raising another $200,000 in the next few months to purchase the 14 acres on Mile Away Lane, donate it to the Walthour-Moss Foundation and permanently conserve it for equestrian use.
"What we have in Southern Pines is really quite unique and it's not found in many communities in the country, and that is a well-preserved ecosystem that can be enjoyed and appreciated form horseback," said Thornton.
"Right now the Walthour-Moss Foundation is caring for about 4,000 acres of forest that anybody can use for free."
Established in 1978, the foundation became one of about 420 accredited land trusts in the United States this year. Serving not only as a tranquil refuge a stone's throw from U.S.1, the acreage it manages also provides habitat for vulnerable species like the red-cockaded woodpecker.
Its natural longleaf pine stands also represent a rare sample of the forests that covered millions of acres in the southeastern United States until the 18th century. North Carolina's one-time status as the largest supplier of naval stores in the world came at the cost of annihilating its longleaf pines over 250 years. The trees themselves became ships' masts, and trees still standing in the Walthour-Moss Foundation were drained of the tar, pitch and turpentine that went to waterproof wooden vessels.
"We'd like to raise the profile of the idea that this land is valuable as an ecosystem and deserves to be preserved," Thornton said. "Clearly there's a quorum of people in the community that sees the value in preserving land. I think everybody recognizes it's a lofty goal to raise such a sum of money, but certainly this particular endeavor is worthwhile."
Buchan Field might be cleared of longleaf pine trees, but paired with Lyell's Meadow it's one of a few open access points to the Walthour-Moss Foundation and the group behind Preserve the Sandhills sees it as integral to supporting the foundation in the future. The foundation's perimeter is primarily bordered by private farms. Riders from out of town park their horse trailers on a U.S. service road, and most local equestrians hack in through long-standing easements.
"Besides the environmental benefits, there is no question that the equestrian community here is anchored by the foundation, in addition to the excellent footing that comes with having a farm in the Sandhills," said Thornton.
"It's not just about foxhunters or society. The equestrian community here goes way beyond foxhunting. We have some amazing athletes here who ride better than I ever will, and they all use this foundation."
This past spring, Preserve the Sandhills organized "Polo In The Pines," a polo tournament to raise funds toward the purchase of Buchan Field and for the Moore Free and Charitable Care Clinic. On another occasion, riders' fees to enter an informal hunter/jumper show at the field also supported the effort.
If it can be protected from development, Thornton sees Buchan Field as a key venue for similar events in the future.
"What I'd love to see us do is utilize Buchan Field to raise money for local charities," he said. "We can hold similar events at Buchan Field to support the clinic or some of our veterans' charities. There are lots of ways that the equestrian community can support the greater Southern Pines community."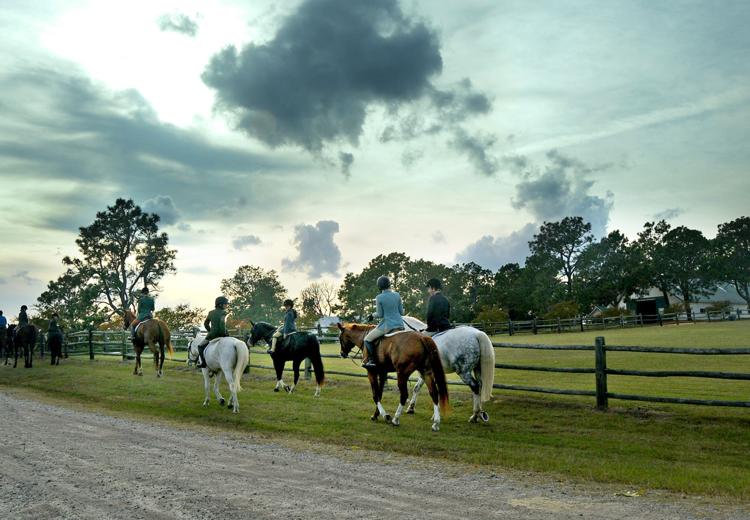 Preserve the Sandhills has set up a donation page at paypal.me/savebuchan. Anyone interested in more information about the effort to purchase Buchan Field can contact Thornton at david@jamescreekorchards.com. For information about purchasing front-row tailgate spaces to the Blessing of the Hounds, contact Christine Baker at (910) 922-5644.