The local branch of City Electric Supply (CES) will host its first-ever tailgate and donation event Friday, Nov. 19, 11 a.m.-2 p.m. at 150 Hall Ave. in Southern Pines. Customers can come together to shop special deals, meet vendors, and just hang out to have some fun.
"The camaraderie we all experience at branch events is great," said Branch Manager, David Wicker. "At the event, I hope everyone who attends takes away that we are not just here to sell merchandise; we are here to aid in the growth of customers."
The event is sponsored by Milwaukee and Generac, the industry leaders in professional construction and power solutions, with plenty of cool opportunities for customers. Milwaukee will feature a 10 percent discount on all of its products exclusively at the event, and Generac will allow contractors who have a Generac Pro Resources membership to enter a raffle for a free Generac inverter.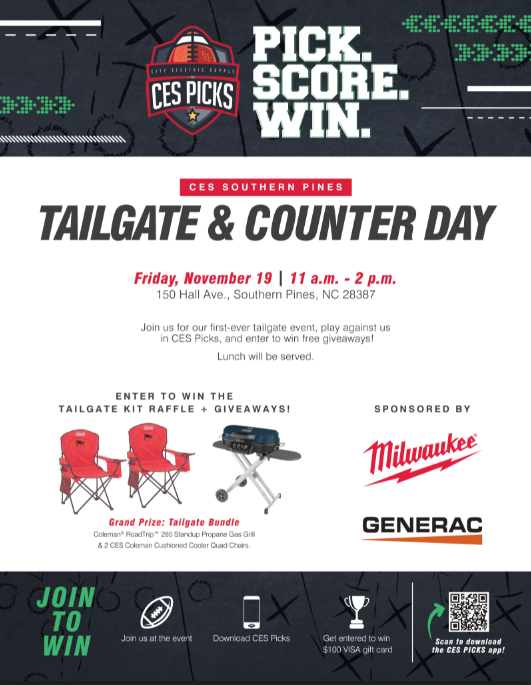 Along with special sponsor offers from vendors, customers will have the chance to win a grand prize tailgate bundle, which includes a Coleman® RoadTrip™ 285 Standup Propane Gas Grill and 2 CES Coleman Cushioned Cooler Quad Chairs. At the event, people will have the opportunity to download CES Picks, an app that allows users to play pro fantasy football. CES will be drawing a winner from people who download the app before or during the event for a $100 Visa gift card.
"We are excited to have vendors come demonstrate new products and tools," Wicker said. "To have our customers enjoy a fun, tailgating experience allows us to show our appreciation for their continued support."
The special tailgate also includes a fundraising event to help raise money for Make-A-Wish. The most recent partnership that City Electric Supply has with Make-A-Wish was made possible by its social impact program, CES Cares. CES is a proud national partner of Make-A-Wish and supports its goal of granting life-changing wishes to children with critical illnesses.
"CES Cares was created to help employees give back to causes they care about in their communities. Make-A-Wish gives them the opportunity to do that as the funds raised at each branch create a positive impact on Wish Kids and their families living in their community," said Social Impact Manager for CES Cares, Karen Gray.