A fourth-generation farmer, engineer and inventor, Matthew Parker of Terrace Ridge Farm in Carthage is scheduled to be the featured guest speaker for the 2021 Entrepreneurial Summit at Sandhills Community College (SCC).
Parker and his team at Innovative Agriculture Technologies have won national recognition for the Pine Bine, a pine straw harvesting machine.
The Entrepreneurial Summit, sponsored by the Sandhills Center for Entrepreneurial Leadership (SCEL), is an annual regional forum that brings together business owners, entrepreneurs and students.
This year's event will be held Wednesday, April 21, 10-11:30 a.m., in the Bradshaw Performing Arts Center, and will also be live-streamed. There is no cost to attend.
Parker graduated as valedictorian from SCC in 2015, then transferred to North Carolina State University where he completed his undergraduate studies in biological and agricultural engineering. He is currently a third-year law student at Campbell University's Law School in Raleigh.
While attending N.C. State, Parker and a small team of engineering students developed a processing machine to sort and clean pine straw to make it easier for bailing. The Pine Bine project was funded by a small university grant and with financial assistance from members of the North Carolina Pine Needles Producers Association.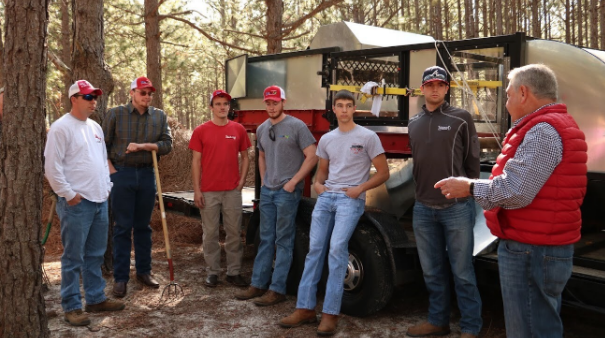 The Pine Bine was hailed by N.C. State as one of the best projects ever to come out of the program. Parker and his teammates, Ben Cauthen, Ben Cranfill, Alex Greeson and Will Marsh were presented with the Superior Senior Design Award upon graduation in 2018.
Innovative Agricultural Technologies, LLC, the Pine Bine team's official business enterprise, was later selected as a top ten semi-finalist and then named to the final four round in the Ag Innovation Challenge that coincided with the Farm Bureau's 101st Annual Convention and Trade Show in early 2020. The Pine Bine team also captured the People's Choice Award, which was determined by public voting and carried a $25,000 prize.