For 25 students from West Pine Elementary, West Pine Middle and Pinecrest High, the hours spent after school building robotic vehicles, cobbling together costumes and sketching out storylines are paying off.
Moore County Schools students will comprise four teams at the Odyssey of the Mind World Finals in late May at Michigan State University, having qualified earlier this month at the state finals.
Each team has spent most of the school year working on an eight-minute routine fulfilling one of the official Odyssey of the Mind "long-term problems." That's not to say that each team — which range from fourth graders to high school students — were all doing the same thing.
Their routines range from the CEO of an adhesives company retrieving his formula from a James Bond-worthy villain to a giant raccoon dispensing advice to classic Disney princesses. In Odyssey of the Mind, the guidelines are few, wrong answers impossible, and possibilities genuinely infinite.
David Antil, Connor Cuff, Vaughn Gray, Nora Kuzma, Joel Cuthrell, Ryland McCloskey and Jaxson Truckenmiller, students on West Pine Elementary's fourth-grade team the "Sweet Creams," decided to tackle the "Opposites Distract" problem.
"There are two different groups and two different group leaders, and one sneaky character that has to go in and break them up," said Ryland.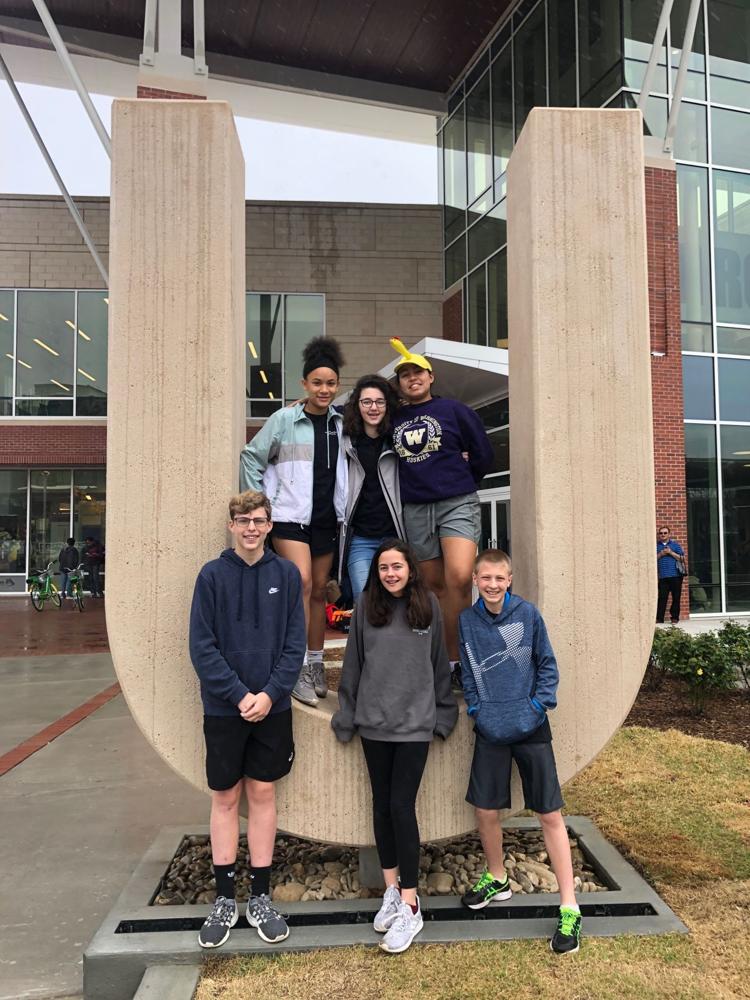 "Before this they were working together, but he had some conflict in the past so needed to split them up to gain control. Basically throughout the skit he goes in three times, succeeding twice and failing the last time when they figure out he's manipulating them to try to split them up."
Their skit detailed the efforts of the chainsaw character, played by Joel, to cause a rift between the tools and building materials.
"For the first one where he splits us apart, he makes us think that our hairstyles matter," said Connor. "I have the mullet, Jaxson has the hair extensions and the building materials have short hair."
Dressed as screwdrivers, stainless steel, wood, and a hammer, the students had to respond in a different form to each attempt. The dance, mime, and poem are all of their own choreography and writing. Ultimately, they realize that "we have to communicate to build something great. It takes everyone using their own skills and abilities."
Local teams have represented Moore County at Odyssey of the Mind events since 2012. Since then, they've learned that a nod to popular culture never goes amiss. So the Sweet Creams' final number was set to the unmistakable melody of the Eurythmics.
West Pine Middle's seventh-grade team chose the "Hiding In Plain Sight" problem, creating a vehicle that eludes detection by transforming at least three times.
"We did it where the creature was evil and stealing the Odyssey of the Mind problems, so we as the searcher characters had to go on a rescue mission to save the problems and save creativity," said Sarah Archer, a member of the seventh-grade team along with Sanem Cobb, Connor Cuthrell, Anna Kathryn Foster, Thomas Mann and Lily Wellener.
With no adult assistance allowed, the seventh-graders programmed their vehicle to be fully autonomous using the Arduino programming language.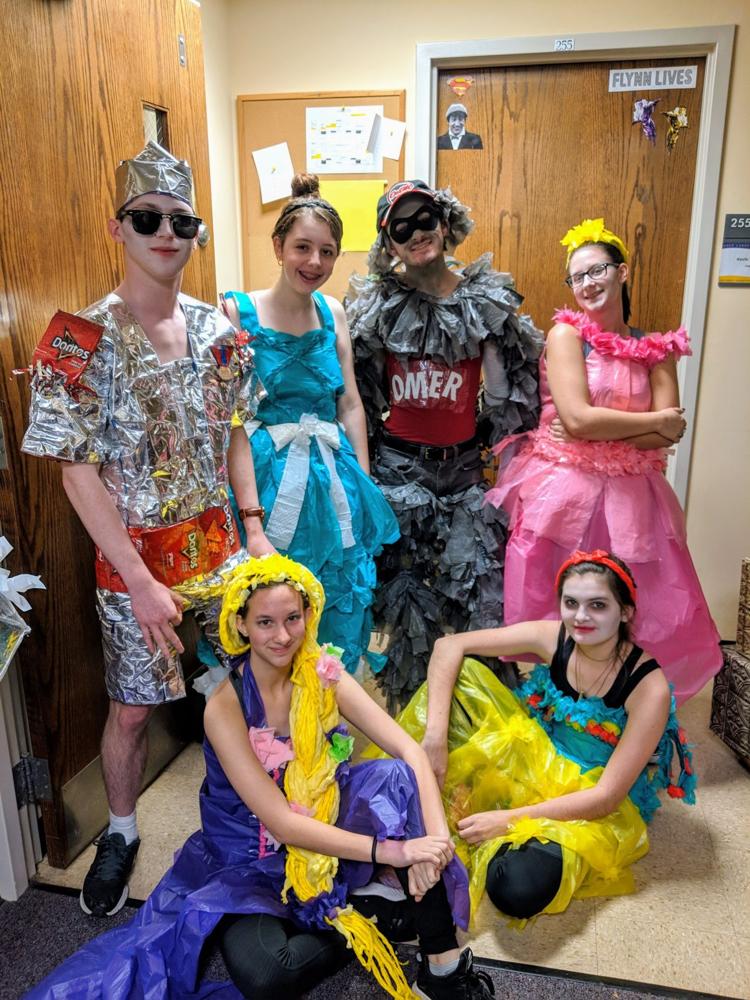 "It's kind of nice because we have to do it all by ourselves," said Anna Kathryn, who along with Connor did most of the programming. "We programmed it to time with our skit and we made it so that our robot moved around and it talked by itself on a timer."
The seventh grade team's skit moves through a submarine scene, one in school, and another in space before their vehicle makes its final transformation: into Samuel Micklus.
Micklus founded Odyssey of the Mind in 1978 when he was a technology professor at Rowan University of New Jersey. Participants in the program affectionately refer to him as Dr. Sam.
"How it works is there's a pulley, so when you pull down on it the box that has all the camouflage devices goes down and underneath the box is Dr. Sam," Connor summarized the West Pine team's skit.
"He's disguising himself as the evil Bertha, but really the whole journey is a test of the Odyssey members to test their skills," Lily added.
The team spent about eight hours per week, including nearly every Saturday morning this school year, working on their vehicle, storyline and artistic backgrounds. At the start of the year, the prospect of synthesizing six team members' ideas to fulfill a many-faceted problem seems daunting.
"In practices everybody has a bunch of ideas and one person in the group will say something that sums up what everybody said and then everybody sighs in relief," Sanem said.
On the eighth-grade team, Matthew Goodman, Smythe Hoover, Claude Morris, Brice Neidenthal, Gabe Richmond, and Marco Wellener had to build a vehicle that would fit into a pair of suitcases when disassembled.
Theirs fit into just one … eventually, after a few rounds of building and re-engineering.
"We build a bunch of things and they don't work, so we decide to build them again until it eventually works," Claude said.
The eighth graders' Odyssey started at the dump, searching for potential components until they found a discarded golf cart motor.
"We learned perseverance and sticking with things. We had a lot of different ideas and a lot of things messed up, so I think we redid our final project three times," Matthew said.
In their skit, the vehicle has to transport a character away from a sticky situation, help stop a bully and retrieve a lost treasure. Between inspiration from James Bond movies, an homage to materials that seat-of-their-pants engineers can't do without, and team member Marco's aversion to haircuts, the storyline came together nicely.
"We decided to use the CEO of Flex Seal getting captured in a Russian environment and retrieving the formula from the villain's hair," said Smythe.
Pinecrest team members Jonathan Furman, Courtney and Jackie Gibbs, Gavin and Katelyn Paller, and Ava Wellener qualified for Odyssey World Finals despite balancing their Odyssey project with other activities.
They chose the "OMER to the Rescue" problem, in which the Odyssey of the Mind raccoon mascot assembles and disassembles a vehicle as needed to help resolve a situation. In costumes made of grocery and snack bags, the team portrayed Cinderella, Rapunzel, Snow White and Sleeping Beauty.
In their skit, one Prince Charming fit all.
"It's a weird thing to require, and obviously in Odyssey you're supposed to think creatively and find creative solutions, so we had OMER as a sort of life coach for the princesses who helps them get their lives together," said Ava, who played Cinderella.
The raccoon chases away the prince, helps Snow White clean up her park and returns Rapunzel's crown. The group tried to add pizzazz to each accomplishment in the hope of scoring as many points as possible.
"At first we used lights in order to chase away the prince, but that wasn't really good for our scores because it wasn't creative so we found a new solution," Jackie said.
"Creativity is a huge part of it, as in trying to figure out things that you would never expect."
Now a sophomore, Ava has been involved in Odyssey of the Mind since elementary school, and she's learned to embrace the idea of trial and error in the process of devising a skit.
"Back then it was just a small group of kids and parents and students who didn't really know what we were doing. To see that the program has become this big and we're sending so many teams to Worlds this year is amazing," she said.
"I think it's changed my way of thinking. Doing Odyssey really forces you, if you're confronted with a problem, to solve it."