Rachel Jurgens spends a lot of time in open pastures. A horse enthusiast and serious competitor, she moved to the Sandhills in the early 2000s to pursue her equine dreams.
To afford her "horse habit," Jurgens invested in Pony Espresso, a small drive-up coffee shop she opened at the corner of old U.S. 1 and Morganton Road in 2008. More recently, she looked out the window of her store and was inspired to launch another venture.
Most weekdays, Jurgens subleases a portion of her parking lot for a local food truck to set up for a few hours; however, town codes restrict off-street properties in the general business district to one food truck operation at a time.
Last fall Jurgens approached town leaders with the concept of a food truck campus on the undeveloped green space between Pony Espresso and Thyme & Place Cafe in Southern Pines.
The proposed development calls for a park-like setting with six food truck stations toward the rear of the property, on the downside of the site's existing slope, with a permanent building that would house office and storage space as well as a below-slope bar and restrooms.
Tentatively called Red's Corner, the name is an homage to the former fuel station business that Red Council operated for 50 years on the same site. The tract was later owned by longtime auto dealer Bill Smith before Jurgens acquired it.
"We like the idea of the name and think it is really cool," said Red's daughter, Andy Council.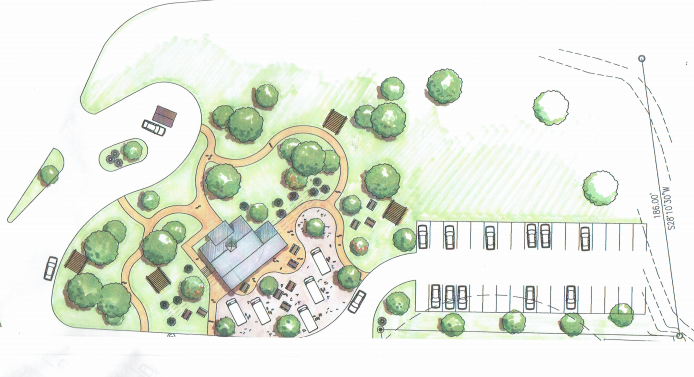 Town leaders were also intrigued by the idea when Jurgens initially shared her conceptual drawings in September 2019, and later approved a text amendment that opened the door for the proposed food truck campus application to move forward.
A decade ago, the idea of a food truck campus within chipping distance of brick-and-mortar restaurants near downtown Southern Pines would have created an uproar. There were fears that the trend of roving food trucks would compete unfairly with established businesses.
Moore County's three largest municipalities drafted code restrictions on when and where food trucks could set up to protect their downtown districts, in particular.
But the concept of food trucks has become less foreign in the interim. In fact, many of the area's popular restaurants either got their start as a food truck or have developed their own rolling businesses for catering purposes or outdoor events.
Jurgens sees a food truck campus as a favorable addition to the town. A native of Oregon, she said similar ventures are common on the West Coast.
She hired Southern Pines-based landscape architect Mark Parson to design her vision and builder Brandon Goodman of Redbrand, Inc. to help her develop the site.
"I see Red's Corner kind of mimicking a food truck campus that I really like in my hometown," said Jurgens. "The green space is huge for me. I don't want it to have tons of pavement or a commercial feel. I want it to feel like someone's backyard."
With that in mind, Parson designed the space with plenty of picnic tables, gazebo structures, additional trees and family-friendly play areas. Parking would be restricted to the existing driveway side of the property, mostly out of view from old U.S. 1 and Morganton Road. A sidewalk out front will create walkability and connect the development to Broad Street and other nearby residential areas.
In February, the Southern Pines Planning Board recommended its approval of a conditional use permit submitted on Jurgens behalf, and town leaders will conduct a public hearing in March. If all goes according to plan, she hopes to break ground on the project later this spring or early summer.