The town of Southern Pines closed out its last fiscal year with a combined ending fund balance increase of more than $4.1 million, compared to FY'17, while also increasing its total debt as construction began on the new fire substation near Waynor Road, on N.C. 22.
"You have very good fiscal control over budgeted expenditures," John Frank of Dixon Hughes Goodman told the Town Council on Wednesday while presenting the annual financial audit.
A total of $5,228,150 was financed on a 15-year term with BB&T Bank at a 3.53 percent rate for Fire Station 2. Payments of the financing debt service will be made twice a year beginning in the 2018-2019 budget year.
The Southern Pines Fire District covers 36.9 miles, including incorporated and unincorporated areas, and serves a population of 16,046. Fire Station 2 will serve areas in the northern section of town, and share the town's existing fire fleet which includes a ladder truck, heavy rescue vehicle, an SUV squad truck, a brush truck, a tanker and three engines.
During budget discussions last April, Fire Chief Mike Cameron said, in the past two years, the department has seen a 14 percent increase in calls and a 21 percent increase, each year, in overlapping calls.
"We are the busiest fire department in Moore County, response-wise," Cameron said.
Other financial highlights singled out in the audit executive summary included the town's average tax collection rate of 99.81 percent and an increase of $782,871 in ad valorem tax revenues due to economic growth as well as a two cent tax rate increase.
For the 27th straight year, the town was awarded a certificate of achievement for excellence in financial reporting by the Government Finance Officers Association (GFOA). The town also maintained its A2 bond rating from Moody's Investors Services for the 20th consecutive year as well as its AA- from Standard and Poor's for the 10th consecutive year.
These bond ratings are clear indications of the sound financial condition and management of the town. These achievements are primary factors in keeping interest costs low on the outstanding debt, Frank noted in the audit.
"It is comforting to know the town has a good clean bill of health," said Mayor David McNeill.
He thanked Finance Director Crystal Gabric and her staff for a job well done.
In other discussion, the Town Council reviewed architectural plans for the new Southern Pines Elementary school.
The preliminary development plan for the two-story school to be built in the Morganton Park North development was unanimously approved by town leaders in September. The new 800-student school will replace the aging facilities at Southern Pines Primary and Southern Pines Elementary schools and is one of four new elementary schools underway in Southern Pines, Aberdeen and Pinehurst.
In May, voters approved a $103 million bond referendum that will fund three of the schools. The fourth school, under construction now on Camp Easter Road, was funded through emergency measures by the Moore County Board of Commissioners.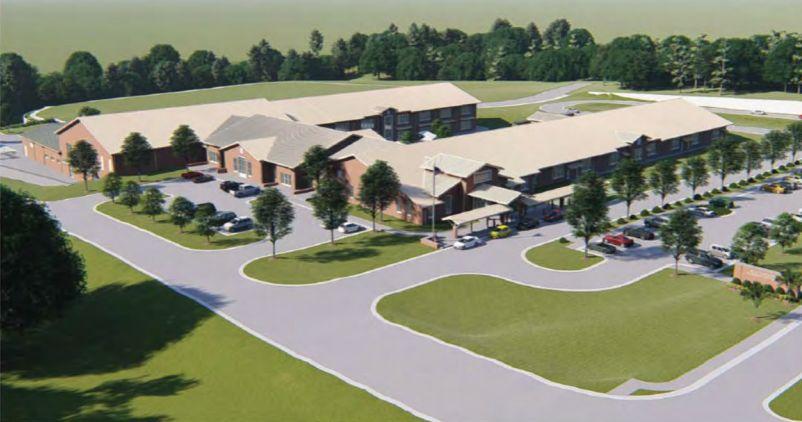 Construction is expected to begin in early 2019 on the new Southern Pines school and, once underway, will likely take 18 months minimum to complete.
John Birath, Moore County Schools' director of operations, said the site has a steep slope that will require substantial grading work. He anticipated this part of the construction process will take two months.
Otherwise, the overall square footage and capacity of the school is on par with the other new elementary schools planned in Southern Pines, Aberdeen and Pinehurst.
"We worked very hard to make sure each new school is equitable but each has a unique look to tie it into the community around it," Birath said.