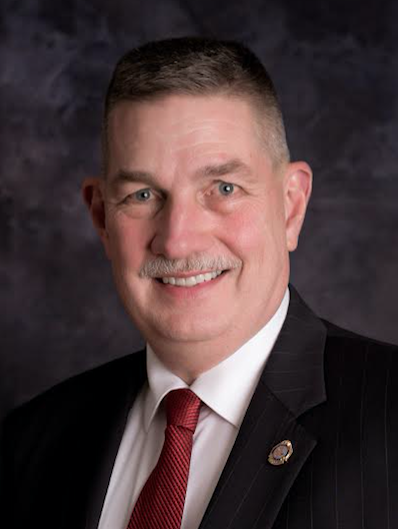 The municipal elections have yet to begin, but Moore County is lining up to host what could be one of the most watched state House races in 2020.
Southern Pines Police Chief Bob Temme, who has spent his career in law enforcement, has created a campaign committee and email for the state House District 52 race. A Moore County Republican, Temme is setting up a possible primary challenge with incumbent Rep. Jamie Boles, whose flagship funeral home is across the street from the police station.
In a phone interview with The Pilot Monday evening, the Southern Pines Police Chief said he was confident in his decision. He expects to make a formal declaration later this week.
The official filing period for 2020 candidates in North Carolina opens in December.
Temme initiated his campaign organizing committee on Sept. 26 and filed paperwork with the state Board of Elections Oct. 2. The email included in the paperwork reads "votechieftemme@gmail.com."
"I've been in public service for 45 years. I joined a volunteer fire department as a cadet when I was 14 years old, and started my police career in 1983," he said. "I see this as a capstone to my public service and the next logical progression in my career."
Temme has led the Southern Pines Police Department since 2012, and had previously overseen the department's community relations and professional development divisions.
A native of New York, he holds degrees from Nassau Community College, Empire State College and Dowling College. Before moving to North Carolina, Temme worked for the police department in Stamford, Connecticut. He spent 22 years there before retiring as a lieutenant in 2004.
Temme is also a graduate of the FBI National Academy in Quantico, VA, and is currently serving his third year as president of the Moore County Law Enforcement Officers Association.
If elected, Temme said he would resign from the town to devote his full energy to the State House. He has already met with Town Manager Reagan Parsons who, in turn, has briefed the Southern Pines Council about Temme's plans to seek office.
"I am very passionate about Southern Pines and the Southern Pines Police Department," he said. "I would work out a transition plan that left no gaps for public safety. There would be an orderly transition."
Temme said he was inspired to seek office as a member of the North Carolina Association of Police Chiefs. As an organization, he said members feel that law enforcement interests are not adequately represented at the state level, especially when it comes to public safety needs.
"As a police chief, I feel the legislation coming down could be better," he said.
Temme said he also believes that he is well positioned in Moore County to make a change, and is confident he can win the District 52 seat.
"I will devote every ounce of work ethic I have to representing the people of Moore County," he said. "I won't be a police chief and also in the legislature. I want to dedicate everything to that position to make sure it succeeds."
Boles, who runs Boles Funeral Homes, has represented District 52 since 2008. He won the district, which includes much of Moore County, by knocking off incumbent Joe Boylan in a three-way Republican primary. Boles went on to defeat Democrat Betty Mangum later that year.
Boles then ran unopposed in 2010, 2012 and 2014.
In 2016, challenger J.D. Zumwalt mounted an unsuccessful bid to unseat Boles in the GOP primary. More recently the late Ken Byrd, a retired military officer and Aberdeen Town Commissioner, attempted to win Boles' seat. In the 2018 general election, Boles went on to defeat Democrat Lowell Simon. Simon plans to run again as a Democrat in 2020.