Hundreds of people knelt in silence for nearly nine minutes Wednesday in downtown Southern Pines in honor of George Floyd, whose slaying in police custody has sparked a national outcry.
The silent tribute was timed to last the approximately 8 minutes and 46 seconds that a police officer pressed his knee against Floyd's neck before the unarmed black man died in a Minneapolis street on May 25. Floyd, who had no pulse for three of those minutes, was born in nearby Fayetteville and will return to North Carolina on Saturday for a public viewing in Raeford.
Derek Chauvin, the officer seen killing Floyd in a cellphone video made by a teenager, is charged with second-degree murder. Shortly before Wednesday's ceremony in the Sandhills, the three other law enforcers at the scene during Floyd's death were charged with aiding and abetting second-degree murder.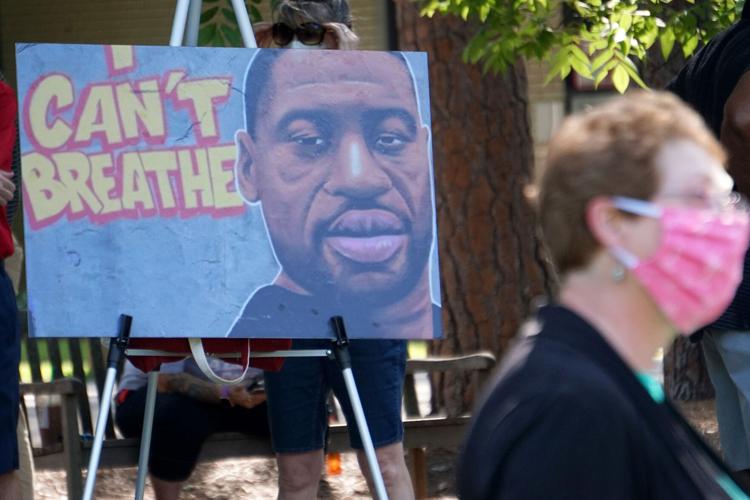 Billed as a peace vigil, the demonstration in Southern Pines was organized by the Moore County NAACP. O'Linda Watkins, the group's president, called on the many masked mourners in attendance to "move from anger to action."
"My ancestors, slaves in the Cape Fear Valley, were property," Watkins told the crowd. "Until you get to know us as human beings (…) we can never have the honest talk and the construction actions needed to dismantle the racist mentality that many police still have."
Black Americans are killed by police at more than twice the rate of white Americans, according to a database assembled by The Washington Post. The database, which comprises reports of fatal shootings, does not include deadly police encounters like the ones involving Floyd and Eric Garner, whose 2014 death in a chokehold has been widely compared with Floyd's killing.
During the vigil, attendees were handed flyers outlining a dozen ways in which residents can rally for systematic change. Some of the recommendations include petitioning for the banning of "knee holds" by law enforcers and demanding to see disciplinary records for officers accused of misconduct.
Earlier in her remarks, Watkins singled out Ida B. Wells, the pioneering black investigative journalist who helped form the NAACP. The organization, Watkins said, has "always depended on women like Ms. Wells to publicize the evil of racism."
In that spirit, she asked the audience to recognize Darnella Frazier, the 17-year-old woman who filmed Floyd's killing. "For nine long minutes, she stood her ground," Watkins said of Frazier.
Carol Haney, mayor of Southern Pines, was one of several other people who spoke during the vigil. She informed the crowd of a local proclamation inspired by Floyd.
"In part, it reads that George Floyd lost his life in a despicable act which has led to protests with some, like this, peaceful," Haney said. "It states what we support, what we denounce and what we will not tolerate."
The proclamation, which was to be voted on later that evening by the Southern Pines Town Council, would declare June 6 as a "day of remembrance" for Floyd.
A longer version of this article will appear later on ThePilot.com and in Sunday's newspaper.
---
Photos: Southern Pines Peace Vigil for George Floyd
Several hundred people mourned George Floyd during peace vigil on June 3, 2020, in downtown Southern Pines. The vigil was organized by the Moore County NAACP.
Photographs by Ted Fitzgerald, The Pilot