The cyanobacterial bloom appears to have subsided at Reservoir Park Lake in Southern Pines. Town officials announced they will be retesting the water but, for now, are continuing to urge citizens to exercise caution.
State officials suggested it would be prudent to leave current precautions in place for a few more days to be sure the bloom does not regenerate, Assistant Town Manager Chris Kennedy told The Pilot Friday.
"We are eager to have the Reservoir tested and to get back to normal operations at the park. The safety of our residents is the main priority," he said.
There are no recommended treatments to eliminate a bloom, as algicides or other compounds can cause the bacteria to rupture and release toxins.
"Our staff is going out periodically to check on it," Kennedy reported during a Town Council work session earlier this week. "We have to wait for it to dissipate then we can retest."
Cyanobacterial blooms are caused by a combination of manmade and natural factors, including sunlight, stagnant warm water, and excess nutrients. Landscaping fertilizers are often a culprit.
Kennedy said he is looking into what may have kicked off the problem and reviewing any new changes upstream of the Reservoir Park watershed and also watching for problem spots that may occur downstream.
"We haven't had this before and we don't know why it came to be," he said. "I don't want anyone to think this is only in Reservoir Park. We are asking people to be cautious around all lakes and ponds."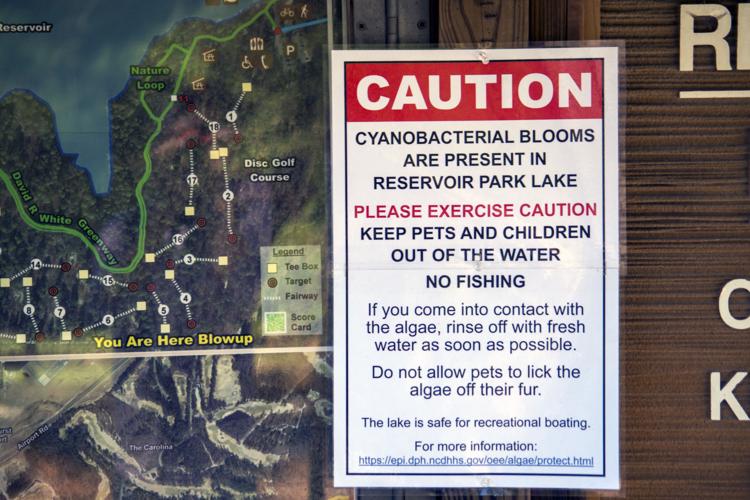 Algae are one of Earth's oldest inhabitants and are known to be incredibly resilient. They can live in saltwater, freshwater, even in moist dirt. Common examples include seaweed and pond scum.
Despite its name, blue-green algae are not algae at all. They are actually a type of cyanobacteria that are normally present in many lakes — and that presence does not necessarily mean that a lake is hazardous.
These bacteria thrive on warm, nutrient-rich water. When the conditions are right, they can quickly form blooms, and it is the concentration that can create toxins. Nuisance cyanobacterial blooms have been reported across the Southeast this year, including in Wilmington where three dogs died after swimming in a pond.
The algae bloom at Reservoir Park was first discovered in late August when unusual clumps were seen floating near the fishing and boating docks.
"None of us had ever seen anything like it, and we started making some calls," Recreation and Parks Director Robert Reeve said.
The state's Department of Environmental Quality - Water Quality Division responded and collected samples from the lake. The town was notified it was cyanobacteria on Friday, Aug. 23.
Fishing remains restricted and pet owners are cautioned to keep their animals out of the water until further notice. Swimming is never permitted at the facility.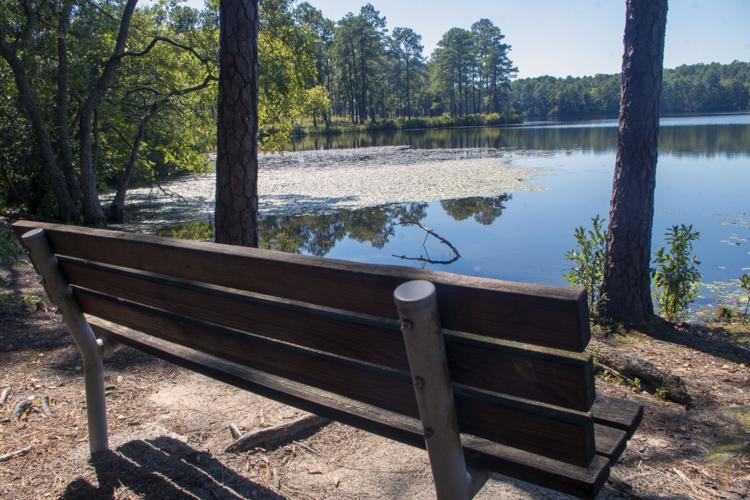 Kennedy said the town will announce an "all clear" alert via the CodeRed notification system when the water is determined to be safe.
"Our primary focus is returning the water body back to public use," Kennedy said. "After that occurs, we plan to work with the NC-DENR and the Co-op extension to determine the contributing factors, and their origin, that led to the algae in our Reservoir Park so that we can prevent this from happening again."
Concerns about the potentially toxic algae bloom in Reservoir Park prompted other municipalities to take a closer look at their own lake water quality this week.
Adam Crocker, director of Aberdeen Parks and Recreation, said they found no evidence of an algal bloom in the town's showpiece, Aberdeen Lake Park, or at nearby Ray's Mill pond off Saunders Boulevard.
Aberdeen contracts with Foster Lake & Pond Management to help manage its waterways. They typically come out several times a year to treat aquatic weeds and monitor other organic materials.
"They explained to me what to watch for with algae blooms. They said it's not something you're not going to notice. When it's there, you see it," Crocker said. "We want people to understand if they see a green film over the water, that is likely something you want to avoid and report."
Bob Kissinger, Whispering Pines public works director, said the village has not found any evidence of algal blooms in any of its lakes.
Like other local municipalities, they are asking for the public's assistance to keep an eye out for any blooms in surface waters and to be aware of the potential risks to people and pets associated with exposure to cyanobacteria.
Kissinger said additional information, tips and an algae identification guide can be accessed on the village's website.
Moore County is also home to many privately-owned and managed lakes and ponds where people and pets may be potentially at risk. Caution is encouraged throughout the area during warmer months.
Potential visual indicators of cyanobacterial blooms can vary from discolored water to surface scums that appear bright green, blue, red or brown in color. Also watch for floating or submerged clumps, flecks or mats.
A milky blue or white surface scum may indicate decaying cyanobacteria.