The Southern Pines Fire Department responded to the scene of an active fire on a farm trailer loaded with hay bales in the vacant parking lot next to Pony Expresso around 12:30 p.m. Wednesday.
The fire was extinguished after more than 45 minutes by the fire department. No injuries were reported, Southern Pines Chief Mike Cameron said. The only visible damage was to the trailer hauling the bales, and the back end of the white Chevy pickup truck that was pulling the trailer.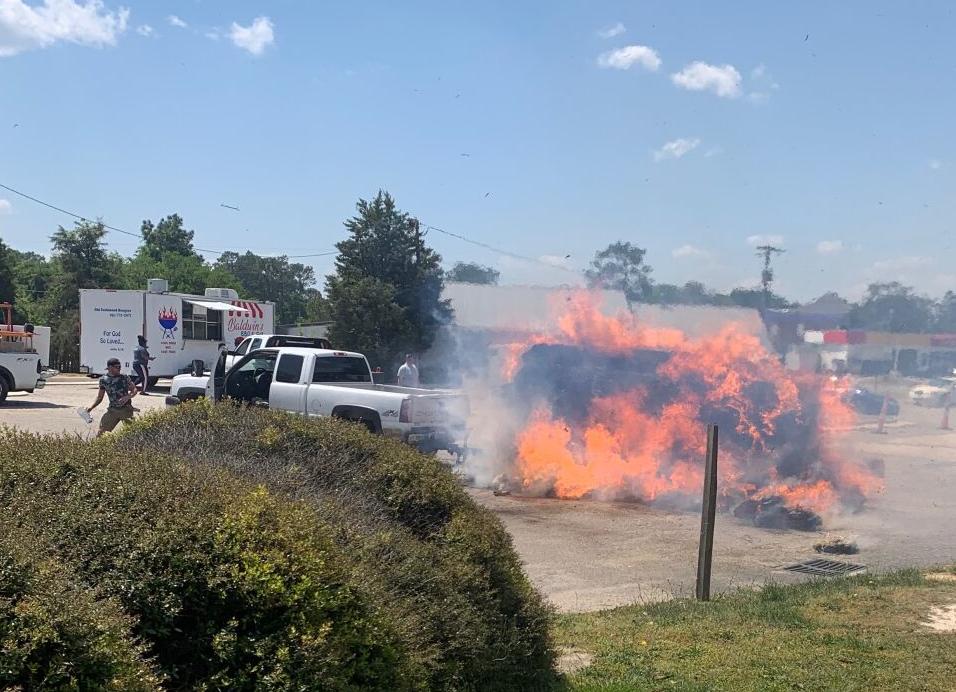 Traffic was directed from Old US 1 to Bennett Street while firemen fought the fire.
Cameron said there were three possible causes of the fire to start, but there wasn't one specifically identified. One cause was the moisture in the tightly packed bales could've spontaneously combusted, the second was a lit cigarette butt being tossed on the load of bales and the third was the chain of the trailer dragging the road and possibly kicking up sparks to the load.
"We're at like 25 percent humidity today. If you strike a match out here today, and you get it close to something flammable, it's going to burn," Cameron said. "With fire in hay and straw that's deep-seeded, you actually have to dig those embers out. As you could see, we had unload the trailer and continue to soak it down."
Moore County was placed under a Red Fag Warning by the National Weather Service in Raleigh with already dry conditions coupled with high winds to created the heightened fire warning. That warning is extended to 8 p.m. on Wednesday.
The driver pulled the trailer into the parking lot after noticing smoke coming from the trailer. Workers at the Pony Expresso and the Baldwin's BBQ and Grill food truck made initial efforts to try and extinguish the flames.
Pony Espresso barista Lillian Richardson said the truck pulled in at about 12:30 p.m. and the driver jumped out of his truck and started "freaking out." She started filling pitchers of water to help him extinguish the fire coming from his trailer, but the flames quickly got out of hand.
"I was like, I love this job too much to let it burn down," she said.
Truett Buie, who has been selling Jep's strawberries in that lot for the last two weeks, called 911. She said that workers from the food truck brought out water and their fire extinguisher.
"He came by here and the very top bale was on fire," Buie said. "Everybody was trying to get him water. It was too hot for him to undo from the truck.
"It was hay and the wind was blowing, and it just went up."
Abbi Overfelt contributed to this report.