Architectural plans for a new 800-student elementary school in the Morganton Park North development were green-lighted by the Southern Pines Town Council on Tuesday.
The design calls to mind a traditional Georgian style schoolhouse with red brick exterior walls and nine-over-nine windows; however, an elongated roof line and brighter, airier interior spaces are decidedly contemporary.
Construction is expected to begin in early 2019. Initial grading work will take two months and the entire project will likely be completed in 18 months. The school is slated to open in August 2020.
"The location is a good transitional site between a residential community and the more modern commercial district," said John Birath, Moore County Schools' director of operations.
The new school will replace the aging facilities at Southern Pines Primary and Southern Pines Elementary schools and is one of four new elementary schools underway in Southern Pines, Aberdeen and Pinehurst.
In 2015 and 2016, school officials initially considered three options for the Southern Pines school: Tearing down Southern Pines Primary and rebuilding in its place; locating a school next to Southern Middle School in Aberdeen; or building an elementary on a reconfigured Pinecrest High School site. In the end, administrators faced either insufficient land (Southern Pines Primary), inefficient design (Southern Middle), or extensive site development costs (Pinecrest). That led administrators instead to recommend a two-story, 800-student school in the Morganton Park North development off Morganton Road, land which Superintendent Bob Grimesey described as one of the few opportunities of suitable land in Southern Pines for a school.
In the fall of 2016, the school board approved a request of $460,000 from the N.C. Education Lottery Public School Building Capital Fund toward the purchase. The Van Camp family, who own the primary property, agreed to sell 12 acres for $1 million — $82,645 an acre — and then donated an additional 6.5 acres, a value of $537,190. The deal closed on Nov. 7, 2017.
In May, voters approved a $103 million bond referendum that will fund three of the schools. The fourth school, McDeeds Creek Elementary on Camp Easter Road, was funded through emergency measures by the Moore County Board of Commissioners.
All four schools are similarly sized -- all have an 800-student capacity and the same program space -- but the architectural plans are unique to each location.
"The difference is we adapt them to the setting where they are located," Birath said, noting the school will also have built-in safety features and be highly energy efficient.
The elongated roof line on the new Southern Pines Elementary and also at McDeeds Creek Elementary will allow solar panels to be installed at a later date, "when it comes a time we can recover our costs in a timely manner."
"We are paying attention to how we can make these schools better, make them last longer, and be good stewards of taxpayer dollars," he added.
Access to the new Southern Pines Elementary will begin at Brucewood Road, directly in front of the Legends at Morganton apartment complex, through an extension of South Carlisle Street.
Traffic mitigation for the new school includes the addition of dedicated turn lanes on the school's main driveway, and a dedicated turn lane on South Carlisle Street. A secondary entrance road at South Glover Street will be used for bus traffic only.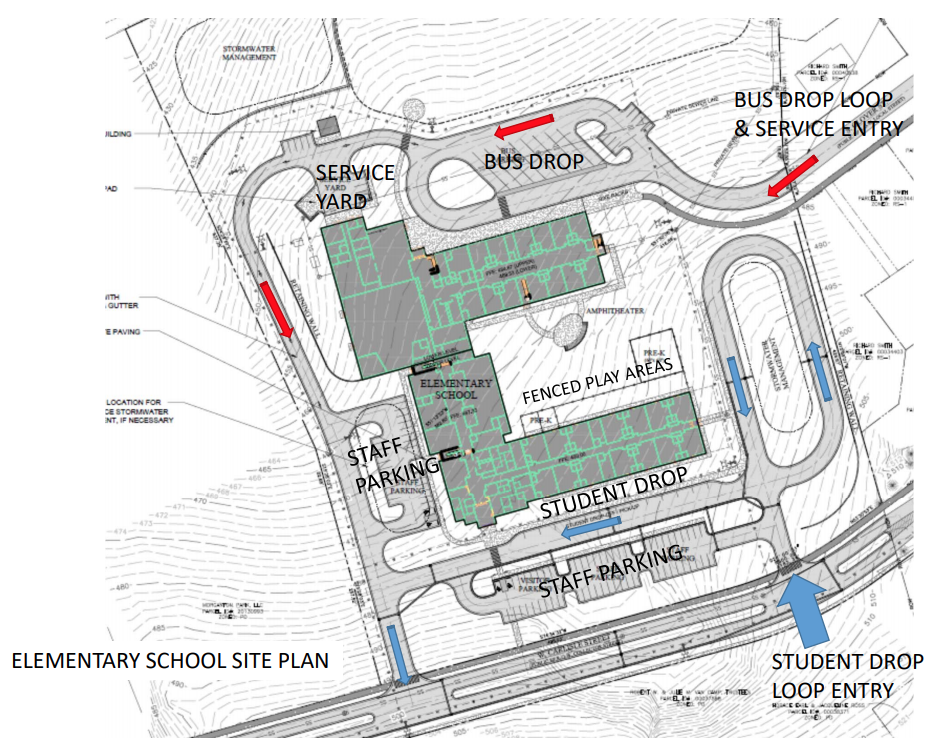 Councilman Jim Simeon, a former schools superintendent, commended Birath and his staff on the design.
"I appreciate the way you've used science and technology to make the building safer and more ecologically friendly," he said.