The fiscal budget adopted by the Southern Pines council on Tuesday maintains the town's property tax rate while introducing a new vehicle registration fee for residents.
For the third year in a row, the town's tax rate will stay at 40 cents for each $100 valuation of property. During the previous fiscal year, Southern Pines and Taylortown were tied for the fifth lowest municipal property tax rates in Moore County.
The approved budget includes a new $5 vehicle registration fee for motorists. The fee is expected to generate nearly $61,800 for Southern Pines, with all of the money going toward a project to install sidewalks on Bennett and Carlisle streets.
Monthly waste disposal fees will increase to $9.50, a $1.25 rise meant to offset higher waste disposal costs incurred by the town. Reagan Parsons, town manager for Southern Pines, said water rates are also expected to increase by 3 percent, while sewer rates will go up 2 percent.
Multiple capital projects are included in the budget, which allocates more than $2.3 million to modernize equipment and improve processing at the town's water treatment facility. The budget also earmarks more than $616,000 to address various issues at the Southern Pines Public Library, the Campbell House and other town buildings.
The budget was approved after a public hearing in which no one signed up to speak.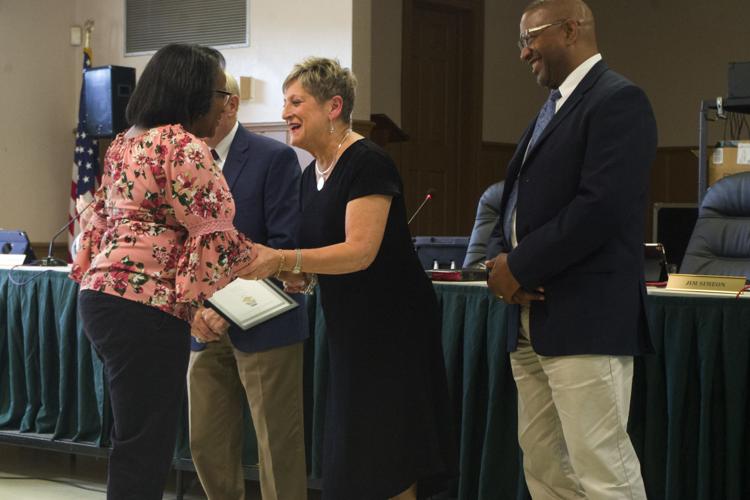 Also on Tuesday, the town recognized the seven graduates of this year's Citizens Academy. Now in its sixth year, the program gives residents a chance to learn about the responsibilities of the town's different departments.
"It turned out to be a very successful program," Parsons said, adding that some past graduates have gone on to serve on town boards.
Framed certificates were presented to the four graduates who attended the meeting.
In other business, the council approved a voluntary annexation request from Moore County Schools. The request involved two abutting parcels of land outside the town's corporate limits on Camp Easter Road, where a new elementary school is being built.