Observe students going from class to class in any middle or high school in Moore County and you'll see that compact computing devices have replaced bags laden with weighty textbooks for every subject.
Though schools still have books to spare for reference and recreational reading, the rooms where they're stored are living up to the term "media center" more each year. Media coordinators have evolved from librarians to keep up with the broad range of resources at students' fingertips.
Luis Peralta never imagined that he'd end up working in the library of North Moore High, his alma mater. But when he started this school year as North Moore's assistant media specialist, Peralta quickly learned that it's no longer the place it was when he graduated in 2010.
"At first I was just interested in becoming the soccer coach," said Peralta.
Peralta, who played soccer and tennis for North Moore, started on the soccer team at Emory and Henry University in Virginia, where he also spent a year as a teaching assistant before graduating with a degree in Spanish language and literature. He spent time selling cars at a dealership in Kernersville for a few years while he weighed his options, whether teaching or pursuing a career in business translation.
But then he heard that his old soccer coach Michael Shamberger was retiring.
"I always wanted to coach soccer and I grew up with that sport my whole life. When I saw this opportunity, I wanted to take it if I could," Peralta said. "I like the community around here and I always wanted to give back somehow."
The coaching job came with the assistant's position in the media center to fill his days. Peralta spent the first few months of the school year learning to be a jack of all trades who can carry out traditional library functions along with serving as on-site technical support for students and teachers.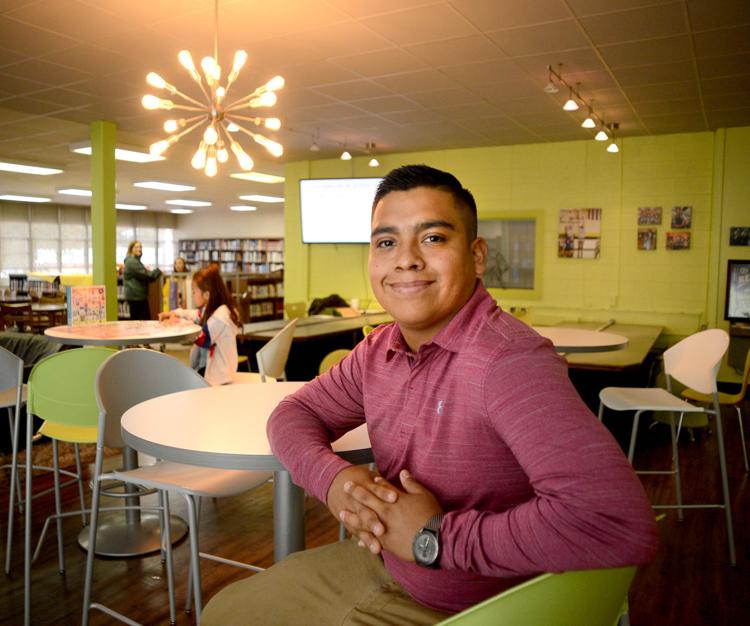 While the school district has a central team of technology experts who can help teachers incorporate devices into their curriculum, supporting that goal on a day-to-day basis falls to school-based staff like Peralta, who can replace a Chromebook screen or help a teacher troubleshoot a glitchy SMART board as easily as issuing a student a library book.
"I kind of do a little bit of everything technology-wise," he said. "I've just figured it out as I go. Luckily good people have given me advice. The IT department, especially Tyler Callahan and Dorenda Kidd have helped me a lot."
Around the same time that Moore County Schools started issuing Chromebook computers to each high school student, North Moore used a sizable donation from the family of Moore County Schools teacher and North Moore alumna Delilah Williams to bring the school library's aesthetic into the 21st century.
"A lot of students don't read books anymore; everything now is computer-based," said Peralta. "It's really different than when I was here as a student. During lunches students are able to come here and eat. It's not like libraries used to be, where you had to be silent; it's more like a student center where they can interact and do homework. I like that."
Out on the soccer field, Peralta has overcome the initial qualms that came with being only 10 years older than the students he's coaching.
"I was a little bit nervous, not knowing how the kids were going to react to me. Some people would say that I'm young and to be careful because they might not respect me," he recalled. "But the kids are doing great. They work hard. They always work as a team and look after each other."
When he was a student, Peralta said that much of his motivation to excel in school stemmed from the drive he generated on the soccer field and tennis court.
"As a coach, I tend to focus a lot on the community and encourage them to encourage their kids to play sports, not just soccer but any sport," he said.
Peralta's first season as a coach had its ups and downs, including two tough losses to rival Gray Stone Day School, and he wasn't shy about calling Shamberger for advice.
"We played Gray Stone at home last month … we ended up giving up five goals," Peralta described one tough moment. "I could see they were down because they lost that badly, but I told them that in life there will always be times like that but it's up to them whether they want to finish the season strong."
But North Moore's soccer team ultimately made it to the fourth round of the 1A state playoffs, where they ended the season with a 4-2 loss to Raleigh Charter.
"They learned to treat every practice like it's the last one and give 100 percent to every single thing," said Peralta. "In the playoffs they showed that in every single game."