The Southern Pines Town Council, which approved a large-scale development off Morganton Road last month, will review a first phase Tuesday night that includes a Target-anchored shopping center.
John Silverman, of Midland Atlantic Properties, shared architectural renderings of the project in September but requested delay of the public hearing while he hammered out a few traffic details with state transportation officials.
Town leaders approved the conceptual development plan last month. That plan will allow up to 700,000 square feet of commercial space and up to 650 residential units on the mostly undeveloped 100-acre tract which spans between Morganton Road and U.S. 15-501.
As part of the first phase of development, Midland Atlantic plans to construct a four-lane, divided parkway with a lighted intersection on U.S. 15-501 near Chick-fil-A and a lighted intersection on Morganton Road near South Stephens Street. Later phases of the Morganton Park South project include the addition of two more connections to Southern Road and Old Morganton Road, creating a network with the existing commercial shopping areas between U.S. 15-501 and Morganton Road corridors.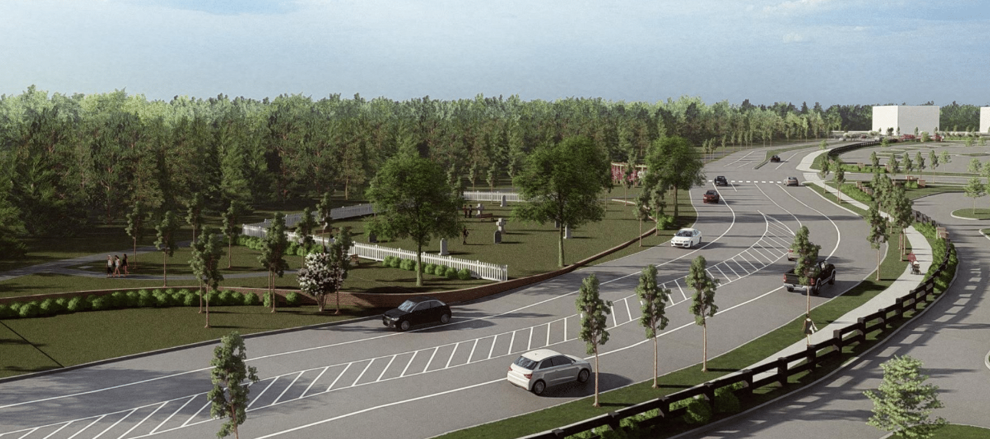 Also on Tuesday, the Town Council will consider a proposed storage unit facility near N.C. 22 at Waynor Road. The project, in its current configuration, would require a substantial percentage of protected watershed acreage set aside by the town.
To-date, Southern Pines has allocated about four acres, or around 14 percent of the protected watershed through previous requests. In essence, a project within an identified high quality watershed can develop up to 24 percent impervious surface or request an exemption to go up to 70 percent impervious surface.
The town holds approximately 26 acres of protected area in the Little River Vass watershed and, as presented, the proposed storage facility would require around 10 acres of that total.
"This would be a pretty significant allocation of our exemption," Planning Director BJ Grieve told town leaders during Wednesday's agenda meeting, noting there are other potential properties along the N.C. 22 corridor that will be eyed in the future for commercial development.
Mayor Carol Haney and Councilman Mike Saulnier both expressed strong reservations, indicating they would likely not support the permit request as submitted.