Two people are accused of concealing the death of a 23-year-old woman in Cameron, according to the Moore County Sheriff's Office.
Ashton Taylor Potter was found dead by sheriff's deputies on July 10 at a home in the 600 block of Red Hill Road. Her cause of death, the sheriff's office said, is "still pending the results of an autopsy" conducted by the state medical examiner's office in Raleigh.
The sheriff's office said both Jeremy Justin Holder, 34, and Heather Lynn Chastain, 20, were at the home when Potter's body was found. Nearly two months later, the two have been arrested for allegedly failing to notify law enforcers of the death.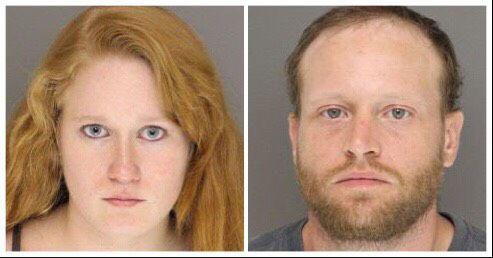 Holder, a Sanford resident, was charged Wednesday with felony concealing or failure to notify in the death of a person and felony aiding and abetting in the concealing of a death. Chastian, a Cameron resident, was charged Sunday with the same offenses.
The sheriff's office said both suspects were placed in the Moore County Detention Center under separate $75,000 secured bonds. They are due in Moore County District Court on Thursday.
Potter, who is survived by her parents and five siblings, "loved to cook, fish and sit by a campfire," according to her obituary. Her funeral service was held July 14 at New Covenant Fellowship Church in Carthage.
This story is developing.