One of the suspects arrested in the slaying of an elderly couple in Aberdeen was an ex-employee of the husband, Moore County Sheriff Ronnie Fields said during a news conference on Wednesday.
Daniel Patrick (D.P.) and his wife Mary Lou Black were found shot to death Friday evening at their home on Roseland Road. Addressing the news media on Wednesday, Fields said Tony Chad Patterson, 42, of Chancery Lane in Aberdeen, and Tim Cooper, 45, of Wahala Drive in Carthage, are both charged with two counts of murder in connection with the double homicide.
"I am happy to report this morning that we are very confident that we have the killers behind bars," Fields said. "It has been a very extremely difficult week this week for the D.P. and Mary Lou Black family as well as a very trying time for the citizens here in Moore County. D.P. and Mary Lou were pillars of our community. They were both widely known and loved. Their death has been a tremendous loss for us all."
Both suspects have been placed in the Moore County Detention Center without bond. They made their first court appearances on Wednesday.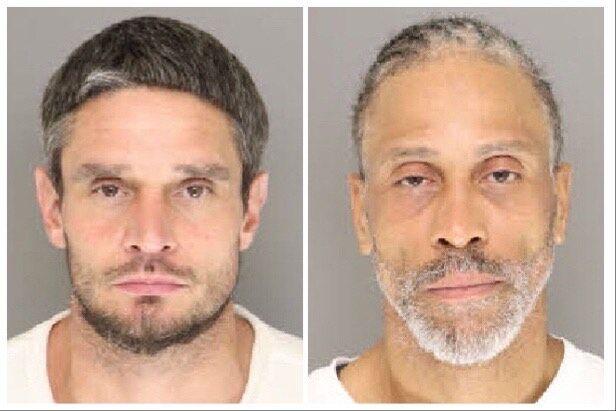 Patterson was a former employee of D.P. Black, working in a labor-intensive capacity, Fields said. It was not immediately clear if Patterson had been fired from the job.
"Mr. D.P. and them were always willing to lend a hand to whomever that was in need of a dollar or a job or something to help them get by. That was the type of folks the Blacks were," Fields said. "That's been a very difficult time for our staff to follow up with each individual employee. We've interviewed a tremendous amount of employees and will continue. To remind you, this investigation is not over."
Sheriff's deputies discovered the bodies after one of D.P. Black's workers asked law enforcement to check on the couple. D.P. Black, 91, was found dead on the porch while Mary Lou Black, 86, was located inside the home.
Fields said both Patterson and Cooper are expected to face additional charges. Robbery appeared to be a motive in the murder, with Fields noting that jewelry was stolen from the couple's home.
Authorities had offered a $2,000 reward for information leading to the arrest and conviction of a suspect. A number of tips and calls had come in to the Sheriff's Office over the past four days, according to Fields.
"My motto has always been, 'If you see something, say something.' Our people have responded here in this county, and I'm very grateful," Fields said. "Without the help of the citizens, it would've been a very difficult case to solve."
Many details about the case are still under investigation, Fields said. He stated that this was not an act of random violence.
"It gives closure to the Roseland community there," he said, referring to the arrests. "The folks were frantic, they were terrified. I wanted to assure them today that this was a cowardly act intended on their targets."
Aberdeen Police Department and the N.C. State Bureau of Investigation assisted in the investigation.